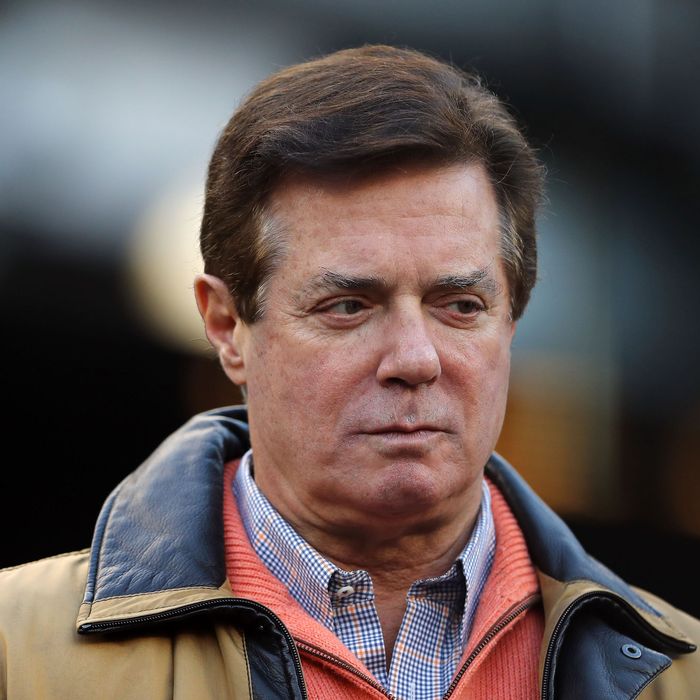 Paul Manafort.
Photo: Elsa/Getty Images
On Monday morning, two of the highest-ranking members of President Trump's 2016 campaign — former campaign manager Paul Manafort and his deputy Rick Gates — were indicted on charges of "conspiracy against the United States, conspiracy to launder money, unregistered agent of a foreign principal, false and misleading FARA statements, false statements, and seven counts of failure to file reports of foreign bank and financial accounts," the FBI special counsel's spokesman revealed. Manafort was seen walking into the FBI's Washington field office shortly after 8 a.m. Monday, with a lawyer in tow.
While "conspiracy against the United States" has an incendiary ring to it, the charge is actually pretty broad, and not especially sinister. If you and an associate work together to defraud the U.S. government — say, by providing it with false or misleading statements about your work for a foreign government — that could qualify as conspiracy against Uncle Sam.
And the federal indictment alleges that Manafort and Gates did just that: According to the FBI, the lobbyists worked as unregistered agents of the Ukrainian government from 2006 to 2015, and hid "tens of millions of dollars in income" from that work through money laundering. The indictment also indicates that Manafort and Gates were engaged in such illicit financial activity during 2016.
Manafort was exiled from Trumpland in August of that year, amid reports that his past lobbying efforts on behalf of pro-Russian Ukrainian oligarchs might have been less than wholesome. And yet Gates, who had worked with Manafort in Ukraine, remained associated with the Trump campaign until its conclusion. In fact, Reuters reported that Gates served as Trump's de facto campaign manager for a two-month period. Gates later worked on the president's inauguration committee. And in June, the Daily Beast reported that the Manafort protégé was working for longtime Trump buddy Tom Barrack, and had accompanied Barrack to the White House on multiple occasions.
As described in the indictment, Manafort's scheme appears to have been fairly simple: He and Gates disguised their relationship with the Ukrainian government by contracting with companies that served as fronts for former prime minister Viktor Yanukovych's regime. They concealed more than $75 million in payments from said regime in offshore accounts. Manafort then used (untaxed) money from those accounts to purchase goods and property in the United States — including a decent amount of New York City real estate:
Manafort also found a way to spend nearly $1.4 million on clothing.
As Ian Millhiser of Think Progress notes, this is not a terribly subtle scheme.
The fact that Manafort decided to thrust himself into the national spotlight in 2016, while engaged in multiple, thinly veiled federal crimes, would seem to betray a pathological recklessness on the operative's part.
American intelligence agencies have concluded that the Russian government coordinated a hacking and propaganda effort aimed at damaging Hillary Clinton, aiding Donald Trump's candidacy, and sowing distrust in the legitimacy of American elections in the process. Deputy Attorney General Rod Rosenstein appointed Robert Mueller in May to lead a special investigation into Russian interference in the 2016 election. That move came after the president fired FBI director James Comey, and then suggested on national television that he had done so out of antipathy for the FBI's investigation into Russian hacking.
Although the indictment suggests that Manafort and Gates were defrauding the U.S. government — so as to disguise their ties to pro-Russian figures in eastern Europe — while working on the Trump campaign, none of the charges directly relate to collusion between that campaign and the Putin government. The president highlighted this point in a Monday morning tweet:
One source close to the president echoed this message Monday, telling CNN, "Today has zero to do with the White House." Another source told the network that Manafort and Gates "were bad guys when they started, they were bad guys when they left" — suggesting that their longtime badness was no reflection on the Trump campaign itself. (This defense would seem to undermine the president's claim that he has a talent for hiring "the best people.")
But a separate court document unsealed Monday does point to potential collusion between the Trump campaign and Russian government. On October 5 of this year, a foreign-policy adviser to Trump's campaign pleaded guilty to a charge of lying to the FBI. In an interview with the bureau in late January, George Papadopoulos said that a foreign "professor" had "told him about the Russians possessing 'dirt' on then-candidate Hillary Clinton in the form of 'thousands of emails,' but stated multiple times that he learned that information prior to joining the campaign." Investigators later determined that Papadopoulos was contacted only after he'd agreed to join the campaign, and that the message about "thousands of emails" came one month into his tenure as a foreign-policy adviser to Trump. The FBI also concluded that the professor had "substantial connections to Russian government officials."
Papadopoulos eventually admitted to the FBI that he had tried to arrange a meeting between the Trump campaign and the Russian government — with the help of a foreign national whom he believed to be Vladimir Putin's niece.