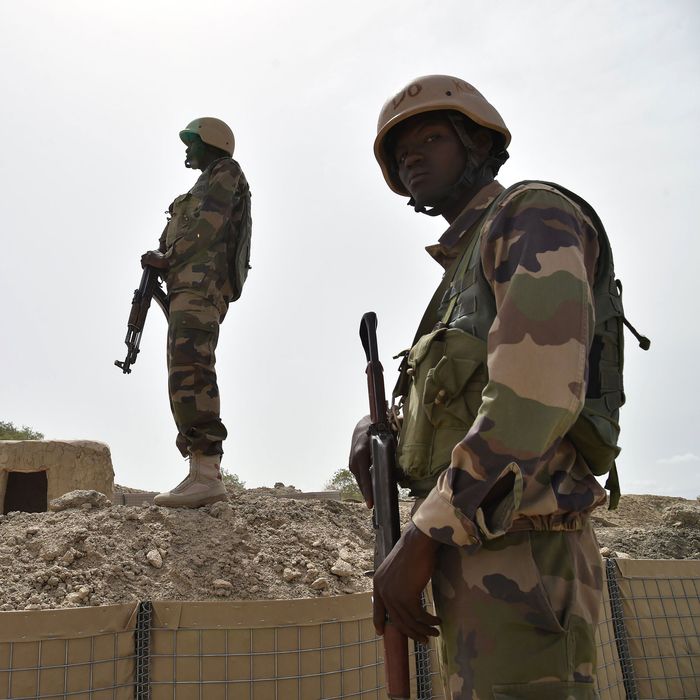 Nigerien soldiers in Bosso.
Photo: Issouf Sanogo/AFP/Getty Images
A fourth member of the U.S. Army Special Forces is dead in the aftermath of a deadly attack in Niger, the Pentagon said Friday. While the first three soldiers died in the attack on Wednesday, the fourth had gone missing. CNN says Nigerien troops discovered his body in a "remote area" of the country on Friday.
The Wednesday attack took place near the border of Mali and Niger and was carried out by a group of around 50 militants. It's unclear what group those fighters represented and the reporting on it varies. CNN says they were ISIS fighters, while the Times called them a "heavily armed Qaeda force."
Military officials aren't sure how the missing soldier became separated from the rest of the troops but they do not believe he was captured, CNN says. With the help of French and Nigerien forces, U.S. troops set out on a rescue mission while other even more Special Forces soldiers were flown into Niger to assist.
The death of a fourth American, combined with the five dead Nigerien soldiers, brings the death toll from the attack up to nine.
News of the attack brought attention to the little-covered U.S. presence in Niger, where 800 troops are on the ground. In a statement confirming the details of the attack, United States Africa Command explained why the U.S. is there. "US forces are in Niger to provide training and security assistance to the Nigerien Armed Forces, in their efforts to counter violent extremist organizations in the region," the statement said.
And there's no shortage of those organizations in the region. CNN identifies at least three that Niger and the U.S. are fighting: "Islamic State in Greater Sahara, the ISIS-affiliated Boko Haram and al Qaeda's North African branch, al Qaeda in the Islamic Maghreb."
In a press conference at the Pentagon Thursday, Lieutenant General Kenneth McKenzie defended the U.S. presence in the country. "Niger is an important partner of ours, we have a deep relationship with them," he said. "We are committed to that relationship, we believe that they are as well in fact I think it's a very good success story."
President Trump has yet to make a statement about the soldiers who died in the attack. Asked about Trump's silence on Friday, Press Secretary Sarah Huckabee Sanders said the White House's "thoughts and prayers" are with the dead soldiers.