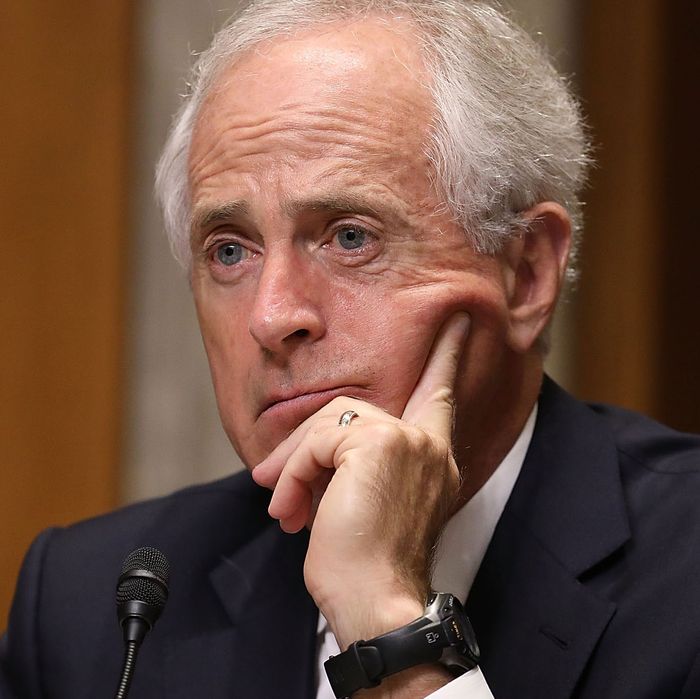 Photo: Chip Somodevilla/Getty Images
Most weeks, New York Magazine writer-at-large Frank Rich speaks with contributor Alex Carp about the biggest stories in politics and culture. Today: Bob Corker's revolt, the potential of a Bannon-backed run for Blackwater founder Erik Prince, and the Republican hypocrisy over the Harvey Weinstein allegations.
Stating that his "most important public service" could occur in the 15 months between announcing his retirement and the end of his term, Bob Corker has unleashed some of the most direct attacks ever to come from a senator about his own party's president. Virtually no Republican senators have spoken out in Trump's defense — will they eventually have to pick sides?
It's a watershed moment that even when the Republican chairman of the Senate Foreign Relations Committee invokes World War III, it is not enough to get the Vichy Republicans in Washington to speak up. The senators who remain silent while privately nodding in agreement with Corker don't seem to understand the urgency of the situation. Someone should tell them that the tax cuts they are holding out for will not be honored in the event of nuclear Armageddon.
Those tax cuts aren't going to become law anyway. Such is Trump's ignorance about every aspect of American government he didn't seem to understand that when Corker announced he was retiring from the Senate that meant he was leaving at the end of his term — not the end of the week. Trump has failed to get any major legislation through the Senate as it is; he can't afford to lose Corker or anyone else for the next 15 months. That the likes of Mitch McConnell and Paul Ryan still believe they can get a tax bill or anything else through Congress, even after the repeated "repeal and replace" humiliations on health care, is a fascinating case study in the power of denial. Trump will keep making a mockery of their ambitions every day.
After pushing Roy Moore to victory in Alabama's GOP Senate runoff last month, Steve Bannon is reportedly urging Erik Prince, of Blackwater fame, to be part of a wave of alt-right primary challengers against Establishment Republicans in 2018. Does Prince stand a chance of becoming a senator, or is the announcement part of some Bannon scare tactic with more immediate goals?
I have no idea whether Prince can be elected senator in Wyoming. He presided over Blackwater when it killed 17 Iraqi civilians in Baghdad in 2007; he is the brother of arguably the most widely loathed Trump cabinet member, Betsy DeVos; and he admitted to having an affair with his children's former nanny while his wife was dying of cancer. In the Trump-era GOP, of course, these may well be sterling credentials for winning a Republican primary.
But the larger picture here is that Bannon, emboldened by Moore's Alabama victory, has declared that he is going to run Trump-ish primary candidates in some half dozen GOP Senate races in 2018, thereby threatening incumbents who were thought to be shoo-ins for reelection. If enough of Bannon's candidates win, it could conceivably tilt the Senate to the Democrats. What's more, Bannon's new candidates, like Moore, will be declaring war on McConnell, Ryan, and whatever else remains of the so-called GOP Establishment if they get to Washington. In tune with Trump's alienation of Corker, Bannon doesn't care if his bomb-throwing means an end to any hope of getting Republican legislative wish lists through Congress. His goal, like Trump's, is to remake the GOP along white nationalist lines.
But why worry? Last weekend a typical GOP Establishment voice, the pundit Hugh Hewitt, flatly declared on Meet the Press, that Bannon's strategy for 2018 is not "going to work." Expect to keep hearing this from Republicans who said Trump could never be elected president in 2016.
Amid mounting allegations of Harvey Weinstein's systematic sexual harassment and assault, many Democrats have tried to distance themselves from his long history of political fundraising, with some giving away amounts equal to the campaign contributions they'd received. Will this scandal drag any of them down?
Before we get to the partisan politics surrounding this horror tale, we need to start with the story itself. Weinstein's behavior toward women was no secret. It was so widely known in Hollywood circles — and comparable circles in New York, where he was based — that Seth MacFarlane got a laugh when he made a joke about it on the 2013 Oscar telecast: "Congratulations" — he said of the actress nominees — "you five ladies no longer have to pretend to be attracted to Harvey Weinstein."
What's more, a specific incident had surfaced in the press two years later when a model named Ambra Battilana Gutierrez alleged that Weinstein had groped her. What happened next? "Page Six" of the Post, in league with London's Daily Mail, immediately and relentlessly trashed Gutierrez as a promiscuous gold-digger looking to trade sexual favors for a show-biz career. (Gutierrez was even accused of degrading herself to score Broadway tickets — available half-price at the TKTS booth — to Weinstein's flop musical Finding Neverland.) Two weeks later the Manhattan DA, Cy Vance, decided not to pursue charges. End of story. Until now.
We now know that Weinstein's lawyer, David Boies, was a Vance donor. What we don't know (yet) is what strings Weinstein might have pulled to get the Post on the case to destroy Gutierrez's credibility. At the same time Gutierrez's accusations were being tabled by the DA and derided by the tabloids, there was evidence supporting her case, the chilling tape of her and Weinstein produced by a police sting operation and made public this week by The New Yorker: it contains Weinstein's tacit admission that he had assaulted Gutierrez, and his verbal bullying as he attempted to force her to have sex with him.
Since this week's Times story, there's been an avalanche of social-media comments (especially, but not exclusively, from the right) that the press had been covering up Weinstein's actions. That is hardly the case, and it demeans the bravery of the women who came forward in this week's Times exposé, women like Ashley Judd and Rose McGowan, without whom there would be no front-page story. As the Gutierrez case demonstrates, Weinstein had the power to destroy any woman who went public: He could sic the tabloids on her personal reputation; he could destroy her professional career; he may even have been able to grease the legal system to get any charges thrown out. He also was capable of physical violence, as Rebecca Traister writes in her compelling piece this week detailing why many dogged reporters, including David Carr at New York back in 2001, have for years failed to nail Weinstein.
"I have been having conversations about Harvey Weinstein's history of sexual harassment for more than 17 years," Traister writes. The reason why it took so long for the breakthrough story at the Times is the same reason why it took so long for the Bill Cosby, Roger Ailes, and Bill O'Reilly stories to see the light of day: A legitimate news organization cannot bring these charges without evidence provided by accusers willing to be named. So let's pause for a moment to honor the special bravery of Gutierrez: the first woman to go public about Weinstein, and who suffered nothing but grief for her courage.
Anyone in show business who says he or she is shocked, shocked by the Weinstein revelations is lying. And most anyone who worked with Weinstein, whether at Miramax or the Weinstein Company, who says he or she was ignorant is also lying. Just as there were countless enablers at Fox News for Ailes and O'Reilly, including in the network's executive and legal ranks, so there were for Weinstein at his workplace. We need to learn who pimped for him and who covered for him.
Both political parties take lots of money from sleazy donors. The Democrats are no more likely to be hurt by their Weinstein dependency than the Republicans have been by their far more profound ties to Ailes and O'Reilly. The Clintons and the Obamas, it must be said, didn't just tolerate Weinstein as a donor and fundraiser but welcomed him as a courtier. If they really hadn't heard the stories about his behavior toward women until now, they didn't want to hear them. Based on what was publicly known, they should have broken off with him at least as early as the Gutierrez case in 2015, before Weinstein suited up as a donor and fund-raiser for the 2016 campaign.
But it is the rankest hypocrisy for Republicans to seize on Weinstein as a distraction from the sexual abuser that they helped install in the White House even after he was found on a publicly disseminated tape bragging about his own commission of sexual assault. As the GOP political operative Tim Miller wrote in a fine piece this week at crooked.com:  "Yes, Harvey Weinstein is a despicable creep. Yes all his pious liberal Hollywood enablers who said nothing for decades are contemptible. But that doesn't absolve anyone who helped put a morally vacuous, narcissistic louse into the office of president of the United States."