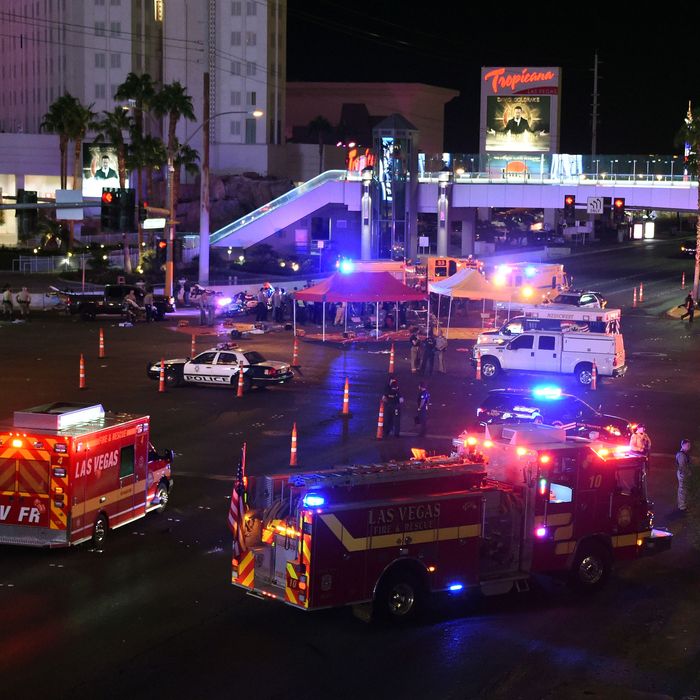 The massive Global Gaming Expo convened amid a different kind of flashing lights.
Photo: Ethan Miller/Getty Images
Not even the worst mass shooting in American history could stop the debut of the Game of Thrones and Westworld slot machines or some "innovative" new system aimed at "tobacco smoke and odor remediation." Only 36 hours after Stephen Paddock rained automatic gunfire into an open-air-concert crowd from a 32nd-story window of the Mandalay Bay casino, the gambling industry's biggest annual convention opened right on schedule just up the Strip from the site of the massacre. As one industry leader told me, "We can't stop our lives because of a madman."
And so, as the local morgue worked on identifying 59 corpses a couple miles away, the Global Gaming Expo proceeded awkwardly at the Sands Convention Center with its mammoth, brightly lit show floor. It's the place where the industry comes together to see (and buy) next year's newest casino games and hotel technology. Amid the hullabaloo, a large LED screen featuring advertisements inviting attendees to visit certain booths also occasionally displayed an image of the Strip with a heart overlaid and a message: "Pray for Las Vegas."
While there wasn't really any serious discussion of canceling the event — tens of thousands of attendees had already arrived or were en route when the massacre occurred — there were some notable pivots. The convention is produced by the American Gaming Association, the casino-industry lobby, and its executive director Geoff Freeman normally opens it with a 15-minute state-of-the-industry address. Instead, Freeman said, he hoped to "make sure this event takes on the right tone and tenor" by replacing that usually celebratory talk with an onstage chat with former Boston police commissioner Ed Davis.
Davis, the top cop when the Boston Marathon bombing took place, said the Vegas shooting had a lot in common with that incident. "What struck me was the fear and chaos, the way people were running away and didn't know where the threat was," Davis said. "It's exactly what we dealt with in Boston. People just dropped their things and ran, and then all of those things they dropped had to be cleared by bomb squads because nobody knew what might be there." His advice was generic — come together, donate blood and money, be aware of the psychological needs of first responders and concertgoers.
Indeed, there was little talk about what to do now or how this slaughter might impact either the Strip or the gambling world — despite the fact that if any sizable share of the American public is scared to come to Vegas, it would have a hugely negative effect on the casinos and the local economy. After Davis's brief appearance, Freeman pivoted to the traditional opening panel with a set of industry leaders. Each offered some sympathy for victims and admiration for first responders, and Everi Holdings CEO Michael Rumbolz came the closest to offering any sort of actionable notion.
"This is probably the worst thing that's ever happened to my community," said Rumbolz, whose company provides financial-transaction equipment to casinos. Alluding to the fire at the MGM Grand in 1980 where 85 people died, he continued, "We've had other tragedies and we've changed laws, we've changed tactics, we've changed how operations work to make sure that our customers feel safe. I have no doubt we'll do that this time."
Additional plainclothed security officers were brought on for the trade show, a G2E spokeswoman said, and foam board signs were printed up urging people to text security if they "see something suspicious." Otherwise, the event was business as usual — and to some extent a commentary on the strangely routine nature of mass shooting events in the United States. "It is hard to be here since was it only Sunday night," said Ethan Nelson, president of Steelman Partners, a casino architecture firm. "It does feel strange."
Few seemed to think the massacre, horrific as it was, would have much of an impact on Vegas's economic lifeblood. Part of that is because Paddock does not appear to have ties to any terrorist organization and his motive remains a bizarre mystery to authorities and even his family. He amassed his arsenal legally and seemed to plan out the massacre without detection from anyone at the Mandalay Bay or neighbors in his exurban retirement neighborhood in Mesquite, Nevada.
"This is an isolated incident," said Howard Stutz, spokesman for Golden Gaming, a regional casino company, at the trade show. "As sad as it is, it'll be an event that happened but I don't think it will change much. These are 3,000- to 5,000-room hotels. It's just not feasible to check every bag coming into places like this."
As boisterous and upbeat as the convention was, there were small moments when the massacre's impact showed itself. A woman in a bikini and body glitter — her uniform for beckoning convention-goers to stop by a slot-machine manufacturer's booth — sat on the floor against the wall of the hall outside the showroom's main floor trying to fix makeup that had run from crying. She had just learned by text that her friend's sister had been at Sunday's Jason Aldean concert. Even though she was unharmed, it shook her. "I'm okay," she muttered. "I just needed a second. It's too much, y'know?"