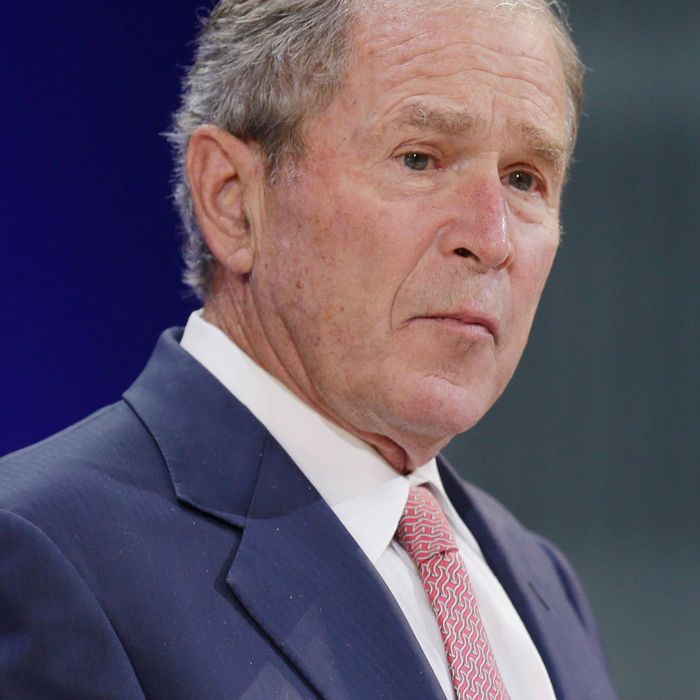 Not Trump's Bush.
Photo: Seth Wenig/AP
In a speech Thursday, former President George W. Bush denounced "bigotry in any form." He condemned "bullying and prejudice in our public life." And he warned of the dangers of "conspiracy theories and outright fabrication." In short, he tore apart President Trump and everything he represents without ever saying the man's name.
"This is a unique moment. The great democracies face new and serious threats yet seem to be losing confidence in their own calling and competence," Bush said in New York City. In town for the Bush Institute's Spirit of Liberty event, the 43rd president said, "We need to recall and recover our own identity."
The speech was filled with veiled references to Trump and his worst qualities. "And our young people need positive role models," said Bush, a devoted husband and father and the author of a senseless war that killed more than a million people. "Bullying and prejudice in our public life sets a national tone, provides permission for cruelty and bigotry, and compromises the moral education of children."
The criticism wasn't confined to Trump's personality flaws. Bush also went after the isolationism and nationalism that has taken up residence in the West Wing. "We've seen nationalism distorted into nativism, forgotten the dynamism immigration has always brought to America, the fading value of trade, we've seen the return of isolationist sentiments forgetting that American security is directly threatened by the chaos and despair of distant places where threats such as terrorism, infectious disease, criminal gangs, and drug trafficking tend to emerge," Bush said. "In all these ways, we need to recall and recover our own identity."
Thursday's remarks are Bush's most extensive and explicit criticisms of his fellow Republican in the White House. They aren't much of a surprise though. Bush, along with his father — or "Bush original" as Trump recently called him — denounced "racial bigotry" after Trump defended a Nazi rally in Virginia this summer. He also called Trump's inauguration speech "weird shit" and reportedly did not vote for him.
If there's any surprise here, it's not Bush's feelings on Trump, it's that he voiced them so publicly after spending the eight years of the Obama administration painting watercolors of terriers.