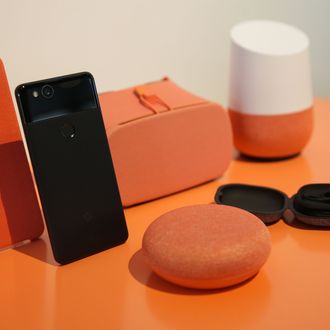 Photo: Elijah Nouvelage/AFP/Getty Images
Last week, in between dropping the as-expected Google Pixel 2, and a slightly more unexpected pair of earbuds that do real-time translations, Google announced the release of the newer, smaller iteration of its smart speaker: the Google Home Mini. Pocket-size, shaped like a doughnut, and available in white, gray, and Google's take on millennial pink, the speakers don't officially hit the market until October 19. But if you've gotten a review unit, or stopped by one of Google's giveaway pop-up stores around the country, you might have gotten your hands on one early. In which case, maybe double-check that your device isn't recording everything you say and sending it back to Google.
Artem Russakovskii at Android Police first noticed the issue with his review unit. Without using the wake words — "Okay, Google" — Russakovskii's device was listening to him all the time. The issue, it seems, was that the device seemed to think somebody was pressing down the button on top of it, which is a manual way to wake the device. When this happened, the top device lit up, but did not make a sound, meaning Russakovskii couldn't have known unless he was looking at the Mini. Which he eventually did and reported the issue to Google. The company told Android Police that the issue only affected a "small number" of Minis. "We are rolling out a software update today that should address the issue," Google said. The touch-to-wake feature has been disabled in the meantime.