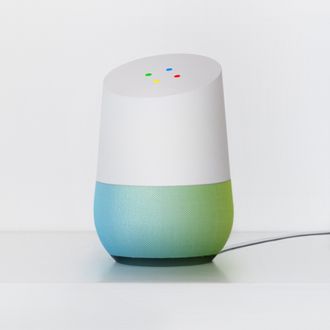 It's looking like Google will follow in the footsteps of Amazon for the next variant of its line of Home smart speakers, introducing an intelligent voice-assistant speaker that also includes display. New hardware referenced in Android code indicates a device that has the ability to display information — and, importantly, play YouTube videos. TechCrunch first reported rumors of the device last month.
The folks over at Android Police combed through the code of version 7.14.15 of the Google Android app and found references to functionality that would require a screen. Among the functions: watching and controlling YouTube, pulling up photo galleries, browsing the web, and, perhaps most useful of all, displaying Google Maps information. Code snippets also allude to screen savers.
While all signs, and the existing market, point to a device with a screen, it's possible that what Android Police found could be for something else. At I/O earlier this year, Google showed off using the current screen-less Home in tandem with a Chromecast to display a dashboard of information. Still, Amazon's Echo Show is already on the market, and Google is playing catch-up in that regard, so it wouldn't surprise anyone if it introduced a similar gizmo. And like I said before, this one will be able to play YouTube videos, a feature that was removed from the Echo Show and was so crucial that Amazon had to lower the price of the thing.