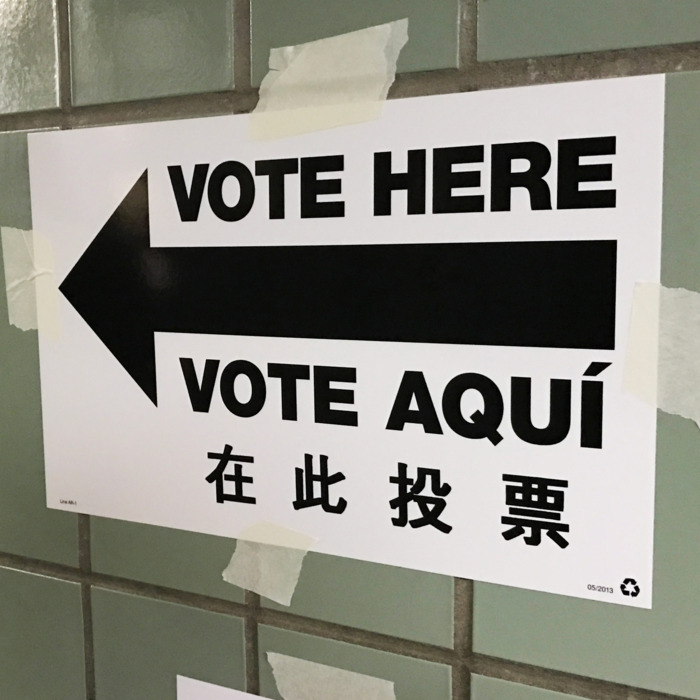 Party voting patterns among Hispanics don't seem to have changed much despite Democrats becoming more decisively pro-immigrant and Republicans moving in the opposite direction.
Photo: Noam Galai/WireImage
It's not exactly breaking news that the Republican Party has moved decisively to the right on immigration policy in recent years. The last GOP president before Trump, after all, strongly supported comprehensive immigration reform, which Trump routinely denounces as "amnesty."
But as Dara Lind explains at Vox, there has also been an evolution on immigration policy among Democrats — they've moved to the left.
Democrats have come to defer to organized immigration activists in a way they didn't 10 years ago, or even during the early years of the Obama administration. Thanks in part to a change of strategy by major labor unions, whose success in organizing immigrant-heavy professions like the hospitality industry rather than relying on its traditional manufacturing base, this important component of the Democratic base has wholly embraced the idea of comprehensive immigration reform. As a result, the party has moved substantially to the left on the issue of immigration enforcement.
More specifically, Democrats are less and less inclined to insist on making tougher enforcement a component of, much less a condition precedent for, comprehensive reform than they were just a few years ago. It's easy to forget that the father of DACA and DAPA, Barack Obama, took office determined to show Democrats didn't just support reform as part of a general unwillingness to enforce the laws.
[T]he Obama administration continued the expansion of immigration enforcement that began under George W. Bush. They set deportation records; turned a database pilot program into a near-nationwide system to flag unauthorized immigrants checked into jails for ICE pickup, and touted statistics showing that a majority of deportees were "criminal aliens"; and bragged routinely about how their efforts to deport and prosecute immigrants caught crossing the US/Mexico border were making the border "more secure than ever before."
You don't hear a lot of talk like that from Democrats these days.
And so, in combination with the better-known GOP trend against "amnesty," the two parties have rapidly polarized on immigration policy. Yet that polarization doesn't seem to have led to any partisan shifts in voting patterns among Hispanics, at least so far.
That's most obvious at the presidential level. In 2008, tough-love-for-immigrants candidate Obama faced the Republican most identified with comprehensive immigration reform, John McCain. Obama won among Hispanics by 36 points. Eight years later the very pro-immigrant Hillary Clinton ran against the most aggressively nativist major-party presidential candidate since the 1920s, Donald Trump. The Democratic margin among Hispanic voters was 38 percent. That represented a significant regression from the 44-point margin won by Obama against Mitt Romney in 2012.
There is even more stability in the trend lines for partisan self-identification among Hispanics. The Democratic advantage was at 38 percent in 2008, 33 percent in 2012, and 36 percent in 2016.
To put it another way, Democrats do not seem to have accrued many gains, or Republicans suffered many losses, among Hispanics for their significantly more polarized positions on immigration policy.
There are a variety of possible explanations for this phenomenon. The most obvious is that immigration policy has been generally overrated as a determining factor of Hispanic votes, and there's significant data suggesting that is true. There are also significant elements of the Hispanic electorate that have no particular reason to worry about immigration policy, such as Puerto Ricans who are U.S. citizens by birth; Cuban-Americans who mostly came to the U.S. legally as political refugees; and New Mexico residents who settled there long before any Anglos were present.
Another factor that might mitigate what would otherwise be a stronger pro-Democratic trend among Hispanic voters is religion: Roughly 16 percent of Hispanics are now evangelical Protestants, the group most intensely loyal to Republicans.
And it's also possible the exit-poll numbers on which all these generalizations rely are simply wrong, and disguise a stronger pro-Democratic trend.
In any event, for the immediate future any Hispanic voters who do care about immigration policy, and would like to see it liberalized, have an ever-easier choice. Whether that's enough to mobilize them to vote in representative numbers as their percentage of the population grows is a question whose answer could shape the future of national politics.