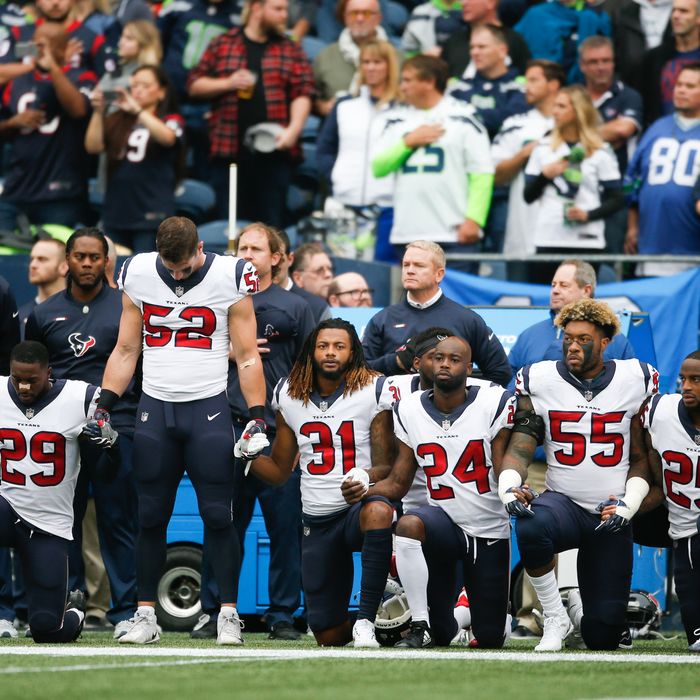 The Houston Texans kneel before Sunday's game.
Photo: Otto Greule Jr/Getty Images
The NFL anthem-protest controversy heated up again on Sunday, but this time President Trump wasn't directly involved.
All but ten members of the Houston Texans took a knee during the playing of the national anthem before their game against the Seattle Seahawks on Sunday in response to a report that Texans owner Bob McNair referred to players as "inmates."
On Friday ESPN The Magazine reported that during a discussion of the ongoing anthem protests at a recent owners meeting, McNair commented, "We can't have the inmates running the prison." The piece said several people in the room were "stunned" by the remark, and Troy Vincent — a former player who is now the NFL's executive vice-president of football operations — told the owners that he was offended.
McNair reportedly apologized to Vincent, saying he felt horrible and didn't mean for his words to be taken literally. In public apologies issued on Friday and Saturday, McNair claimed he wasn't talking about the players, but rather "referring to the relationship between the league office and team owners and how they have been making significant strategic decisions affecting our league without adequate input from ownership over the past few years."
Nevertheless, Texans wide receiver DeAndre Hopkins and running back D'Onta Foreman skipped Friday's practice over the remark. McNair met with the team on Saturday, but when asked how that went left tackle Duane Brown said, "Not too well."
"I think it was ignorant," Brown said. "I think it was embarrassing. I think it angered a lot of players, including myself. We put our bodies and minds on the line every time we step on that field, and to use an analogy of inmates in prison, that's disrespectful. That's how I feel about it."
Players said they were discussing how to respond as a team, and there were reports that they would remove the Texans logo from their helmets. CBS did not air the anthem, but photos and videos showed more than 40 players kneeling. On the other side of the field, several members of the Seattle Seahawks sat on the bench during the anthem, as they've been doing all season to protest racial injustice.
After the game Brown said he and his teammates were experiencing a lot of different emotions, but they felt "a huge sense of unity."
"I'm never going to force anybody to do anything that they don't feel comfortable with," he said. "I think we all felt the same way on Friday. And as far as the demonstration went, some people didn't feel quite comfortable doing it, some people did. But we all supported each other, and that was what was important. I don't think anyone looks at anyone differently for what they stood for or didn't stand for."