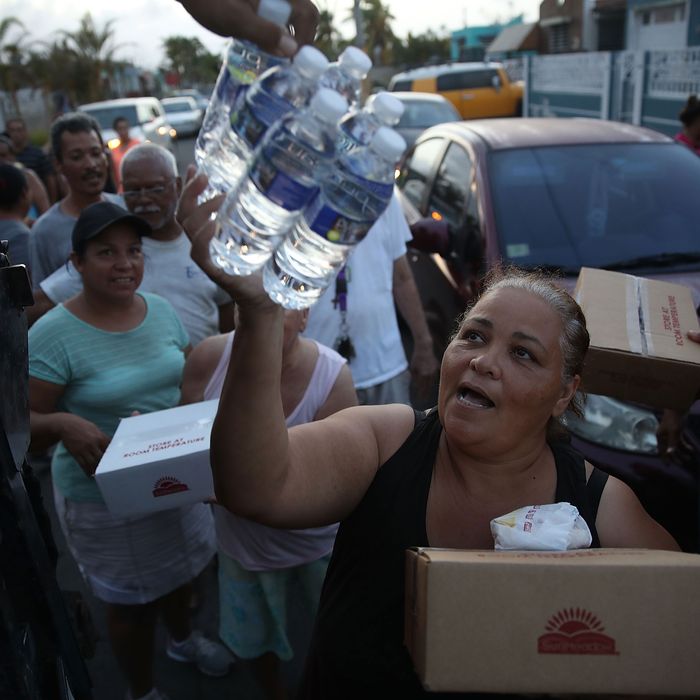 Hurricane survivors receive food and water being given out by volunteers and municipal police as they deal with the aftermath of Hurricane Maria on September 28, 2017, in Toa Baja, Puerto Rico.
Photo: Joe Raedle/Getty Images
The sixth-floor windows wouldn't hold in the winds, they knew. So the doctors and staff at the University Pediatric Hospital in San Juan moved the entire neonatal intensive-care unit, the NICU, down three floors as Hurricane Maria closed in. The predicted damage came. Windows cracked, water poured in. The air-conditioning units blew away.
The entire hospital is now relying on one cooling tower. There was no running water for the first week; the dialysis machines had to be lugged to the adult hospital next door. All 12 elevators went out. The hospital relied on generators until electricity came back, last Wednesday. Only two elevators work now. The NICU, and its tiny, vulnerable patients, remain on the third floor, divided up among 20 rooms on the general pediatric ward.
"We're in San Juan. We're the medical center in Puerto Rico," Marta Suarez, a pediatric nephrologist told Daily Intelligencer, of the University Pediatric Hospital. "So you wonder how are other hospitals are being helped."
Suarez's facility is the only public pediatric hospital on the island. It has the largest NICU, and handles the most complicated medical cases. The most vulnerable are referred here. But now Suarez and her co-workers are dealing with the dual challenge of providing care to patients, while supporting other medical centers across the island. Many of those facilities are even more cut off, even more desperate for basic items, from insulin to IV fluids to gauze. "I think for people to understand what is going on is to imagine being thrown back 100 years," she said. "All the progress we've had in medical care, you've been thrown back 100 years."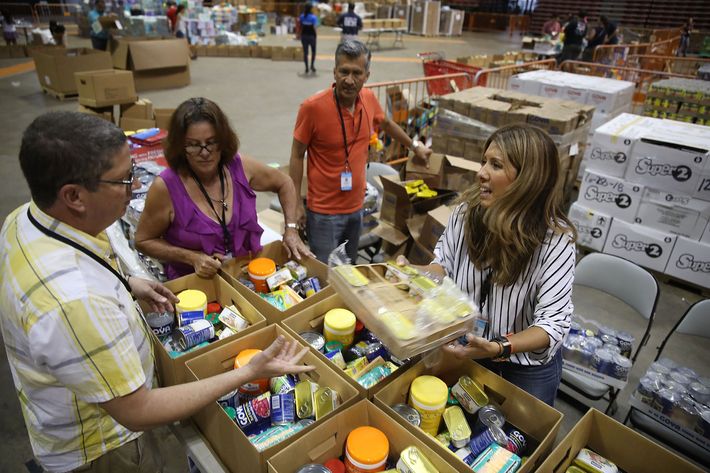 Those crisis conditions are made worse by what is essentially a logistical nightmare. About 90 percent of the island is still without electricity, and only about a quarter of cell-phone towers are back online. Gas is flowing again to 74 percent of gas stations, according to FEMA, but roads are still badly damaged, complicating travel and aid delivery. And the University Pediatric Hospital is just one of dozens of organizations, large and small, battling these enormous obstacles.
"Our speciality is working on really tough challenges globally, we're in 40-plus countries. We're in South Sudan, Syria, places that are a little bit more well known for being logistical challenges," Christy Delafield, senior global communications manager with Mercy Corps, which made the rare decision of getting involved in Puerto Rico a week ago. "But the scale of this disaster is monumental. Three million plus people in Puerto Rico, and everybody was impacted in some way."
It was "the great equalizer," said Michael Fernández, who works for a local community organization Caras, describing Maria. "I'm quoting a friend of mine," he said, "'but 'it doesn't matter if you're rich or poor … everybody has been affected.'" Even big companies and businesses that would normally donate resources, and spearhead efforts, he said, were knocked down. "There wasn't one corner of Puerto Rico that wasn't hit hard."
Fernández said communication has been the biggest challenge to any aid efforts. He and his colleagues have a platform, Connect Relief, which tracks which communities need what — clean water, for example — so organizations or individuals can donate directly. But coordination is intensely difficult without good cell or internet service. There's the worry that organizations will duplicate efforts — delivering, say, two truckloads of food but no batteries. Fernández said it represents a broader lack of coordination among the government of Puerto Rico, local municipalities, and bigger aid groups. Smaller organizations like Caras know their communities, they know who lives where, and who needs what, but their expertise hasn't been utilized as much as he'd hoped. "There would be less people hungry and thirsty," he said.
Mercy Corps' small team on the ground is cooperating with local groups for that exact reason. "These challenges exist on such a massive scale that it just slows everything down," Delafield said. "Even with the best of intentions, even with people working around clock." The frustration is justifiable, she added. You can't just pick up the phone and call someone. Radios are broadcasting notices to visit this website, or download this app for assistance — something that's impossible without internet or phone service. Her team is equipped with satellite phones, but they do little good when the people they need to reach do not. "You don't have any way to call the truck that's on the road," she said.
Spotty service and dead phone lines mean sometimes the only way to survey the crisis is getting in the car — especially now that the immediate gas crisis has eased. Suarez said one of her pediatric residents drove around to doctors and clinics asking what they need. "Doctors are saying, 'I need this, I need that,'" Suarez said. "So you're trying to help as many people as you can. It's a little bit overwhelming." Suarez said they're trying to deliver everything from sterile gloves to ointments to antibiotics. Many pharmacies can't process insurance payments, and people lack cash, so Puerto Ricans are flocking to hospitals to get their daily treatments. Suarez said they distributed vials of insulin to endocrinology clinics; people have no way to refrigerate supplies. "'We'll give you whatever we have,'" Suarez said they told doctors. "And that's what we did."
But what Suarez and her hospital can give is barely enough. There had been shortages before Maria, too, because of the debt crisis. "We have always been very low on supplies, so we knew coming in that it was going to be a huge crisis," Suarez said. "We knew we were going to run out of everything that we needed." Shipments have come in: on Monday after the storm, 100 doses of tetanus vaccine from AmeriCares, needed as people wade through sewage water, cleaning up debris. Another shipment of supplies came in Wednesday from Texas, and were waiting at the airport.
Such shipments of medicine, or food, or fuel, have trickled out faster after days of being stuck at the ports or in airports because of the lack of diesel and truck drivers, and damaged infrastructure. The situation has improved, but Steve Dooley, director of partnerships at the Center for Popular Democracy, said it's still a struggle to get aid down to Puerto Rico, and there's a backlog of deliveries once it arrives, especially because of the unreliable roads. "There's people who have storage units full in Boston, church-fulls and storefronts-full in New York," he said. "People who have two warehouses full of donated things in Miami."
After weighing the options, Dooley said his organization decided to hop on the commercial flights — still operating on a reduced schedule — down to Puerto Rico and deliver the supplies directly. Dooley and six others took a Delta flight from JFK to San Juan on Wednesday, stuffing three bags each full of saltines, cans of tuna fish, mosquito spray, and baby sunscreen. They also carried thousands in cash, with plans to distribute it all through a grassroots relief effort they've been working with in San Juan. Their departure date is still unknown — it will depend if they can charter out a flight.
Roadways are still blocked off, or destroyed down to a single lane. The radio is still the best way to get the news. But aid efforts are visibly paying off, if slowly. More people have generators, the gas lines have shortened. "We adapt and go forward, adapt and go forward, adapt and go forward," Fernández said.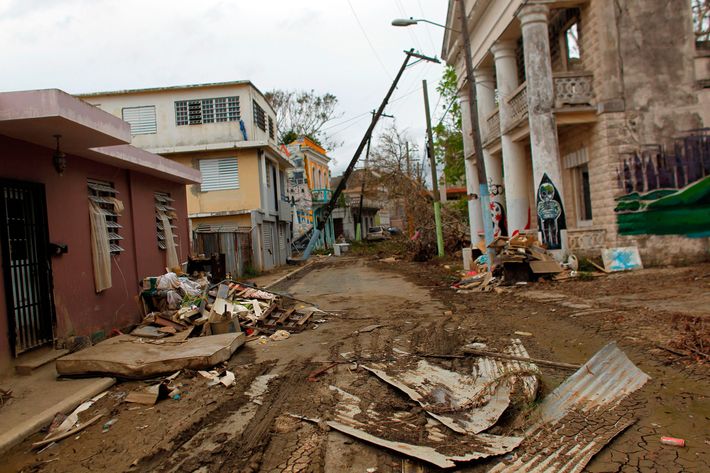 Yet against the backdrop of this aid, the question of the United States' government response hangs over the whole crisis. There are more than 13,000 federal staff and 800 FEMA workers on the ground in Puerto Rico and the U.S. Virgin Islands, though the administration has received criticism for what has been perceived as a slow response to an overwhelming crisis. Like Mercy Corps, Oxfam International also made the unusual move to intervene in a U.S. natural disaster, something it hasn't done since Katrina, though the organization already had a presence in rural parts of Mississippi and Alabama at that time, said Scott Paul, the humanitarian policy lead with Oxfam International. "Oxfam is an international organization that tends to respond when systems are overwhelmed," Paul said. "In the United States, we don't ordinarily have to do that," he said. Despite this, as the crisis unfolded in Puerto Rico and the federal government's response didn't appear to match the overwhelming need, "it became clear the added capacity was needed."
Suarez said FEMA workers visited the hospital for the first time Wednesday, though the Navy had visited and assessed the hospital in the initial days after the hurricane hit. "They [FEMA] brought satellite phones," Suarez said. "We're like, 'we don't really need that. We have phones. Give that to the rest of the island.'"