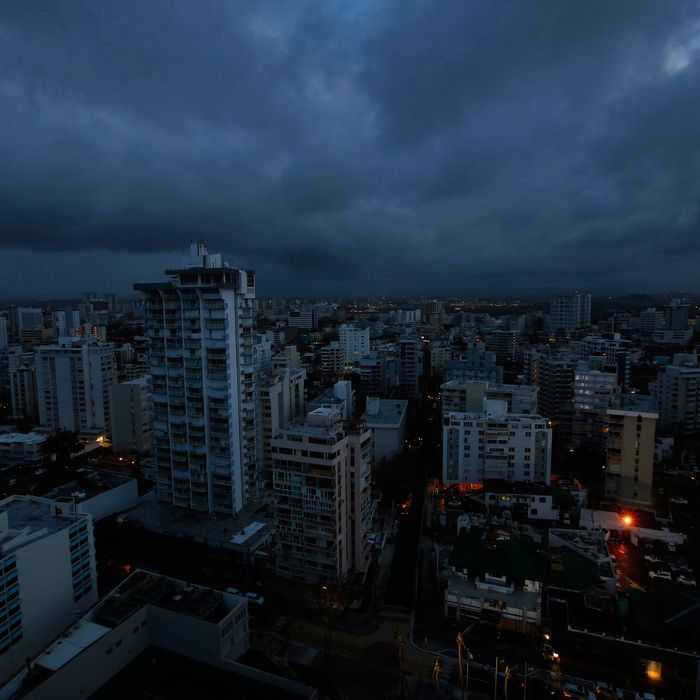 Blacked-out San Juan with lights only showing in buildings that have generators.
Photo: Carolyn Cole/LA Times via Getty Images
"You live glued to the radio," Mikol Hoffman said, of the hours and days after Hurricane Maria tore through Puerto Rico. "Cell, internet, TV, landline — everything was down. For literally days, the only form of communication for 90 percent of the island was a single radio station that was broadcasting nonstop, 24 hours."
That radio station, WAPA, filled the communication black hole that enveloped Puerto Rico as the storm walloped the island, completely knocking out electricity and damaging or destroying much of the U.S. territory's telecom infrastructure, including cell-phone towers. It took until Monday for the Puerto Rican government to contact all 78 municipalities. Family members in the United States struggled to make contact through midweek. Now, more than ten days after the storm, pockets of Puerto Rico are coming back online. People have cell signals, though it's not always reliable. Some can get near-functioning WiFi, even if it's just an hour or two.
But before that, as Hoffman described, the radio signal was pretty much all that connected Puerto Ricans, a surreal throwback to another era. "That's how we are finding out about things — and that's how people were letting other people know that they were okay," Hoffman, a business consultant and freelance journalist in San Juan, told Daily Intelligencer. "If somebody had a signal, they would call into the radio station. They would say, 'You know my name is such and I'm such and such. Please tell my family I'm okay.' Or, 'My name is such and such. I'm on an oxygen tank and my generator just ran out of diesel. I live here and here. Please send help.'"
Those that made such pleas on the airwaves were among the lucky few whose landlines still got a dial tone, or whose cell still picked up a signal — people like Zuania Capó, whose working cell phone turned her into a traveling dispatcher. Capó visited places that were totally cut off, collecting messages and the telephone numbers of the people families wanted to contact but couldn't. Then she called those numbers, and through the receiver, translated desperate assurances of safety.
Her mission began a few days after Maria, when Capó, who lives in the Hato Rey section of San Juan, couldn't get in touch with her family on the north side of the island, near Manatí. "I got very desperate and I waited for two days, and after that, I couldn't wait any longer," she said. So she risked the wasted gas and debris to drive out there. She saw her family, and they were safe. But she realized that many of their neighbors were as desperate as she was to reach out to their families, but had no way to do so.
"I went to the neighborhood asking people to give us their telephone numbers that way we could communicate to their loved ones that they were okay," Capó explained, "That night, we went back to San Juan. We waited the three hours so we could get back on and get the signal. We spent all night calling families, just letting them know that their loved ones were okay."
Capó and her husband kept up their mission through the weekend, using the gas they had left to travel to different towns. They charged their cell-phone batteries in the car. "We just [kept] going to different places and asking people, 'Hey, if you give me your telephone number of your loved ones, your contact information, I will contact them and let them know you're okay,'" she told the worried, frustrated families. Univision eventually heard of her work and reached out to help support her efforts as part of their own #PRActivate campaign. They offered to supply gas so she could keep driving to towns, keep collecting numbers, keeping calling people on the island, or back on the U.S. mainland.
"People were so relieved," Capó said. "I actually received a call, a message from someone saying, 'I will pay you.' And that broke my heart. 'I will pay you if you can go to this other person.'"
Capó left Puerto Rico this week, waiting hours at the airport to catch a plane to Florida. She said, even now, people are calling her. She is still doing what she can, even if it's just a social-media post, from afar.
Paired with Maria's destruction and devastation — downed trees, shattered glass, palm leaves carpeting the ground — the dead phone lines seemed to intensify the initial scale of disaster after the hurricane. "It was really scary because not getting caught up with your loved ones or even your co-workers, you tend to think the worst," Patricia de la Torre, who lives in the San Juan suburb of Guaynabo, said. "After a while, you just get really, really, really frustrated because you just feel like you don't have any power. You feel powerless."
It also added another layer of anxiety when it came to security. "Even the police — that there was no way of getting a hold of anyone," de la Torre stressed. "The only way to communicate with people was driving — or trying to drive. And, of course, you have the problem of gasoline."
Others still echo that fear — that should an emergency happen, police or first responders might be unreachable. "If you do get robbed, what are you going to do?" Hoffman said. She added that, as a result, neighbors were banding together to form watch groups for buildings, for blocks.
They also got together when they had to clear the streets, residents pulling out their chainsaws, or hauling away branches, because they couldn't wait for the municipalities. And without cell phones, they passed whatever snippets of news they heard by word of mouth. "I met my neighbors for the first time," Hoffman said. "I met more neighbors in two days than I have in two years."