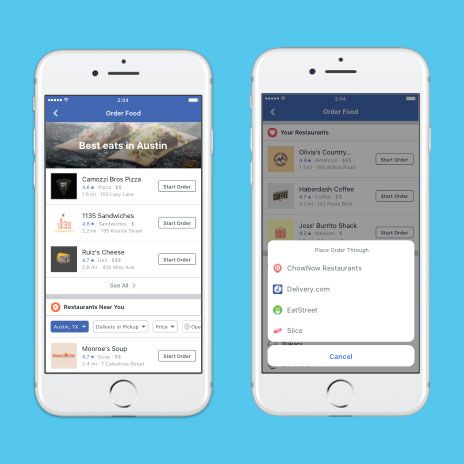 The singularity is nigh! Huzzah!
Photo: Facebook
On the off chance that you weren't totally overwhelmed with the number of delivery-service apps already out there, Facebook has got you covered. Today, the company officially launched its newest feature, which will allow you to order food from local restaurants using the app.
Here's how it works: If you open the Explore menu on Facebook, you'll see a new section called "Order Food," from there, you'll be able to, well … order food. It's pretty simple. Like every other delivery app out there, Facebook's Order Food will allow you to browse a list of available restaurants near you and order either takeout or delivery from your favorite.
However, despite all appearances, Facebook's Order Food section is not a delivery service, but rather just a very sleek-looking middleman. Unlike similar services, such as UberEats or Postmates, there's no fleet of Facebook Order Food employees waiting to pick up your food and rush it to you. Facebook has avoided the various complications that arise when you have a physical workforce by partnering with a number of established players in the food-ordering business — such as EatStreet, Delivery.com, DoorDash, ChowNow, and Olo — and letting them do the heavy lifting.
This move doesn't come as much of a surprise, as it is yet another attempt by Facebook to keep users inside of its app for as long as possible. The feature is now available everywhere in the U.S. on iOS, Android, and desktop.