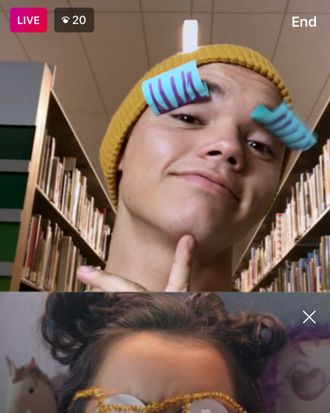 A dual Instagram Live.
Photo: Instagram
Have you ever gone live on Instagram and thought to yourself, Self, this is great and all, but I really wish I could co-host this broadcast with a pal! No? You haven't? Somebody out there has — because today, Instagram announced it's rolling out a new feature that lets up to two users go live in the same stream. (Instagram tested a version of this earlier this year.)
"Simply tap the new icon on the bottom right and tap "Add" to invite anyone who's currently watching," Instagram explained on its blog. "Once they join, you'll see the screen split into two and your friend pop up right below you." Your friend can opt to leave the livestream at any time. Or, if you decide you'd rather return to being a solo act, the user who created the stream can also remove another user at anytime. Once you're done going live, you'll have the option to share the entire video to your Instagram Story. If you'd like to avoid watching any of your friends go live with another person, avoid tapping any icons at the top of the app — where Stories and live video typically appear, with a pair of circles set on top of each other.