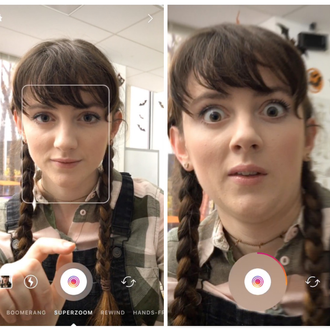 Just in time for Halloweekend, Instagram is rolling out a new way to fill your Stories with the suspense they so rightfully deserve. The feature is called Superzoom, and it — you guessed it — zooms things in.
Superzoom is perfect for those moments that just need a little something extra (and, you know, for making your friend's face look weird). It can be found inside the Instagram Stories camera to the right of the Boomerang option. From there, you just hit record and bam! Instant drama.
Sure, you could've technically achieved something similar-looking before by using manual zoom, but it was rarely consistent and usually took a couple of tries. (Bonus: Superzoom is also accompanied by some super-suspenseful sound effects.)

And, in the spirit of Halloweekend, Instagram has also rolled out a variety of spooky face stickers and filters that'll be available until the end of October. Happy haunting!