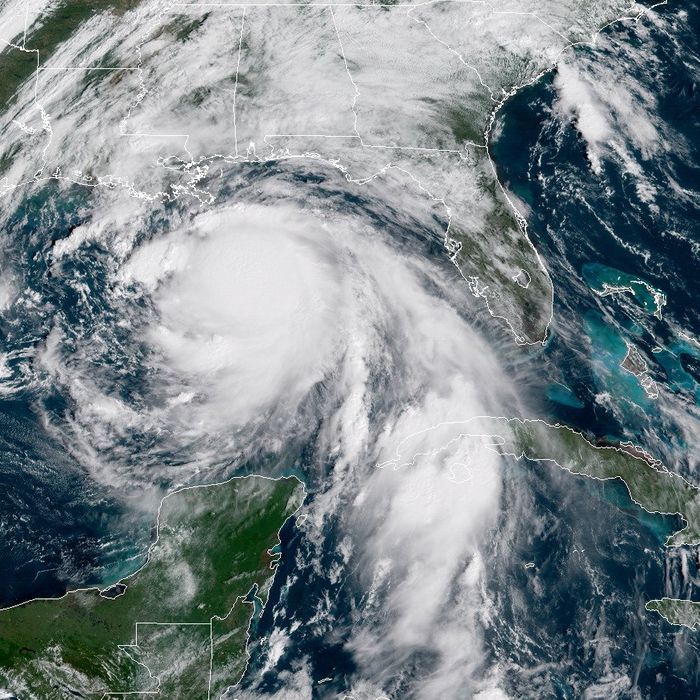 A satellite image of Nate on Saturday morning.
Photo: NOAA
Hurricane Nate is speeding north toward the central Gulf Coast and is forecast to strengthen to a Category 2 storm by the time it makes landfall sometime overnight Saturday. Nate became a Category 1 hurricane over the Gulf of Mexico early Friday.
As of Saturday morning, hurricane warnings have been issued from southeastern Louisiana to the Florida panhandle. Nate is projected to make landfall just east of New Orleans along coastal Mississippi and Alabama. All four states have declared a state of emergency ahead of the storm, which will be the third hurricane to strike the U.S. mainland in six weeks. Assuming Nate continues to travel as fast as it has been, it may not have enough time to further strengthen into a Category 3 before it makes landfall.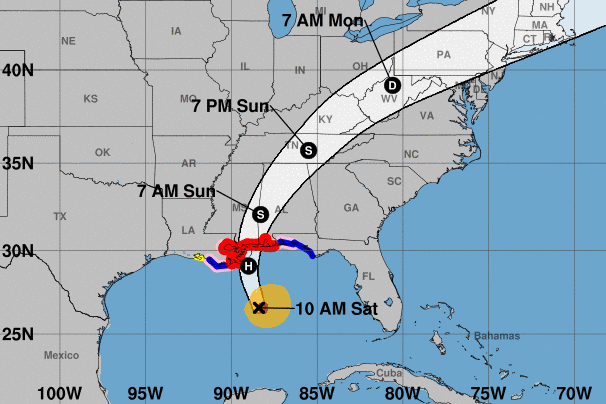 The fast-moving storm is forecast to dump three-to-six inches of rain on parts of the Gulf Coast and may push a life-threatening storm surge of 7-to-11 feet above ground level in some areas, especially where, and to the east of where, Nate makes landfall. Hurricane-force winds of at least 95 m.p.h. will stretch out 35 miles from the storm's center and tropical-storm-force winds will reach out 125 miles — particularly on the storm's eastern side. The good news is that Nate is a much faster and skinnier hurricane than its recent predecessors Harvey, Irma, and Maria, but that doesn't mean it isn't still dangerous, as Weather Underground's Dr. Jeff Masters explains:
The surge forecasts for the Mississippi and Alabama coasts are particularly concerning. Few if any mandatory evacuations had been issued as of early Saturday morning, yet based on current forecasts, it is possible that Nate will deliver one of the higher surges in recent decades (outside of Hurricane Katrina) to parts of the surge-prone coasts of Mississippi and Alabama. 
Hurricane and storm-surge warnings have been issued for New Orleans, and it's possible Nate will make landfall in the same place Katrina did in 2005 — though Nate will arrive with much less size and strength, and it will move away quickly. Regardless, mandatory evacuations have been ordered in some areas outside levees near the city, and New Orleans mayor Mitch Landrieu has ordered a 6 p.m. curfew for Saturday night, as authorities are concerned about overnight flooding. In early August, a major rainstorm exposed critical weaknesses in the city's drainage-pumping system, leading to the flooding of some homes and businesses. Since some of New Orleans is below sea level, its powered drainage system is essential to keeping the city dry.
After striking the coast, Nate will likely bring heavy rainfall, and possibly flash flooding, through the southern Appalachians starting as early as Sunday. Nate's rainfall has already led to at least 25 deaths in Central America, where Costa Rica, Nicaragua, and other countries received as much as eight inches of rainfall from the storm earlier in the week.