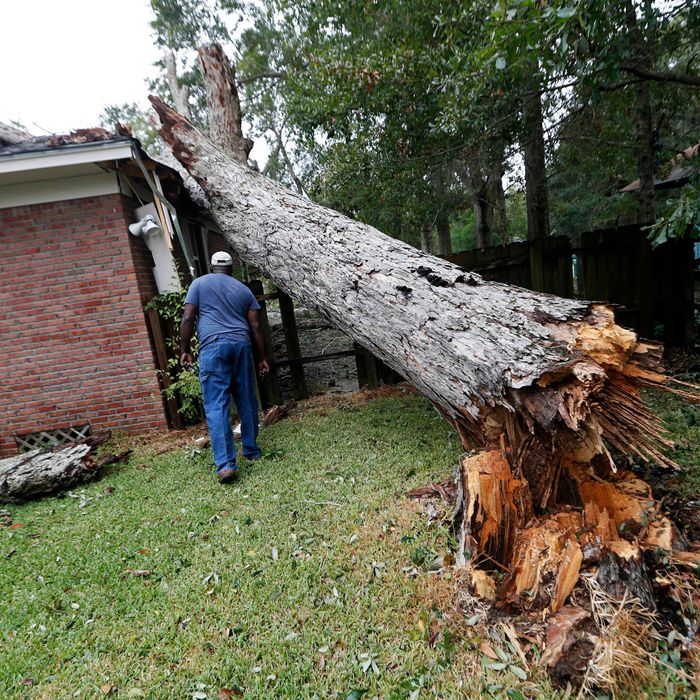 In the aftermath of Hurricane Nate, Biloxi native Lawrence Carriere checks on the home of his neighbor on Sunday after a tree fell on it and crashed through the roof.
Photo: Gerald Herbert/AP
Hurricane Nate was downgraded to a tropical storm early Sunday morning, after making landfall twice overnight at Category 1 strength, packing winds of 85 m.p.h. The first landfall was near the mouth of the Mississippi River on Louisiana's southeast coast around 8 p.m. Saturday, and the second just east of Biloxi, Mississippi, around 1:30 a.m. Sunday. There have been no reports of injuries or significant damage, but there remains a risk of dangerous flash flooding from the fast-moving storm as it travels northeast across Alabama and the Tennessee Valley on Sunday.
At least 100,000 customers had their power knocked out by Nate, mostly in Mississippi. There was some storm-surge flooding along the Mississippi and Alabama coast, but it was nowhere near as high as had been feared. States of emergency had been declared in all four central Gulf Coast states on Saturday, and Nate had been expected to make landfall at Category 2 strength, pushing a storm surge as high as 11 feet. Instead, the peak surge was about six feet, and less in most areas, so the flooding did little damage.
Nate was the first hurricane to make landfall in Mississippi since Katrina devastated the state's coastal region in 2005.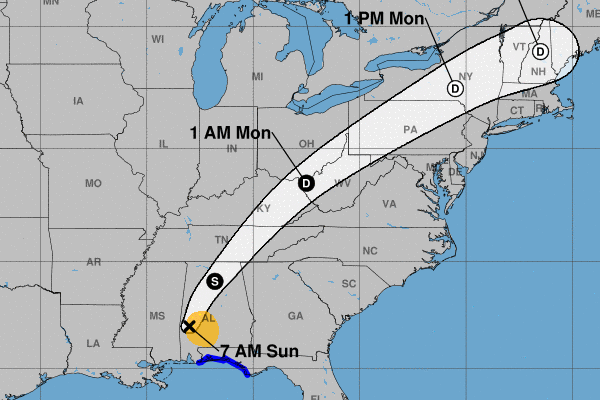 The tropical storm is expected to continue to weaken as it moves across land, but will still bring three-to-six inches of heavy rain to parts of the Deep South, eastern Tennessee Valley, and southern Appalachians through Monday. Some areas could also receive as much as ten inches of rain from the storm; isolated tornadoes are possible in the region as well.