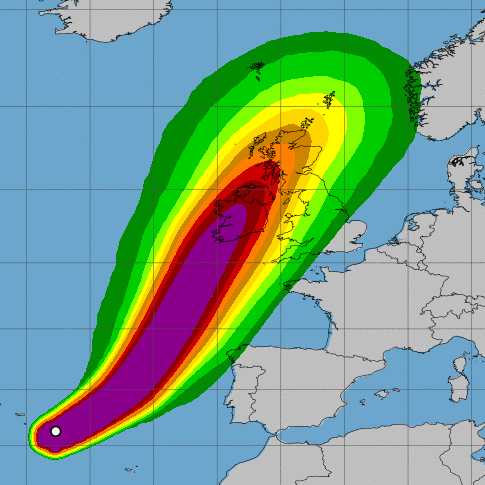 The fair Ophelia's tropical-storm-strength wind forecast as of Saturday night.
Photo: NHC
This year's busy and bizarre hurricane season isn't done stunning scientists. The latest named storm, Ophelia, is now the sixth major hurricane to form in the Atlantic this year and the tenth consecutive named storm to reach hurricane strength this year — only the third time in recorded history and the first time in a century that has happened — tying the all-time single-year record. On top of all that, no major hurricane has ever formed as far east as Ophelia has. The storm intensified so far east, in fact, that it now threatens Europe. Ophelia reached Category 3 strength 220 miles south of the Azores on Saturday morning, and is now on track to strike Ireland beginning Monday.
No, this is not even close to normal, as astounded meteorologists like Weather Underground's Bob Henson are pointing out:
To call Ophelia unusual would be an understatement. For one thing, it became a major hurricane at longitude 26.6°W, further east than any other formation of a Category 3 in the Atlantic. The former record-holder was Frances (1980), which became a Category 3 at 12.8°N, 29.8°W. Ophelia's achievement is even more impressive when you consider its latitude: 34.8°N. In data going back to 1851, no other major hurricane is known to have formed anywhere close to as far northeast as Ophelia. The runner-up at Ophelia's latitude range, Michael (2012), developed some 900 miles further west [(as seen above)] […]




By conventional standards, one wouldn't even expect Ophelia to be a hurricane, much less a major one. Sea surface temperatures beneath Ophelia are around 25°C (77°F), which is roughly 1°C below the traditional benchmark of SST levels warm enough to support tropical development. However, these waters are about 2°C (3.6°F) above average for the location and the time of year, and upper-level temperatures near the top of Ophelia are several degrees C below average.
While it won't still be a hurricane by the time it reaches the British Isles — Ophelia is forecast to have become an extratropical storm before then — it will probably still arrive as "a destructive windstorm in Ireland on par with some of the most damaging in the nation's history," according to Henson, with winds as high as 70 m.p.h. along the island's southwest coast. A "status red" alert, Ireland's highest, has been issued for five counties in that region. Storm-surge flooding along the coast is possible, but the biggest threat will be from the high winds.
"There is a lot of uncertainty as to the exact evolution and movement of this weather system during the coming four days, but storm-force winds, outbreaks of heavy rain, and very high seas are threatened," according to the Irish weather service Met Éireann.
Extratropical storms reach the British Isles several times a decade, and Ophelia may be among the most powerful ones to strike over the last 50 years. The only known storm to still be a tropical hurricane when it affected Ireland was Hurricane Debbie in 1961. When it brushed the island, wind gusts as high as 106 m.p.h. were recorded there. A plane crash caused by the storm killed 60 people in the Azores beforehand, and another 18 were killed in Ireland, where tens of thousands of trees were knocked down, many buildings were damaged or destroyed, and the overall damage, including to the island's agriculture, totaled what would be more than $300 million in today's dollars.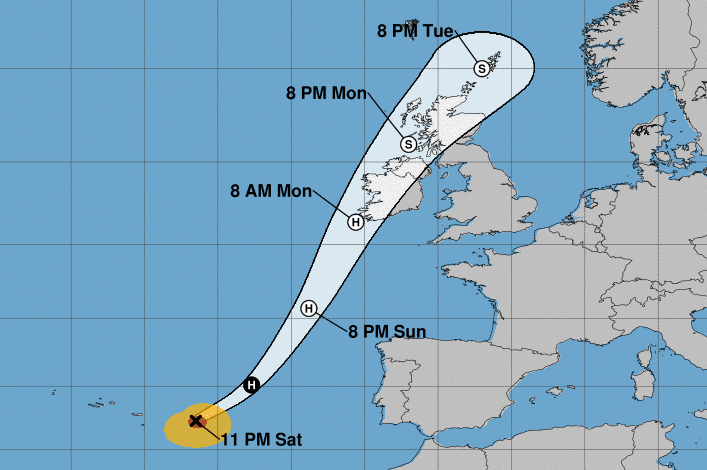 Ophelia is expected to affect the U.K., and could have an impact on Portugal, Spain, and France as well. One disaster modeler told Bloomberg that the storm could potentially cause even more damage than Debbie did. But Ophelia might also do some good, in the form of a big boost in megawatts generated by the U.K.'s wind-power infrastructure. According to Bloomberg, remnants of Hurricanes Irma and Maria already led to record wind-energy generation in the country, and the storms didn't come close to actually striking Europe.
Whatever happens, the fast-moving storm is currently expected to dissipate around Wednesday somewhere north of Scandinavia.