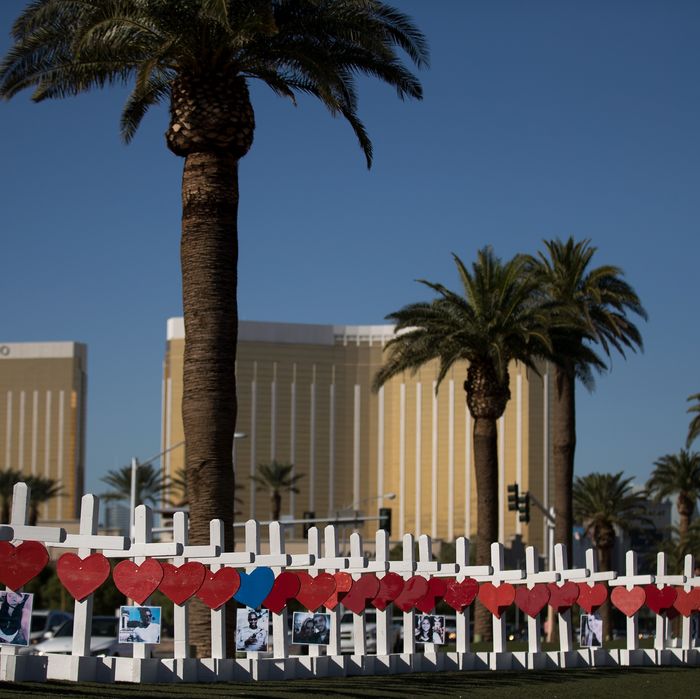 With the Mandalay Bay Resort and Casino in the background, 58 white crosses for the victims of Sunday's shooting stand on the south end of the Las Vegas Strip.
Photo: Drew Angerer/Getty Images
He was a dedicated — addicted? — gambler who tethered himself for hours at a time to high-stakes video poker slot games known for their 99.17 percent "payback." He was also a heavy drinker, known to demand high-end cognac and treat cocktail waitresses and his own girlfriend rudely, according to a source in guest services at a casino he frequented. He was a lousy tipper and a loner who spoke as little as possible, but also a man who enjoyed free, fancy meals and rooms to keep him happy, said the same person, who asked not to be identified.
And now that 64-year-old Stephen Paddock is also the gunman responsible for the worst mass shooting in modern U.S. history, the question is whether any of that has anything to do with the horrific thing that has made him infamous.
"Everyone is trying to make a connection between his gambling and what he did, but the way he played wasn't as abnormal as it sounds," said Leslie Smith, a semi-professional poker player who visits Vegas once a month and believes he saw Paddock playing at the Cosmopolitan resort a few years ago. "It sounds exotic and a little weird to people who don't know any better, but it's something some wealthy people do because it's fun."
The subject of Paddock's gambling life is an understandable preoccupation in Las Vegas, in part because, four days after Sunday night's massacre at an open-air country music festival, authorities have provided no tangible motive for an attack that clearly took a great deal of plotting. That he was staying for free on a comp in the 32nd floor corner suite at Mandalay Bay — the Associated Press first reported that and New York has since confirmed it — only adds to the sense that Paddock used the enormous amount of time he spent in the casino in part to devise his murderous plans.
Paddock was so unremarkable, said Anthony Curtis, a former professional gambler and current publisher of gambling-industry website the Las Vegas Advisor, that his name rang no bells on the day after the massacre. On Tuesday, though, as more photos of Paddock circulated, many of the folks who had said they'd never heard of him started resurfacing to tell Curtis they recalled seeing him.
"This guy was a dyed-in-the-wool video poker player who would play the $5, $10, and $25 machines, which is high denomination but not super high," Curtis said. "He could easily approach 1,000 hands an hour with his eyes closed, which means he's betting over $100,000 an hour."
Yet the game he played — known as Five Aces video poker — has the highest payout average of any game in the high-end salon, Curtis said. Paddock, reportedly a former accountant and real-estate investor, likely knew his math and made up the "leakage" — about $8.70 per $1,000 played — by enjoying perks, according to Curtis. As a gambler, Paddock was rated a "low 7," said Curtis, meaning the casinos had verified he had between $1 million and $3 million in his bank account (that is, low seven figures).
While Paddock was clearly a high-roller, Curtis said it is probably inaccurate to call him a "professional gambler," the term Paddock's brother used to describe him. A wealthy player can essentially break even between winnings and perks, but nothing about Paddock's play implied he was really making his living in the casino.
"He was not a degenerate at the low end, he was not an expert wizard at the high end," Curtis said. "At least from what people who observed him tell me, he was someone in the middle but at the high end. It's like having a hobby."
The focus on Paddock's gambling has many in Vegas nervous. The destination has spent the last three decades pushing past its stigmatized image as an underworld haven. Still, even without any evidence to support the notion that Paddock dug himself into any sort of financial distress with his play, there is speculation. CBS News offered this headline on Thursday: "Motive of Las Vegas gunman may lie in his gambling habits."
Anti-gambling activists, too, embraced this notion. "Whether Paddock's out-of-control addiction to electronic gambling machines was a central factor in what happened last Sunday will be determined by the FBI investigation," wrote Les Bernal of Stop Predatory Gambling in a Thursday e-mail blast. "But news coverage and public discussion should not normalize Paddock's single-minded obsession with gambling machines and the exploitive business practices used by the casinos to keep Paddock gambling continuously."
Many on the Vegas strip are hoping that there are no ties between Paddock's play and whatever propelled him to execute the massacre. "You know how Muslims are always relieved when the lunatic who commits a crime like this turns out not to be Muslim?" asked a publicist for one of the major Vegas resort brands. "Well, it would be bad if this happened because of his gambling addiction. Right now people are being so supportive because there's a sense that this only happened in Vegas. It all takes a different taint if it turns out that this happened because of Vegas."