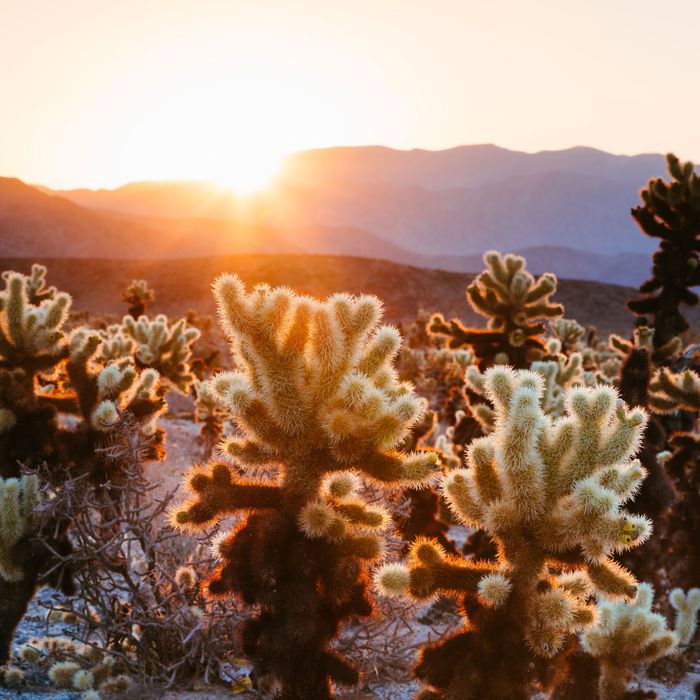 Joshua Tree National Park.
Photo: Matteo Colombo/Getty Images
Entry fees at some of the country's most popular national parks would nearly triple under a new plan announced by the Interior Department this week. If they were to go into effect, the changes would begin as soon as January at Joshua Tree National Park and spread to 16 other parks by the beginning of June.
Under the new plan, it would cost $70 to drive a car into the most popular parks during a designated peak season. It's like Uber, but for looking at leaves. The per-vehicle entry fee is up from $25 at some parks and $30 at others. Rates for those on foot or riding a bike, which are currently $10 or $15, would go up to $30, and driving a motorcycle into a park would cost $50, up from $20 or $25 today. Annual passes to the parks would jump to $75 from as low as $35, while most regular-season prices would remain largely unchanged.
The proposal is aimed at raising $70 million in revenue, which would go toward "improvements to the aging infrastructure of national parks," the National Park Service said in a statement. That includes "roads, bridges, campgrounds, waterlines, bathrooms, and other visitor services."
"Targeted fee increases at some of our most-visited parks will help ensure that they are protected and preserved in perpetuity and that visitors enjoy a world-class experience that mirrors the amazing destinations they are visiting," Secretary of the Interior Ryan Zinke said.
The changes will be open to a 30-day public comment until Thanksgiving, and Senator Jon Tester of Montana has already made his feelings known. "Americans already own these parks and they shouldn't have to empty their wallets to enjoy them," Tester told the Flathead Beacon. "Glacier and Yellowstone should be accessible to all of us. This decision will price Montana families out of our public lands, and hurt local economies, which thrive thanks to our National Parks."
While it's plenty reasonable to oppose this proposal because it ensures that national parks remain a cloistered playground for middle- and upper-income Americans, it's not the only reason to get mad.
The plan to raise entry fees and collect an addition $70 million in revenue follows the proposal in Trump's budget to cut $400 million from the National Parks Service. If Congress gives Trump what he wants and the fee increase goes through, that would leave the parks with $330 million less than they had last year while Americans are asked to pay nearly three times as much to visit. Sounds like a bad deal.