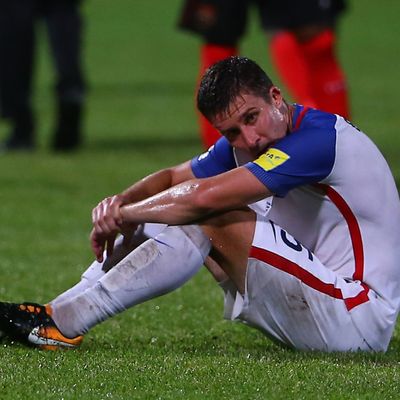 U.S. out.
Photo: Ashley Allen/Getty Images
For the first time in over three decades, the United States men's national team has failed to qualify for the World Cup, a massive disappointment for a team that many believe should be competing to win the tournament, not hoping to qualify for it.
The U.S. sealed its fate Tuesday night with a shocking 2–1 loss to Trinidad and Tobago, loser of eight of its last nine matches. Two other upsets —Panama over Costa Rica and Honduras over Mexico — left the U.S. in fifth place in regional qualifying, which also leaves them out of next year's World Cup in Russia.
At the start of Tuesday's game, qualification for an eighth consecutive World Cup seemed like a given, with the U.S. needing to win or draw against Trinidad and Tobago, the 99th-ranked team in the world. And unlike some road games in the CONCACAF region, this one wouldn't be played in front of a hostile crowd. With the Soca Warriors long eliminated from World Cup contention, the crowd at Ato Boldon Stadium was sparse.
But in the 17th minute the U.S. gave them reason to cheer when defender Omar Gonzalez attempted to clear a cross and looped the ball over goalkeeper Tim Howard for an own goal.
"I never thought that I'd see this day," Gonzalez told reporters after the game. "It's the worst day of my career. I am extremely sad right now. What was supposed to be a celebration is now … I, I don't even know what to say. It's terrible. We let down an entire nation today."
Twenty minutes later, the Soca Warriors went up 2–0 when right back Alvin Jones, apparently employing a cloak of invisibility only effective on U.S. defenders, fired in a 35-yard wonder strike past Howard.
Down 2–0, the U.S. came out of halftime with 45 minutes to avoid catastrophe. It took less than two minutes for 19-year-old wunderkind Christian Pulisic to pull the U.S. within one. At the time, it was a tantalizing reminder of just how talented the best young player in the U.S. is. Now it's just depressing to watch with the knowledge that Pulisic won't get to the chance to play on the world's biggest stage for at least five years.
The U.S. spent the rest of the second half pressing for the second goal, but it never came. Clint Dempsey, attempting to play hero once again, hit the post late in the half, but the U.S. ultimately fell short and coach Bruce Arena, who took over for the much-maligned Jurgen Klinsmann a year ago, tried to shoulder the blame.
"We should not be staying home for this World Cup," he said after the loss. "And I take responsibility for it. We didn't qualify for the World Cup; that was my job to get the team there."
Truth is, there is plenty of blame to go around, and not just for Tuesday's loss. The U.S. had a dreadful qualifying campaign, winning only three of ten games in a region where it's supposed to be among the top two teams. Without a World Cup to focus on in 2018, the U.S. would be wise to rethink everything it's doing with men's soccer and reconsider who's in charge at every level. As former U.S. forward and ESPN commentator Taylor Twellman said in an impassioned post-game rant, "If this failure does not wake up everyone from U.S. Soccer, to Major League Soccer, from pay-to-play to broadcaster, then we're all insane."
If you're looking for a bright side on this dark morning for U.S. Soccer, it's actually not hard to find one. Just turn your attention to the U.S. women's national team. With the USMNT missing out on the 2018 World Cup, next year's biggest moment for national soccer will come when the USWNT begins qualifying for the World Cup 2019. And unlike the men, there's no chance the women will miss out on the World Cup, a tournament that they won in 2015.