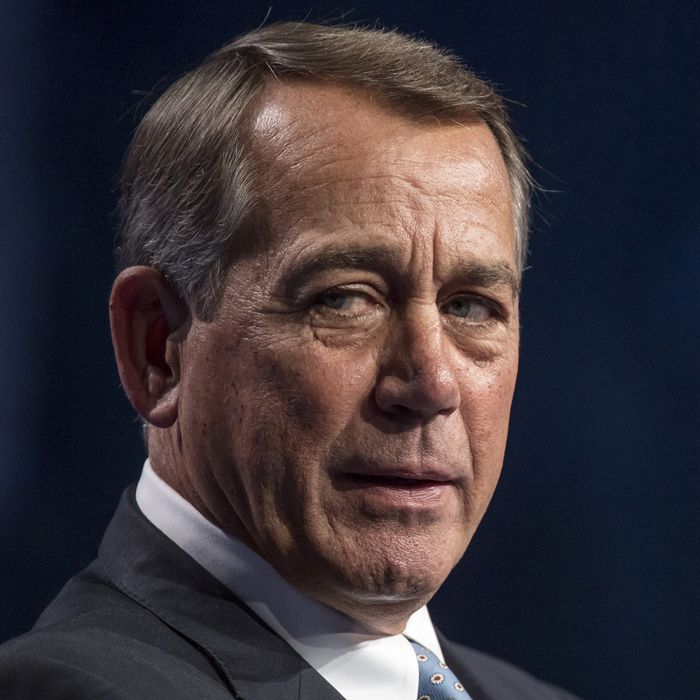 Miss me?
Photo: David Paul Morris/Bloomberg via Getty Images
John Boehner led the fight against the Affordable Care Act, refused to hold a vote on an immigration reform bill that passed the Senate with 68 votes, and was once caught handing out campaign checks from Big Tobacco on the House floor. But in a sign of how dark the current political climate is for liberals, on Sunday night many were wistfully recalling the days when the former House speaker was struggling to keep the Republican conference together.
The new Boehner profile from Politico's Tim Alberta provides an excellent portrait of the speaker's career and the regrets that haunt him in retirement — plus, the photos of Boehner smoking, ironing, and fixing his lawn mower are not to be missed. But if you only have time for his mean remarks about fellow Republicans, the highlights are collected below. While Boehner is remembered for his weepiness, he occasionally dropped cutting jabs while in office, hinting at his distaste for particular colleagues (like when he sort of called Senator Ted Cruz a "jackass" on Face the Nation) and his job in general (like when he compared being speaker to being a garbage man). Apparently that was Boehner on his best behavior; now that he doesn't have to work with Republican lawmakers or court the conservative media, he's decided to tell the world what he really thinks.
On Representative Jim Jordan, who made Boehner's speakership miserable as a founder of the House Freedom Caucus.
"Jordan was a terrorist as a legislator going back to his days in the Ohio House and Senate … A terrorist. A legislative terrorist."
On Representative Mark Meadows, another Freedom Caucus co-founder.
"He's an idiot. I can't tell you what makes him tick."
On the Freedom Caucus in general.
"They can't tell you what they're for. They can tell you everything they're against. They're anarchists. They want total chaos. Tear it all down and start over. That's where their mind-set is."
On Jason Chaffetz, the former House Oversight Committee chairman turned Fox News contributor.
Boehner called him a "total phony" too focused on self-promotion. "Fuck Jordan. Fuck Chaffetz. They're both assholes," he said.
On Trey Gowdy, the current chairman of the House Oversight Committee.
"Gowdy — that's my guy, even though he doesn't know how to dress."
On cursing out Harry Reid in the White House.
All parties confirmed this incident years ago, but Boehner's fond recollection of upsetting McConnell is new.
Boehner was running out of patience. The day before, Reid had blasted him from the Senate floor, saying he ran the House like a dictator. "I don't do angry. Nobody on my staff has ever seen me angry," Boehner tells me. "But that little son of a bitch got under my skin." When he arrived at the White House for a meeting with the president and congressional leaders, Boehner spotted Reid talking with Senate Minority Leader Mitch McConnell. "I walked right up to him and said, 'Harry, you can go fuck yourself. You ever listen to that shit that comes out of your mouth?'" Boehner imitates a flustered Reid, then adds: "I thought McConnell was going to have a heart attack."
On why congressional Republicans haven't been able to repeal Obamacare, even though Trump is president.
"Their gonads shriveled up when they learned this vote was for real."
On whether he feels bad about calling Ted Cruz "Lucifer in the flesh."
"No!" Boehner snorts. "He's the most miserable son of a bitch I've ever had to work with."
On that time a House member held a knife to his throat.
Boehner never accepted an earmark in Congress — and he enjoyed railing against those who did. His heckling once provoked Don Young, an Alaskan himself, to pin Boehner against a wall inside the House chamber and hold a 10-inch knife to his throat. Boehner says he stared Young in the eyes and said, "Fuck you." (Young says this account is "mostly true," but notes that the two became good friends, with Boehner later serving as his best man.)
On that time Boehner bullied an underling enjoying an ice-cream sandwich.
Patrick McHenry, currently the chief deputy whip, recalls how, on his first day in Congress in 2005, Boehner walked into the cloakroom and spotted him eating an ice cream sandwich. They had never met. Boehner lit a cigarette and scowled at him. "Don't do that," he said, pointing to the frozen snack. "Why?" McHenry replied. "You're gonna be a fatass," Boehner told him.
On how former president George W. Bush burned House Speaker Paul Ryan.
"So I get a text from 43 about a month ago, maybe six weeks ago." … [Boehner] lets out a thick cough, smoke escaping his mouth, and continues. "So 43 says, 'Hey, are you talking to Ryan? Are you giving him advice?' I said, 'Yeah, if he calls I give him advice.'" Boehner takes a long, satisfied drag. "And he texts me back: 'He needs to call you more.'"
On how Boehner burned Bush.
Boehner tells me that when Bush, while in office, refused to join Burning Tree — due to the optics of a president golfing someplace women aren't allowed — he told the commander-in-chief, "You're a pussy." Years later, when Bush became a member after leaving the White House, Boehner says he told Bush: "You're still a pussy."
On late Fox News chairman Roger Ailes.
"I never went to New York without seeing Ailes. He and I were friends. But it was the most bizarre meeting I'd ever had. He had black helicopters flying all around his head that morning. It was every conspiracy theory you've ever heard, and I'm throwing cold water on all this bullshit."
On Rush Limbaugh and Sean Hannity.
"I always liked Rush [Limbaugh]. When I went to Palm Beach I would always meet with Rush and we'd go play golf. But you know, who was that right-wing guy, [Mark] Levin? He went really crazy right and got a big audience, and he dragged [Sean] Hannity to the dark side. He dragged Rush to the dark side. And these guys — I used to talk to them all the time. And suddenly they're beating the living shit out of me … I had a conversation with Hannity, probably about the beginning of 2015. I called him and said, 'Listen, you're nuts.' We had this really blunt conversation. Things were better for a few months, and then it got back to being the same-old, same-old. Because I wasn't going to be a right-wing idiot."
On Trump and the current state of the GOP.
When I ask Boehner whether the Republican Party can survive this, he cuts me off. "There is no Rep —." He stops himself. "You were about to say, 'There is no Republican Party," I tell him. He shrugs. "There is. But what does it even mean? Donald Trump's not a Republican. He's not a Democrat. He's a populist. He doesn't have an ideological bone in his body." So who, I ask, is the leader of the party? "There is nobody," he says.