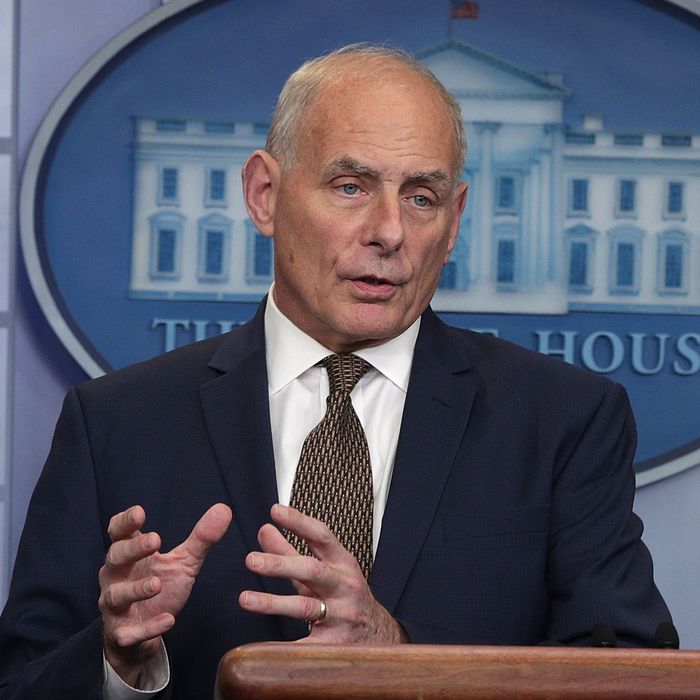 John Kelly, who loves his job.
Photo: Alex Wong/Getty Images
White House Chief of Staff John Kelly appeared in front of reporters Thursday to insist that he's not quitting, he's not getting fired, and he doesn't hate his life.
"I would just offer to you that, although I read it all the time, pretty consistently, I'm not quitting today. I don't believe, and I just talked to the president, I don't think I'm being fired today. And I'm not so frustrated in this job that I'm thinking of leaving," Kelly said.
The retired four-star general made the unexpected appearance in the White House press-briefing room after several reports suggesting discontent between him and President Trump. A report in Vanity Fair this week said Kelly is "miserable in his job and is remaining out of a sense of duty to keep Trump from making some sort of disastrous decision." The recent nomination of Kelly's top aide Kirstjen Nielsen to head the Department of Homeland Security was a sign, the report said, that Kelly is on his way out.
On Wednesday, Trump tweeted that there is no truth to the reports that Kelly will soon be fired, even though the only reports on the subject say he might quit, not that he'll be fired.
Kelly took several questions from reporters Thursday, including one about whether Trump's tweets make his life more difficult. "No, no," he insisted.
Kelly also attempted to explain his seemingly discontented reactions to Trump that so often go viral. "You always catch me when I'm thinking hard, and it looks like I'm frustrated and mad," he said.
Then, in a move reminiscent of Secretary of State Rex Tillerson holding a press conference only to refuse to deny calling Trump a "moron," Kelly went out of his way to say that his job isn't the greatest gig in the world. "I would offer, though, it is not the best job I ever had. The best job I ever had, as I said, is when I was an enlisted Marine sergeant infantryman," he said.