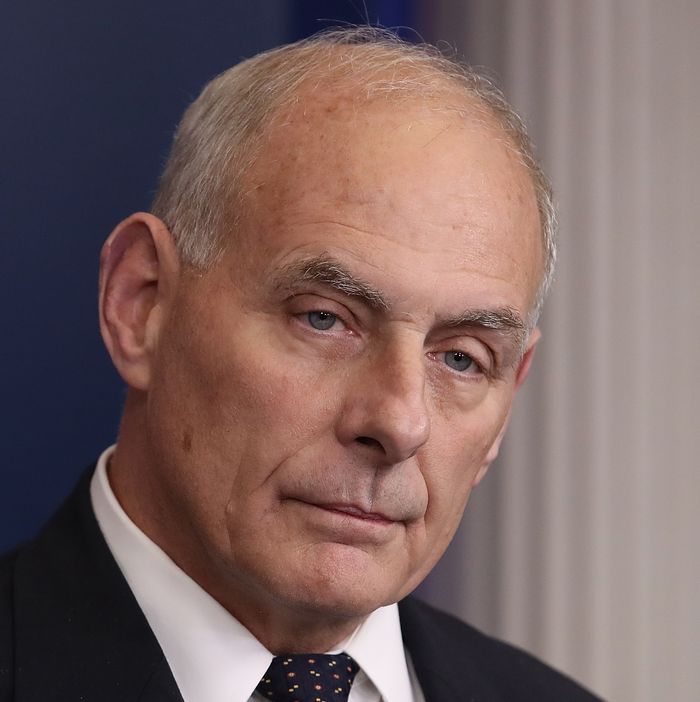 John Kelly kept Trump from stirring up new issues by doing it himself.
Photo: Win McNamee/Getty Images
With his staffers flailing in the wake of his decision to fire FBI Director James Comey in May, President Trump decided to do his own crisis management — and wound up making the situation even worse. In a prime-time TV interview, the president contradicted the official White House story, saying he was going to fire Comey regardless of what Justice Department officials recommended. He cited issues with the director's handling of the Russia probe, which some argued was an admission of obstruction of justice. The next day, Trump threatened Comey on Twitter, alluding to (nonexistent) recordings of their conversations. A week later, Deputy Attorney Rod Rosenstein appointed a special counsel to handle the Russia investigation.
As Robert Mueller got to work, there were constant reports of White House infighting and Trump's refusal to follow his advisers' advice. Finally, in late July, White House chief of staff Reince Priebus was replaced by retired four-star Marine Corps general John Kelly in an attempt to impose some discipline.
Just a few weeks in, Kelly's mission appeared to flop, with Trump making increasingly offensive remarks on race in the wake of the deadly violence in Charlottesville, Virginia. But Trump's response to Mueller's first indictments on Monday shows Kelly might be making progress. Trump's response was limited to a few tweets bolstering the right-wing media's effort to shift the focus to Hillary Clinton's alleged connection to the Trump dossier and the Obama-era Uranium One deal.
Yet minutes after Trump proclaimed "There is NO COLLUSION!" it was reported that his former campaign aide George Papadopoulos pleaded guilty to lying to the FBI about his exchanges with Kremlin-linked Russians. Trump suddenly went silent. According to the Washington Post, the president was fuming as he watched the coverage on TV, but Kelly, along with his legal team, advised him "to be cautious with his public responses."
Still, someone from the administration needed to add fuel to the Republicans' Russia counter-narrative, and perhaps steer the conversation back to less damaging controversies. Apparently, the task fell to Kelly.
The chief of staff, who tends to avoid media appearances, sat down with Laura Ingraham on Monday night for the first edition of her prime-time show on Fox News. Kelly stuck to the official White House line when asked about developments in the Russia probe, emphasizing that "all of the activities they were indicted for were long before they met Donald Trump or had any association with the campaign" (though Papadopoulos's admission related to actions he took as part of the Trump campaign).
Then they quickly pivoted to Democrats, with Ingraham asking whether there should be another special counsel appointed to probe "all of these narratives coming out with the DNC and the Clinton campaign actually funding research that was, in part, compiled by the Kremlin!"
After a long digression about how average Americans are generally disgusted by Congress and the media, Kelly said he thinks an investigation would be for the best.
"I think probably as a layman looking at this kind of thing we need to find someone who's very, very objective who can get to the bottom of these accusations, I think it's important," he said. "Again, the American people have an absolute right to know these things."
Later in the interview, Kelly was asked about his feud with Representative Frederica Wilson, who accused President Trump of making insensitive remarks to the wife of Sergeant La David Johnson, who was killed with three other soldiers in Niger. Kelly falsely accused Wilson of bragging at the 2015 dedication of an FBI building in South Florida about how she was instrumental in getting funding for the project. Wilson wasn't in Congress at the time, and video shows that's not what she said in her remarks.
Even in light of these facts, the White House refused to back down, and in Monday's interview, Kelly doubled down on them. He reiterated that he found it "stunning" that someone would politicize the president's remarks to the family members of fallen soldiers, and lamented that American values are falling by the wayside. Then he suggested he can corroborate that Wilson bragged about funding at another point during the event — but he's too honorable to keep slinging mud.
I made reference to an appearance that the congresswoman made and you know, a number of people that were there after she said what she said about me volunteered to come forward because they saw her both before and after her official comments. I said no, let's not do this. These are FBI agents, former FBI agents that were there. That part of it we should let go. 
Ingraham alluded to Kelly's claim being called out as false, but she also remarked that Wilson "certainly used the word 'I' a lot" in her speech. Then she played a brief, deceptively edited video to prove it.
"Do you feel like you have something to apologize for?" Ingraham asked.
"No. Never," Kelly answered. "I'll apologize if I need to. But for something like that, absolutely not. I stand by my comments."
Incredibly, that wasn't the most controversial part of the interview. When asked about a church in Virginia that recently removed plaques honoring parishioners George Washington and Robert E. Lee, Kelly gave a predicable answer about not holding historical figures to the standards of today. Then he offered this assessment of the Confederate general, and the history of the Civil War:
… It shows you how much of a lack of appreciation of history and what history is. I would tell you that Robert E. Lee was an honorable man. He was a man that gave up his country to fight for his state, which 150 years ago was more important than country. It was always loyalty to state first, back in those days, and now it's different today. But the lack of an ability to compromise led to the Civil war. And men of women of good faith on both sides made their stand.
Was Kelly trying to make sure that Tuesday's headlines would focus on the White House chief of staff suggesting the North and South just needed to "compromise" on whether it's okay to enslave people, rather than the Russia probe? Maybe not. But for all the talk about Kelly being of a different breed than the political operatives he ousted from the Trump administration, he isn't above going on his boss's favorite network and echoing some of his most incendiary remarks.