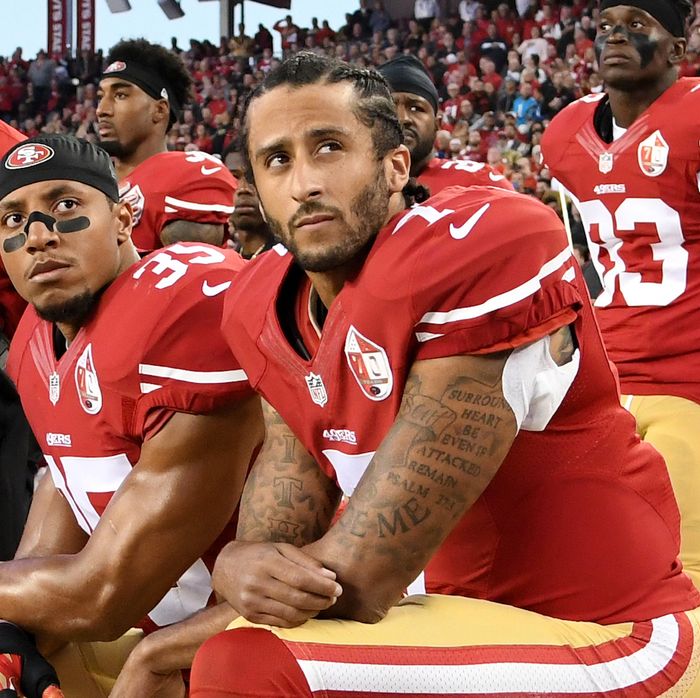 Colin Kaepernick no. 7 and Eric Reid no. 35, of the San Francisco 49ers, protest before a game on September 12, 2016, in Santa Clara, California.
Photo: Thearon W. Henderson/Getty Images
In another escalation of the controversy over NFL players protesting during the national anthem, former San Francisco 49er Colin Kaepernick has filed a grievance accusing NFL teams of colluding to keep him out of the league.
In 2016, Kaepernick stopped standing during the anthem to protest the oppression of people of color, and a handful of other athletes began to do the same. At the end of last season he opted out of his contract with the 49ers, reportedly because they were planning to cut him. That made him a free agent, available to sign with any team, yet he remains unemployed.
Kaepernick led the 49ers to the Super Bowl in 2013, and there's general agreement that he's talented enough to be playing this season. "Good quarterbacks often never even reach free agency, let alone remain unsigned for so long," Five Thirty Eight noted in August. Teams have repeatedly signed less promising quarterbacks over Kaepernick, and many argued he was being passed over for political reasons, even before President Trump ignited the controversy with his remarks last month.
The grievance filed on Sunday alleges that NFL teams and their owners "have colluded to deprive Mr. Kaepernick of employment rights in retaliation for Mr. Kaepernick's leadership and advocacy for equality and social justice and his bringing awareness to peculiar institutions still undermining racial equality in the United States."
Under the collective bargaining agreement between the league and the NFL Players Association (NFLPA), teams are prohibited from conspiring on the fate of a particular player. Rather than going through the players union, Kaepernick hired attorney Mark Geragos, who has represented high-profile clients such as Michael Jackson and Chris Brown. NFLPA said it has been in regular contact with Kaepernick, and, "Our union has a duty to assist Mr. Kaepernick as we do all players and we will support him."
Under the terms of the agreement, the grievance will be heard by an arbitrator, and the burden is on Kaepernick to prove that the teams conspired against him. Though there have been many suggestions that Kaepernick's politics are the issue (an anonymous owner said of the controversy surrounding his protests, "No one wants to deal with that") it's not against the rules for each team to individually decide that they don't want to sign a particular player. To prove his case, Kaepernick must present evidence that two or more teams conspired not to sign him, as Sports Illustrated's Michael McCann explains:
Kaepernick needs more than mere supposition or belief that he has been victimized by a conspiracy. Perhaps he has an email, text, social media message, video, audio recording, hand-written note or sworn testimony from a witness. Maybe his agents, Jeffrey Nalley and Sean Kiernan, are in possession of such evidence. Regardless, the evidence must clearly show that two or more teams, or the NFL and a team or teams, conspired to deny Kaepernick of an opportunity to play in the NFL.




So where might Kaepernick have uncovered evidence that he believes proves collusion? We know that if it occurred, it must have been within the last 90 days, as under Article 17 of the CBA a player has that long to file a grievance. Otherwise we are left to speculate.
Kaepernick's grievance notes that President Trump has repeatedly attacked him in recent weeks, and that several NFL owners "have been quoted describing their communications with President Trump, who has been an organizing force in the collusion among team owners in their conduct toward Mr. Kaepernick and other NFL players."
McCann is skeptical of this argument. Kaepernick would have to prove that owners colluded through Trump, since the president isn't subject to the NFL's labor agreement (even if he's injected himself into the situation).
If Kaepernick wins, he could be awarded millions in damages, but a source tells Pro Football Talk that his goal is to terminate the players' current collective bargaining agreement:
Article 69, Section 2 of the CBA allows for the agreement to be terminated prematurely in the event of proof of collusion. Under Article 17, Section 16(c) of the CBA, termination can arise from only one incident of collusion involving only one player if there is clear and convincing evidence of a violation.




The ramifications would be enormous, and historical. Kaepernick could give all players a tremendous piece of leverage, moving up the expiration of the contract by more than three years and forcing the owners back to the bargaining table.
In a statement, Geragos said Kapernick's aim is to ensure that he and all athletes are being treated fairly. "If the NFL … is to remain a meritocracy, then principled and peaceful protest — which the owners themselves made great theater imitating weeks ago — should not be punished and athletes should not be denied employment based on partisan political provocation by the Executive Branch of our government," Geragos said. "Such a precedent threatens all patriotic Americans and harkens back to our darkest days as a nation. Protecting all athletes from such collusive conduct is what compelled Mr. Kaepernick to file his grievance."