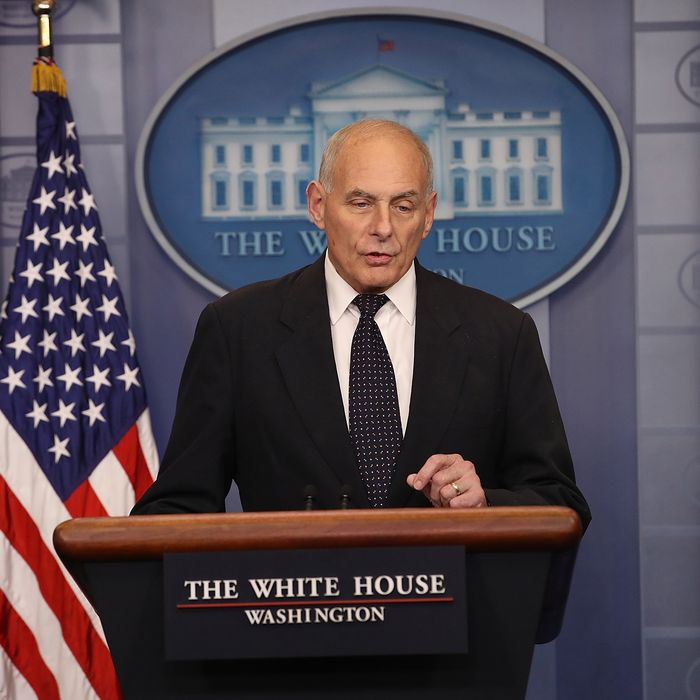 White House Chief of Staff John Kelly.
Photo: Win McNamee/Getty Images
White House Chief of Staff John Kelly tried to explain on Thursday what President Trump meant when he told the wife of a slain U.S. soldier that her husband "knew what he signed up for."
Despite Trump's claim that Florida representative Frederica Wilson "totally fabricated what I said," Kelly suggested that Wilson's version of the conversation between the president and the wife of Sergeant La David T. Johnson was accurate. But he wanted to focus not on what Trump said, but on what he meant, along with the impropriety of Wilson politicizing the conversation.
Before Trump "bravely" made the calls to the families of the four soldiers killed in Niger earlier this month, Kelly said he asked Kelly what he should say. "There's nothing you can do to lighten the burden on these families," Kelly said he told Trump. And then he recalled what he was told by Joint Chiefs chairman Joe Dunford after his son, Robert Michael Kelly, was killed in Iraq in 2010.
"He said, 'Kel, he was doing exactly what he wanted to do when he was killed,'" an emotional Kelly said. "'He knew what he was getting into by joining that one percent. He knew what the possibilities were, because we're at war. When he died, he was surrounded by the best men on this earth, his friends.'"
That's what Trump "tried to say" to the families of the soldiers killed in Niger, Kelly said. Trump "expressed his condolences in the best way he could," Kelly said.
The retired Marine general then lit into Representative Wilson for demeaning something he considers "sacred."
"I was stunned when I came to work yesterday morning, and brokenhearted, at what I saw a member of Congress doing," Kelly said. "In his way [Trump] tried to express that opinion that he's a brave man, a fallen hero. He knew what he was getting himself into because he enlisted, there's no reason to enlist. He enlisted and he was where he wanted to be, exactly where he wanted to be with exactly the people he wanted to be with when his life was taken. That was the message."