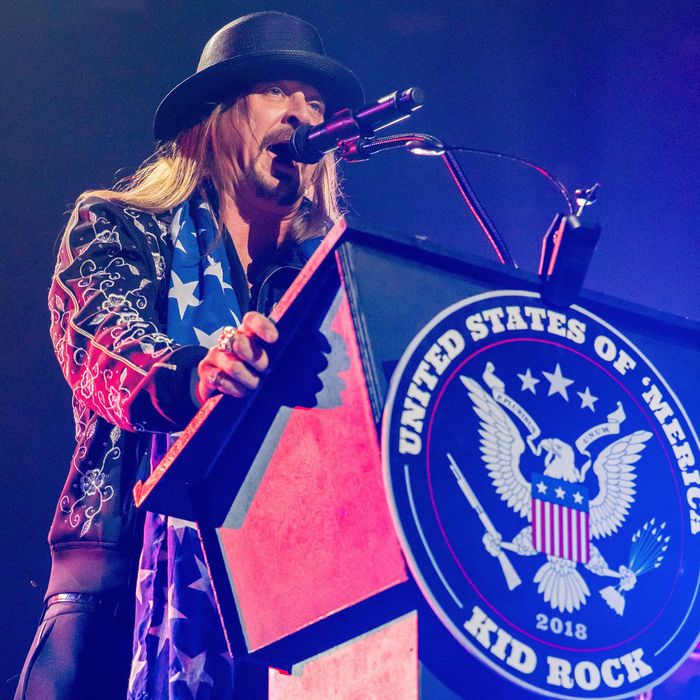 Still a devil without a cause.
Photo: Scott Legato/Getty Images
In a very 2017 episode, rap-rock pioneer Kid Rock told Howard Stern on Tuesday morning that he would not be running for Senate in his home state of Michigan.
"F— no, I'm not running for Senate. Are you kidding me?" Rock said on Stern's SiriusXM radio show. "Who couldn't figure that out? I'm releasing a new album. I'm going on tour too. Are you f—— s——- me?"
To be fair, some confusion was understandable. Kid Rock (né Robert Ritchie), who is an avowed supporter of President Trump, had launched a colorful website, Kid Rock for Senate, in July, and done little to tamp down speculation about his intentions.
"If I decide to throw my hat in the ring for U.S. Senate, believe me … it's game on mthrfkers," he said in a statement that month.
His possible run against Democrat Debbie Stabenow had even engendered some interest from the GOP Senate Leadership Fund.
And, in the wake of President Trump's victory, the idea of the "Bawitdaba" composer representing America's tenth-most populous state seemed far less preposterous than it once might have.
But alas, Michigan residents who yearn for Rock's everyman perspective on national affairs will have to settle for his new album, Sweet Southern Sugar, which comes out on November 3.