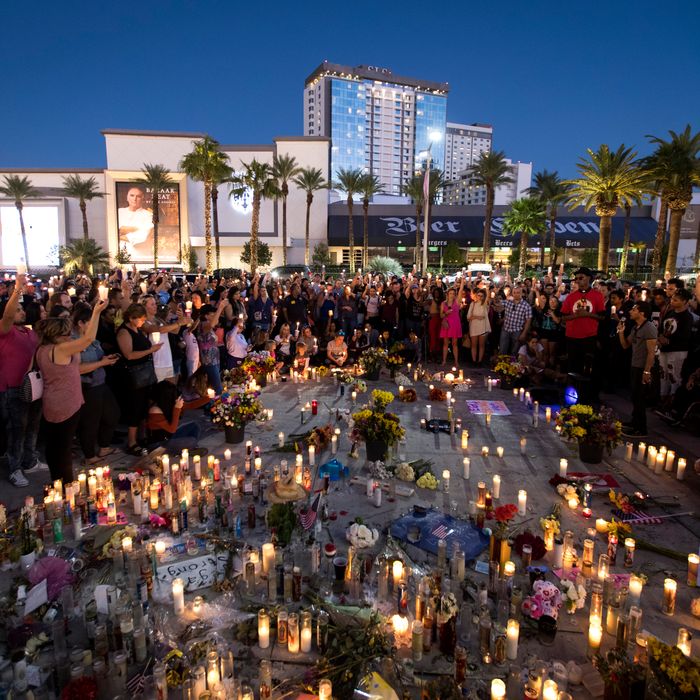 A vigil held on Sunday, October 8, on the Las Vegas Strip to mark the one-week anniversary of the shooting.
Photo: Drew Angerer/Getty Images
Police made a significant revision to their timeline for the shooting in Las Vegas on Monday, revealing that a hotel security guard was shot before, not after, Stephen Paddock opened fire on concertgoers below, killing 58 people and wounding hundreds.
Sheriff Joseph Lombardo of the Las Vegas Metropolitan Police previously said that Paddock wounded security guard Jesus Campos at 10:18 p.m., about three minutes after the concert shooting ended. Paddock had set up cameras in the hallway outside his suite on the 32nd floor of the Mandalay Bay Resort and Casino, and last week, Lombardo said it was his "assumption" that Paddock stopped firing at the crowd because he "observed the security guard, and he was in fear that he was about to be breached, so he was doing everything possible to figure out how to escape at that point."
But on Monday, Lombardo said Paddock shot the guard through his hotel door at 9:59 p.m., meaning "Campos was encountered by the suspect prior to his shooting to the outside world." Lombardo said Campos, who was responding to a door alarm in another room on the 32nd floor, helped protect a maintenance worker from being injured, but would not weigh in on how Campos's presence might have affected Paddock's plot.
Previously, authorities had hailed Campos as a hero, saying that the guard calling in his shooting was "absolutely critical" in locating Paddock in the 3,221-room hotel. While Lombardo described the shift as one of the "minute changes" that's common in a complex investigation, it raises new questions about the shooting.
First, this may mean that there was a breakdown in communications between hotel security and police. Lombardo did not say on Monday whether Campos had called in the attack against him, but the sheriff said police officers who searched the hotel did not know about Campos "until they met him in the hallway after exiting the elevator."
Second, it's now unclear why Paddock stopped shooting and turned his weapon on himself. The shooter had explosives in his car, and Lombardo revealed on Monday that Paddock "attempted to shoot at the fuel tanks" near the concert site. Lombardo speculated that he may have been planning to flee, and thought that the chaos caused by the shooting "would have enabled the first responders to be directing their attention in other locations, which would enable Mr. Paddock to just leave the hotel."
More than a week after the attack, we've learned much about Paddock's life, but his motive remains a mystery. "I'm frustrated," Lombardo said. "Because this individual purposefully hid his actions leading up to this event, and it is difficult for us to find answers for those actions."