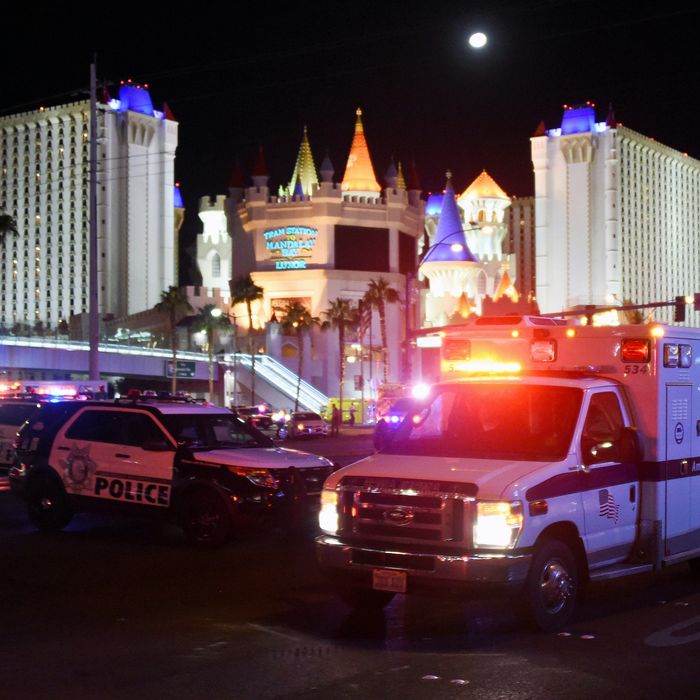 Photo: Ethan Miller/Getty Images
There has always been a sense among those who really know Las Vegas that the city was defying the odds. Mass shootings and acts of terrorism had visited so many places across the United States — Virginia Tech, Newtown, San Bernardino, Fort Hood, Orlando, Aurora, Colorado, and many more — but somehow the city emblematic of so much American excess had moved on through this era of random public violence virtually unscathed.
Until it didn't. Until the luck ran out and, finally, someone deranged enough decided to take advantage of all the potential for inflicting harm on innocents that this live-and-let-live vacation city and its libertarian state offered. The things that make Las Vegas appealing — an affordable place where people of all stripes can blend in and indulge, so many huge resorts and venues squeezed together — were always also its greatest vulnerability. With at least 58 dead, the city may now be defined as the site of the worst mass shooting on U.S. soil thanks, police say, to a gunman with ten assault rifles who strafed a crowd at an open-air country-music concert.
"We've always been a soft target," said Nevada assemblyman Elliot Anderson, a former Marine who served in Afghanistan and later worked as a security officer at the Planet Hollywood resort. "Although we're not a high military-grade target, if someone wanted to cause panic here, they could do it easily."
For whatever reason, international terrorists have left the city alone. When it turned out that some of the September 11 hijackers spent time on the Strip plotting their attacks, it was treated as a peculiar factoid, one that proved the hijackers' own internal hypocrisy. But the question also hung in the air: Isn't Vegas the kind of place that could draw their attention as a target? There were jitters when the FBI said that Vegas was one of a few cities that could be terror targets on New Year's Eve 2003, but nothing happened.
Still, going back to 9/11 — and even before — there was an awareness of the potential for a violent attacker to cause devastation. "Everybody knows that Las Vegas is something of a soft target because there are so many outdoor attractions on the Strip that can never be secured," a board member with the Las Vegas Convention and Visitors Authority, who asked not to be named, told me. "A truck bomb at a busy intersection is almost impossible to prevent, and, bam — our economy's dead."
To be sure, small-scale incidents on the Strip were harbingers. In 2007, a Las Vegas man opened fire with a semiautomatic handgun from a balcony overlooking the casino at the New York-New York resort, injuring four before being tackled by four tourists. Also that year, a 24-year-old restaurant employee was killed when a homemade bomb was left in a coffee cup atop her car in the parking garage of the Luxor. In December 2015, an Oregon woman swerved her car into a crowd of Strip pedestrians, killing one and injuring more than 30 people outside the Paris resort.
After the New York-New York event, Bill Young, a former Clark County sheriff who became security chief for Station Casinos, told me: "We have not had an event here in Las Vegas the equivalent of the events of 9/11 or anything close to that, and that hasn't been by accident. With all that said, it's going to be very, very, very difficult to prevent lone criminals who have the intentions of harming themselves and others."
That's not to say the powers that be weren't on alert.
Immediately after 9/11, trucks were no longer permitted to cross the Hoover Dam, and vehicle checkpoints appeared on both sides. Las Vegas resorts have long been praised by law enforcement for their cooperation with Homeland Security in using facial-recognition software and sharing information as demanded on hotel stays. It used to seem overkill when the garage attendants at Sheldon Adelson's Venetian and Palazzo resorts required trunk checks, but others have started to do that as well.
But now the unthinkable — yet somehow not unpredictable — has happened anyway. Yes, the casinos are equipped with a zillion cameras. Yes, the hotels have loads of private security and the Las Vegas Metro Police make themselves visible along the Strip. None of that, of course, was enough to stop Stephen Paddock from opening fire on tens of thousands of concertgoers from a 32nd-story window.
The question is whether this event now defines Las Vegas.
And as aggrieved and in shock as many there are, Las Vegans are also starting to worry about the fallout. State Senator Yvanna Cancela, a Democrat whose district envelops the southern part of the Strip where the massacre happened, told me this morning that part of reassuring people that the destination is a safe place to visit may include revisiting its aversion to effective gun-control legislation. The state's voters narrowly passed mandatory background checks for private gun sales via referendum in the 2016 election, but the attorney general, Republican Adam Laxalt, said it could not be implemented because he said the FBI was refusing to cooperate with the referendum's requirements for records access.
"It's insane that one person could have access to that many weapons and that kind of weapons," Cancela said. "As a state, we can look at where our gun laws are and figure out if we can make changes to prevent tragedies like this in the future. For one thing, we should start by implementing the background check."
Meanwhile, Anderson had a different plea. "It's really important for people to know how dependent on tourism we are," he said. "If you want to help, you really need to keep coming and not let this effect the perception of Las Vegas. It can have a crushing impact on our city."