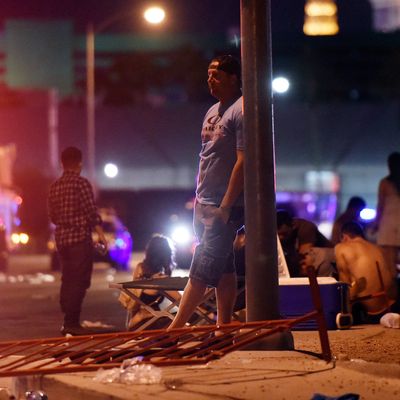 Las Vegas.
Photo: David Becker/Getty Images
Before Stephen Paddock decided to attack the Route 91 Harvest festival in Las Vegas he may have considered carrying out a similar massacre in other cities, including Chicago and Boston, NBC News reports.
In Boston, Paddock researched hotels around Fenway Park, where the Red Sox play. As NBC News' Tom Winter points out, few hotels around the stadium provide a view of the stands.
In Chicago, Paddock didn't just research hotel rooms overlooking an outdoor festival, he booked some. A law-enforcement official tells USA Today that Paddock booked a room at the Blackstone Hotel, across the street from where Lollapalooza is held, for August 1. He later booked another room for a stay beginning on August 3, the day the festival started. Both rooms were booked through August 6, the last day of Lollapalooza, which drew around 400,000 to Grant Park.
While USA Today's source says it's unclear whether Paddock stayed in the rooms, TMZ, which first reported the bookings, says he never showed.
"We are aware of the media reports and have been in communication with our federal partners," the Chicago Police Department said in a statement. "As you saw earlier this week the city conducts extensive public safety planning and training around major events, in close coordination with our law enforcement partners, to ensure public safety."
In addition to Chicago and Boston, Paddock may have considered another location in Las Vegas for his massacre. Clark County Sheriff Joe Lombardo said Wednesday that Paddock used Airbnb to rent a room in a high-rise near the Life Is Beautiful festival in late September. Lombardo told reporters that it was unclear whether Paddock was conducting "pre-surveillance" of outdoor festivals or if the timing of the stay was coincidental. "We don't know yet," he said.