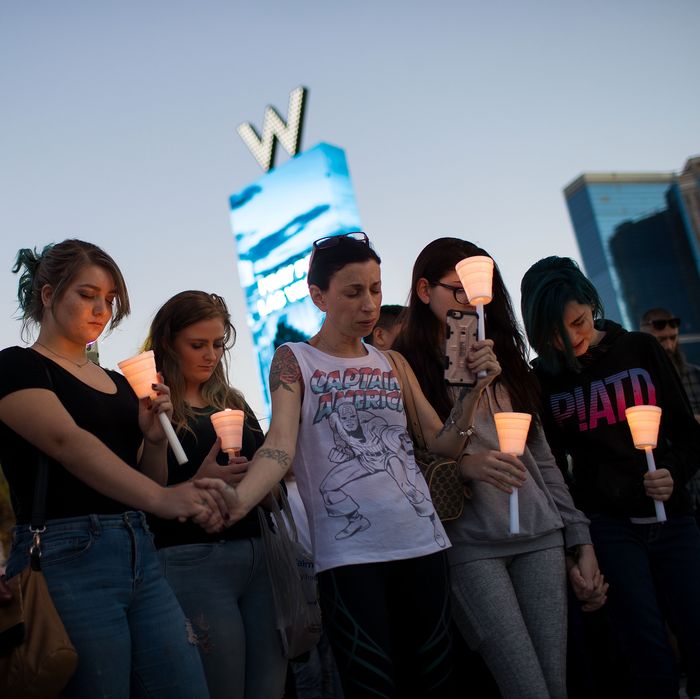 Mourners attend a candlelight vigil at the corner of Sahara Avenue and Las Vegas Boulevard for the victims of Sunday night's mass shooting on October 2, 2017.
Photo: Drew Angerer/Getty Images
• Police found 23 firearms in shooter Stephen Paddock's hotel room, and more guns and explosives in his home.
• Sources say two of the firearms were modified with bump stocks to function like automatic weapons.
• Vigils were held around the city on Monday evening. The death toll stands at 59, and at least 527 people were injured.
On Sunday night, gunman Stephen Paddock opened fire during the final act of the Route 91 Harvest music festival, which was held at the Las Vegas Village and Festival Grounds. Shortly after 10 p.m., as country star Jason Aldean performed, Paddock opened fire on the crowd of 22,000 from his room on the 32nd floor of the adjacent Mandalay Bay Resort and Casino.
At first, some people thought they were hearing fireworks, but with the second spray of gunfire concertgoers began running for their lives.
"People were getting shot at while we were running, and people were on the ground bleeding, crying and screaming. We just had to keep going," witness Dinora Merino, 28, told the Washington Post. "There are tents out there and there's no place to hide. It's just an open field."
As of Monday night, the death toll was 59, with 527 people reported injured. That makes the incident the deadliest mass shooting in U.S. history, after the Pulse nightclub shooting in Orlando last year.
In the chaotic early hours after the attack there were reports of multiple shooters on the Strip, and a number of hotels and casinos were put on lockdown. By Monday morning, police had identified Stephen Paddock, 64, as the lone shooter.
Smoke from Paddock's weapons firing set off the smoke alarm in his room, allowing the authorities to narrow down his location within 20 minutes. As hotel security searched the area, Paddock fired through the door of his suite and hit a security guard in the leg. Eventually SWAT officers used explosives to blast their way through the room. They returned fire, but it's believe that Paddock died of a self-inflicted gunshot wound.
Police found 23 firearms, including handguns and AR-15-style assault rifles, in Paddock's room. Law-enforcement sources said two rifles were set up on tripods in front of windows that had apparently been broken with a hammerlike object. Sheriff Joseph Lombardo of the Las Vegas police department said that Paddock had brought at least ten suitcases into his room during his four-day stay.
Law-enforcement sources told the AP that Paddock had attached bump stocks to two semiautomatic weapons to make them function like automatic weapons.
Another 19 firearms were found in Paddock's Mesquite, Nevada, home on Monday, along with explosives and several rounds of ammunition. According to CNN, several pounds of ammonium nitrate, which is used to make explosives, were found in Paddock's car.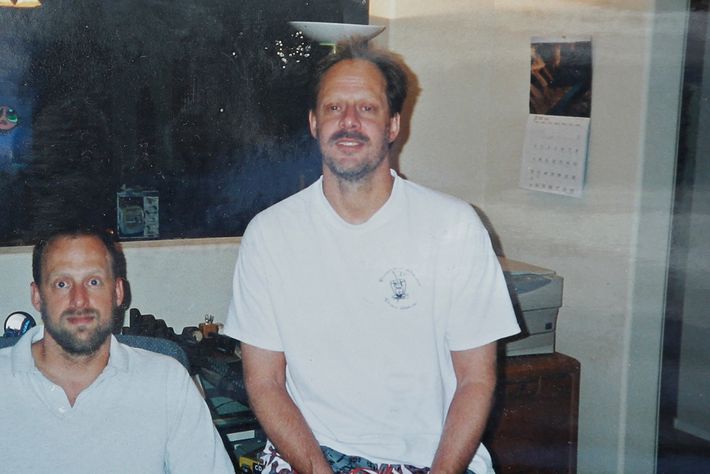 Paddock had no criminal record aside from a minor infraction, and his strange personal history offered no indication of what his motive might be. His father was a notorious bank robber who spent several years on the FBI's Most Wanted list after breaking out of prison. Paddock worked as an accountant for many years, and made millions off real estate and business deals, according to his brother Eric.
In retirement, Paddock's lifestyle appeared to be centered around gambling. Neighbors said he would leave his various homes abandoned for months while he stayed at hotels for weeks at a time, sometimes gambling more than $10,000 a day. Eric suggested his brother picked up the habit for fun in retirement, but treated it like a job. "He's known. He's a top player. He's the small end of the big fish," he said.
Eric said his brother owned a few guns, but didn't appear to be an "avid gun guy" at all, nor did he know of any history of mental illness. "No religious affiliation. No political affiliation," he added. "He just hung out."
ISIS has claimed responsibility for the attack, but the FBI says there is no evidence that Paddock had any ties to international terrorist organizations.
Here's a full rundown of everything we know about Paddock so far.
Clark County fire chief Greg Cassell said first responders saw a "wide range" of injuries, from gunshots, to shrapnel wounds, to people who were injured in the mad scramble to flee the concert. Hospitals were quickly overwhelmed, and trauma surgeon Jay Coates described the scene at Las Vegas University Medical Center as something out of a war zone, with victims lining the hallways.
"We started divvying them up, taking them to the operating room and doing what's called 'damage control surgery,' where you're not definitively repairing everything," Coates told USA Today. "You are just stopping the dying."
On Monday, friends and relatives of the deceased began offering public remembrances of their loved ones. Adrian Murfitt, a 35-year-old commercial fisherman from Alaska, attended the country-music festival with two childhood friends. "He had such a great time when he went before, and he wanted to treat himself for a successful fishing season," said his sister, Shannon Gothard. He was shot in the neck and died in his friend's arms.
Sonny Melton, a 29-year-old registered nurse from Tennessee, died shielding his wife, Heather Gulish Melton. "I felt him get shot in the back," she told Tennessee's WCYB. "I want everyone to know what a kindhearted, loving man he was, but at this point, I can barely breathe."
Lisa Romero-Muniz, a high-school secretary and mother of three from New Mexico, was celebrating her wedding anniversary. Her husband had planned the Las Vegas trip to make up for forgetting their anniversary last year, and "she was beyond excited," said Rosie Fernandez, her friend and supervisor at the high school.
"We were known as the two loudmouths of the office," Fernandez said. "She knew 90 percent of the kids at this school. She would talk to them like she was talking to her own children. I'd hear her saying, 'I know you can do better than this.'"
Sandy Casey, 35, was a special-education teacher in Southern California who attended the concert with her fiancé and a friend. "She was a person who brings light wherever she is," said Mike Matthews, her district's superintendant. "She has a classroom full of light and hope and caring."
On and off-duty police officers were among the victims. Charleston Hartfield, 34, was a Las Vegas cop who also served in the military. He coached youth football, and recently wrote a book, Memoirs Of A Public Servant.
Las Vegas pulled together to respond to the tragedy on Monday, with hundreds waiting in line for hours to donate blood. A GoFundMe page set up to support the victims had raised nearly $3 million by Tuesday morning.
Several vigils were held around the city on Monday evening, including a multi-faith service at Guardian Angel Cathedral on the Strip, and a gathering on the steps of City Hall. "Our city has a broken heart," Mayor Carolyn Goodman said. "Everyone in his community has been touched by the loss of these lives and the horror at Mandalay Bay by a sick, horrible human being."
President Trump initially tweeted condolences to the victims' loved ones, then called the mass shooting "an act of pure evil" in a televised address on Monday. He's scheduled to visit Las Vegas on Wednesday.
On Tuesday, before heading to Puerto Rico, Trump told reporters, "We will be talking about gun laws as time goes by."
When asked if the tragedy could have been prevented, Trump said, "He was a sick man, a demented man, a lot of problems, and we're looking into him very, very seriously, but we're dealing with a very, very sick individual." He also praised the response of law enforcement as a "miracle."
House Republicans addressed the mass shooting on Tuesday morning. Majority Whip Steve Scalise, who just returned to Congress after suffering grave injuries in a mass shooing at the baseball field in Alexandria, Virginia, this summer, stood near the podium as Paul Ryan spoke. "This is not a good day because we had an awful day two days ago but we will have better days in the future because our country is resilient and we will overcome this," Ryan said.
Ryan addressed the issue of mental health, citing "landmark mental-health reform" that the House passed a year ago. That bill provides for greater oversight of federal mental-health programs and offers grants for suicide prevention and early intervention, though many advocates see it as just the first step toward mental-health reform. "I think it's important that as we see the dust settle and we see what was behind some of these tragedies, that mental-health reform is a critical ingredient to making sure that we can try and prevent some of these things from happening in the past," Ryan said on Tuesday. "So that's just one example of the things that Congress has done to make sure we can try to get ahead of these problems."
Several Democratic lawmakers renewed their calls for stricter gun-control measures, and Connecticut senator Chris Murphy said he plans to introduce legislation to enhance background checks for gun purchases. But with Republicans in control of Congress and the White House it's extremely unlikely that any action will be taken on that front. (In fact, the House recently advanced a bill that would make it easier to buy firearm silencers.)
On Monday, White House press secretary Sarah Huckabee Sanders deflected questions about gun control, saying, "There will certainly be a time for that policy discussion to take place, but that's not the place that we're in at this moment."
But there were still emotional pleas for action, most notably from Las Vegas native Jimmy Kimmel. The late-night host singled out lawmakers who said they were praying for Las Vegas after blocking laws to prevent mentally ill people from obtaining firearms post-Orlando. "They should be praying. They should be praying for God to forgive them for letting the gun lobby run this country," he said.