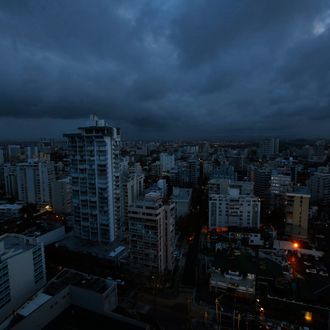 Blacked-out buildings in San Juan.
Photo: Carolyn Cole/LA Times via Getty Images
Lawmakers and the Department of Homeland Security are now looking into Whitefish Energy's $300 million contract to restore electricity in Puerto Rico, the majority of which has been without power since Hurricane Maria struck the island in September.
The deal has drawn scrutiny for several reasons. First, as the Washington Post reported, it's "unusual" for Puerto Rico's power authority (PREMA) to hire a for-profit company like Whitefish "rather than activate the 'mutual aid' arrangements it has with other utilities." Second, Whitefish is a two-year-old company with only two full-time employees and little experience with the kind of work it is doing in Puerto Rico. And finally, Interior Secretary Ryan Zinke is friendly with Whitefish CEO Andy Techmanski (the men both live in the tiny town of Whitefish, Montana, and Techmanski once gave Zinke's son a summer job). Zinke and Techmanski have denied that the secretary had anything to do with the contract.
On Thursday, both the House Natural Resources Committee and the House Energy and Commerce Committee began investigating the deal. The Department of Homeland Security's inspector general also opened an inquiry into the contract, with a spokesperson saying, "They will conduct vetting to look for the presence of any inappropriate relationships." The DHS is involved because it oversees Federal Emergency Management Agency, which will pay for parts of Puerto Rico's recovery.
In a statement, FEMA noted that it was "not involved in the selection" of Whitefish and that it "has significant concerns with how PREPA procured this contract and has not confirmed whether the contract prices are reasonable." The Post reports that, "Whitefish is charging $330 an hour for a site supervisor and $227.88 an hour for a 'journeyman lineman.' The cost for subcontractors, which make up the bulk of Whitefish's workforce, is $462 per hour for a supervisor and $319.04 for a lineman."
Meanwhile, Democratic senators Maria Cantwell and Ron Wyden asked the Government Accountability Office to investigate "the potentially inflated costs of time and material in the contract relative to comparable; the opaque and limited nature of PREPA's bidding process that led to the contract; and the contemporaneous communications between Whitefish and senior members of the federal executive branch, including Secretary of the Interior Ryan Zinke."
In an interview, PREPA head Ricardo Ramos said that he was "pleased" with Whitefish's work so far. San Juan mayor Carmen Yulín Cruz, whom President Trump attacked for criticizing his administration's response to the hurricane, is less happy with Whitefish. After Cruz described the contract as "alarming" and called for its cancellation, the company complained on Twitter:
When Cruz responded, Whitefish threatened to pull out of San Juan:
Whitefish has since apologized: