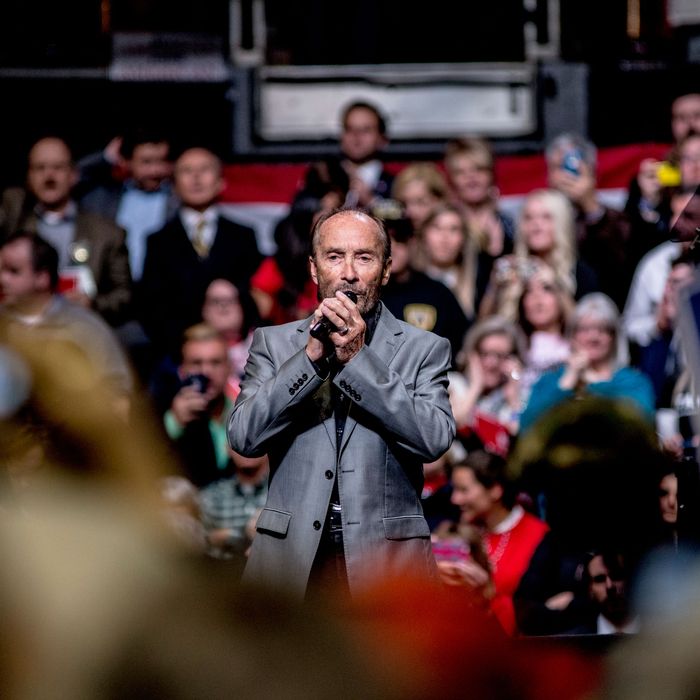 Lee Greenwood sings "God Bless the U.S.A." at a Trump rally.
Photo: Andrea Morales/Getty Images
It's not every day that President Trump uses his highly influential Twitter account to wish happy birthday to an American citizen. Since taking office, he's only done it twice. Once in April, when he wished First Lady Melania Trump an all-caps "HAPPY BIRTHDAY," and again on Friday, when he sent birthday wishes to the country singer Lee Greenwood (after first mistakenly sending them to a liberal lawyer with the same name).
Greenwood is best known — and for most, only known — as the guy who sings "God Bless the U.S.A.," a jingoistic anthem with some of the worst lyrics ever written. Naturally, Trump had him belt it out at his inauguration.
As a D-list celebrity who was more relevant in 1987 than 2017, Greenwood fits in well with the other people to whom Trump has tweeted birthday wishes over the years. The list, with the exception of some dead guys and the Queen of Soul, reads like the cast of a lost season of Celebrity Apprentice. The rest is his family, with one notable 11-year-old omission.
Here are all the people, excluding fans who tweeted at Trump asking for them, who have received birthday wishes from @RealDonaldTrump since 2012.
Aretha Franklin
Nelson Mandela
Ronald Reagan
Kristen Stewart
Barbara Walters
Tiffany Trump
Matt Drudge
Holly Robinson Peete
The movie Ghostbusters
Arnold Palmer
Chris Wallace
Ivanka Trump
Yogi Berra
Gary Player
Billy Graham
Donald Trump Jr.
Eric Trump
Jack Nicklaus
Melania Trump