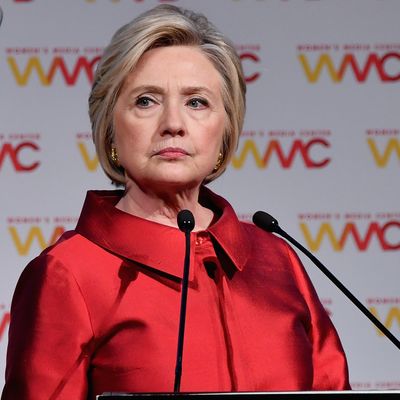 Still not the president.
Photo: Mike Coppola/Getty
As special counsel Robert Mueller files his first charges relating to the 2016 electoral interference, Republican lawmakers, surrogates, and media personalities have rallied around a crude, Putin-esque strategy to discredit his investigation: insisting that it was Democrats who colluded with Russia all along.
It's all part of the continuing right-wing tactic of fixating on Clinton and her misdeeds rather than reckoning with the chaos swirling around President Trump — even as the one-year anniversary of the election approaches. (In case you've forgotten, Clinton lost that contest.)
Former Trump campaign manager Corey Lewandowski inadvertently gave up the game entirely on Fox News on Saturday morning.
"The speculation is so insane right now," he said of the Mueller probe. "What we should be focusing on are the continued lies of the Clinton administration, the continued fallacies that they perpetuate."
Lewandowski may not quite have meant to step into alternate-reality territory. But his blunder revealed an essential truth about grievance-fueled Republicans in an era when they control the presidency and both branches of Congress: