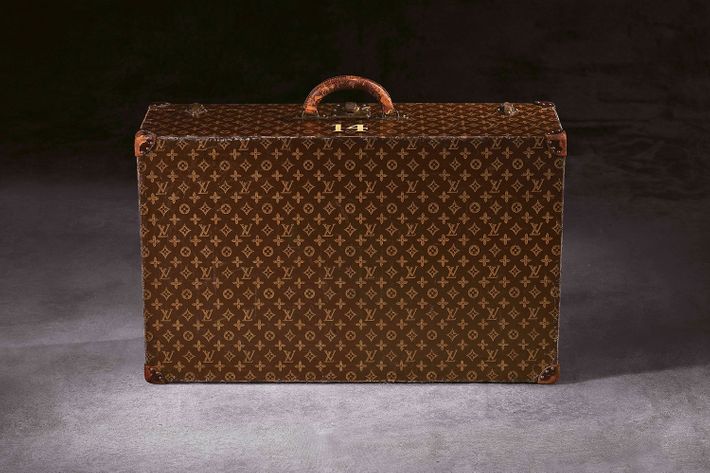 On October 27 through January 7, Louis Vuitton's rich history comes to life through a comprehensive installation in downtown Manhattan. On display at the Volez, Voguez, Voyagez exhibit are some 600 objects: iconic leather-bound trunks, travel bags, cases, and more. These pieces span the decades, following the rise of the luxury fashion house. This is the fourth iteration of the traveling exhibit, which premiered in Paris, and moved to Tokyo and Seoul, and it's fitting – Louis Vuitton has always celebrated adventure; its luxury wares have long been the choice of renowned personalities traveling in style. In fact, the exhibit name itself translates to "Fly, Sail, Travel," and everything about it will inspire you to do so.
Here's what to know about Volez, Voguez, Voyagez before you experience it yourself.
Paying Homage to the Founding Story
In 1835, 14-year-old Louis Vuitton left his village in eastern France, making his way to Paris on foot. Two years later, he reached his destination, and after working as a box-maker and apprentice, Vuitton founded his own business in 1854. He catered to high society, fine-tuning the flat trunk, which marked the advent of luggage as it's known today. In 1875, Vuitton would create the first vertical wardrobe trunk, and the use of patterns, canvas, and eventually monogramming would further set his work apart. His son, Georges, and grandson, Gaston-Louis, would follow in his footsteps upon his death.
Unified by the vision of curator Olivier Saillard, Volez, Voguez, Voyagez showcases items from these early days through the present, highlighting different mediums and designs catering to various modes of transport – yachting, aviation, and train travel, to name a few. Objects are also arranged by purpose – painting trunks, library trunks, even instrument cases are just a few of the luxury house's inventions.
©LOUIS VUITTON COLLECTION

©LOUIS VUITTON COLLECTION

©LOUIS VUITTON COLLECTION

©LOUIS VUITTON COLLECTION

©LOUIS VUITTON COLLECTION

©LOUIS VUITTON COLLECTION

©LOUIS VUITTON COLLECTION

©LOUIS VUITTON MALLETIER ANTOINE JARRIER

©LOUIS VUITTON MALLETIER PATRICK GRIES

©LOUIS VUITTON MALLETIER ANTOINE JARRIER
Innovative Touches Elevate the Experience
Volez, Voguez, Voyagez artistic director Robert Carsen designed the exhibit with interactivity in mind. Download the mobile app before you go to experience high-tech touches at various points throughout the installation. For example, you can bring a portrait of Louis Vuitton to life, or embark on a desert expedition via augmented reality. When you reach the room devoted to train travel, virtually customize a trunk through the app.
Looking to the Future
Vuitton products came to the U.S. for the first time in 1898. The luxury house was embraced by society figures, like the Morgans and the Goulds, and beloved by Hollywood. In the decades that followed, the brand expanded into fragrances, and ready-to-wear women's and menswear. In 1997, New Yorker Marc Jacobs became artistic director, and for the next 16 years, he'd spearhead designs with Louis Vuitton's enduring heritage at the core. Today, with Nicolas Ghesquière at the helm of design, the luxury house continues to innovate, all the while paying homage to its roots and the art of travel.
Experience Louis Vuitton's Volez, Voguez, Voyagez exhibit at the American Stock Exchange Building in lower Manhattan from October 27 through January 7, and reserve your free visit in advance.
This is paid content produced for an advertiser by New York Brand Studio. The editorial staff of Daily Intelligencer did not play a role in its creation.