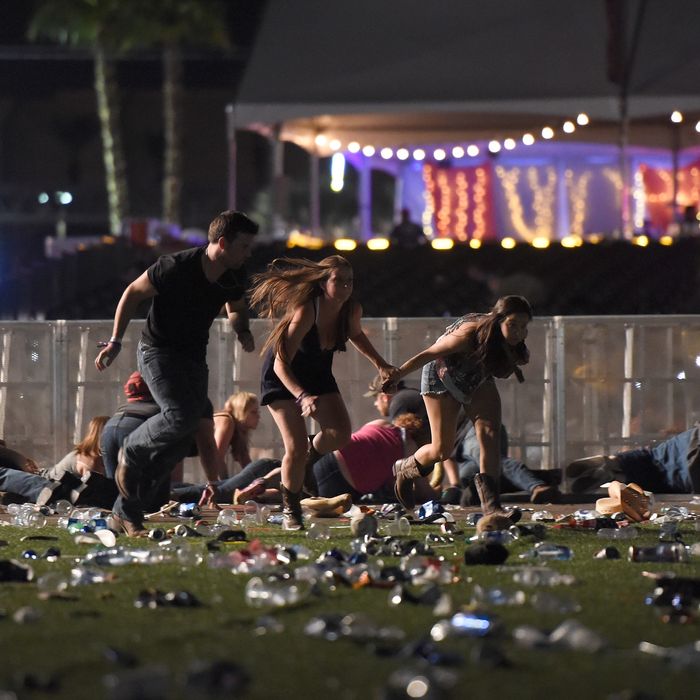 People run from the Route 91 Harvest country-music festival after apparent gunfire was heard on October 1, 2017, in Las Vegas, Nevada.
Photo: David Becker/Getty Images
The Latest
• A gunman in a Las Vegas hotel opened fire on an outdoor concert packed with 22,000 fans on Sunday night, killing at least 59 people. More than 500 people were injured. It is the deadliest mass shooting in American history, with the number of fatalities exceeding that of the Pulse nightclub shooting in Orlando last June.
• The gunman, identified as 64-year-old Stephen Paddock, was found dead from an apparent self-inflicted gunshot wound in a hotel room on the 32nd floor of the Mandalay Bay hotel and casino, from the window of which he waged his killing spree. Police have not identified a motive for Paddock, who lived in a retirement community in Mesquite, Nevada, and — with the exception of a traffic ticket — did not have a criminal history.
• Law-enforcement officials are investigating this as a "lone wolf" attack, and do not believe any other locations are under threat. The FBI has said that Paddock had no connection to any international terror groups.
• President Donald Trump called the mass shooting an act of "pure evil." He said he will visit police, first responders, and victims and their families in Las Vegas this Wednesday.
The Shooting
A gunman, identified as 64-year-old Stephen Paddock, sprayed a stream of bullets from the window of the 32nd floor of the towering Mandalay Bay Resort and Casino at a crowd of thousands below, all celebrating the final night of an outdoor country-music festival.
What witnesses described as "hundreds" of shots rang out just after 10 p.m. as Jason Aldean performed on the final night of the Route 91 Harvest music festival. The music stopped, and concertgoers paused for a moment, some thinking that the noise was just firecrackers. Then hundreds began fleeing in a panic as they heard another burst of gunfire.
"It was a horror show," concertgoer Ivetta Saldana told the Las Vegas Review-Journal. "People were standing around, then they hit the floor."
"The band ran off stage and it was pandemonium," Jon Bessette told NBC News. "Everyone was running, people were getting trampled."
(Warning: the videos below are graphic.)
Witnesses said the shots appeared to be coming from a high floor of the adjacent hotel. Rumors spread that there were multiple shooters, and that explosives had been left around the city. There was chaos throughout the area as hotels went on lockdown and police searched for the shooter.
The Suspect
Around midnight local time, police confirmed that one suspect was taken down on the casino's 32nd floor. Early on Monday morning, Sheriff Joseph Lombardo identified him as 64-year-old Stephen Paddock, and said they believe he was a "lone wolf."
A SWAT team reportedly used a controlled explosion to enter Paddock's room. Initial reports suggested Paddock was shot and killed by police in a standoff, but it now appears that the suspect turned the gun on himself and died from a self-inflicted bullet wound before police blasted into his room. Inside, authorities found a cache of more than a dozen firearms, including some weapons that were fully automatic. He allegedly used a hammerlike tool to smash the hotel windows so he could fire down on the celebratory crowds below.
Paddock reportedly checked into the room on September 28, though he lived in a retirement community in Mesquite, Nevada, a little more than an hour outside Las Vegas. Police have not elaborated on a potential motive yet, but authorities have said Paddock wasn't on any terror-related watch lists and there is no evidence he had any links to terror groups. He does not appear to have a criminal history, with the exception of a minor citation.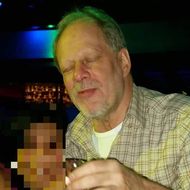 Nevertheless, ISIS's Amaq News Agency, the terror group's wire service, claimed responsibility for the mass shooting, calling Paddock a "soldier of the Islamic State." That claim has not been verified, and is being met with a heavy dose of skepticism among experts, who say it would not be the first time in recent months the group has tried to take credit for a completely unrelated attack — a strategy extremists have undertaken as they've been squeezed on the battlefield.
Reporters spoke to the suspect's brother Eric Paddock outside his home in central Florida. He registered shock at the shooting. "There's no reason for me not to say. I would love to be able to give some reason to this," he said. "No religious affiliation. No political affiliation. He just hung out."
Police were also initially searching for Paddock's "companion," Marilou Danley, whom police described as a 4-foot-11 Asian woman. Police said early Monday they had questioned Danley, who has been out of the country for two weeks. Officials do not believe she was directly involved in the shooting, though they are looking to bring her back to Las Vegas for additional questioning, according to the Las Vegas Review-Journal. Paddock might have used Danley's ID in the leadup to the attack, including possibly to secure the hotel room.
Danley reportedly shared a home with Paddock in Mesquite. Law enforcement has descended on their neighborhood Monday, SWAT teams surrounding the empty home. Police found a firearm and some ammunition in the empty house, reports the New York Times.
The Response
President Donald Trump offered his "warmest condolences" on Twitter the morning after the shooting.
Trump delivered a measured televised address later Monday, calling the mass shooting "an act of pure evil." The president credited the "courageous efforts" of the police and emergency personnel, and described their quick response as "miraculous."
"We pray for the day when evil is banished and the innocent are safe from hatred and from fear," Trump said. The president said he will visit Las Vegas on Wednesday to meet with the families of the victims and first responders, a day after he visits a Puerto Rico devastated by Hurricane Maria two weeks ago. The president did not offer any details on the investigation or on the suspect.
Nevada governor Brian Sandoval, who visited one of the hospitals tending to victims, called the shooting a "cowardly, despicable act."
Las Vegas mayor Carolyn Goodman described Paddock as a "crazed lunatic full of hate," saying, whatever his motive, "it was not an extension of what we believe in."
The Victims
At least 59 people have been killed, and more than 520 hurt in what is now the deadliest mass shooting in U.S. history. The names and identities of the victims are beginning to be released, including a 29-year-old registered nurse from Texas who was gunned down while shielding his wife. Former and current on- and off-duty police officers were among the deceased.
Following the shooting, ambulances and police vehicles flooded into the area, transporting victims to University Medical Center and Sunrise Hospital Medical Center. At one point, the former facility said it was at capacity, and told police to bring only people with life-threatening injuries.
The wounded included those suffering from gunshot wounds and some people who had been trampled or hurt in the chaos as people tried to flee from the spray of bullets. "No one has experienced patient volumes to this level," Jennifer Cooper, a spokeswoman for Dignity Health–St. Rose Dominican Hospital said, another facility that received dozens of patients.
Hundreds of people in the Las Vegas area lined up to donate blood in the immediate aftermath of the shooting. Officials urged people to continue donating to meet the overwhelming need. It's "basically a war zone," Governor Sandoval said. "We need blood."
The Aftermath
Various roads were blocked and police asked people to avoid the southern end of the Strip. The local airport diverted more than 25 flights, and there were reports that some people ran onto the runway while fleeing the concert.
After fleeing for their lives, many survivors found themselves stranded, with no way of getting back into their locked-down hotel rooms.
One witness said a woman pushed her way to the front row of the concert, got into a scuffle, and told everyone that they were "all going to die tonight." It's unclear if that incident had anything to do with the shooting.
Eventually the Thomas & Mack Center was opened as a shelter for festivalgoers, and several busloads of people were brought in. Each person was patted down before they were allowed in. One man showed up to the arena with a leg wound, and was bandaged and taken to a hospital.
Aldean's spokesman said no one in his band or crew was injured. "Tonight has been beyond horrific," he posted several hours later on Instagram. "It hurts my heart that this would happen to anyone who was just coming out to enjoy what should have been a fun night."
Police warned that given the astounding number of wounded, the death toll is likely to rise even higher. But with at least 50 deceased at the Las Vegas concert, this is now the deadliest mass shooting in United States history, surpassing the Pulse nightclub shooting in Orlando last year, where 49 were killed.
This is a developing story. Please check back for updates.