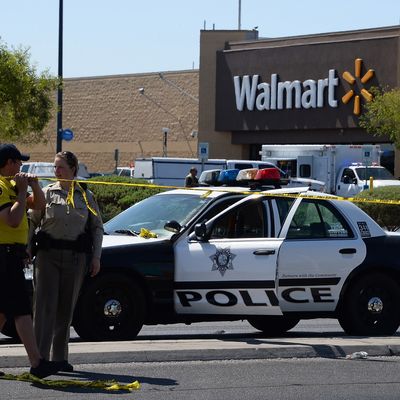 The aftermath of a shooting in Las Vegas.
Photo: Ethan Miller/Getty Images
Last night's shooting in Las Vegas, the deadliest mass shooting in modern American history, clearly stands out for its toll, venue, and method.
But gun violence on a smaller scale is a constant reality for many of the city's residents. And the problem has been getting worse in recent years.
The Last Vegas Review-Journal reported that Las Vegas homicide detectives investigated 168 murders in 2016, nudging out 1996 as the deadliest year on record. (The police department did not provide the paper with records before 1990.) Though the city's population has swelled in recent years, population growth doesn't account for the considerable spike in the murder rate between the beginning of this decade, when murders hit a low of 76 in 2012, to last year. Most of the killings take place far from the famous Vegas strip that most tourists are familiar with, where Sunday night's massacre unfolded. As of September of last year, 80 percent of the murders involved guns.
Las Vegas was one of a few major American cities whose homicide rates contributed to an overall rise in the violent crime rate over the last two years.
So far, 2017 is following much the same pattern.
What accounts for the proliferation of violence in Las Vegas and other cities is not clear, and the question has been hotly debated. But Clark County sheriff Joseph Lombardo pinned at least some of the blame on gangs that have migrated from California. Domestic violence and young men who are quick to resort to violence appear to be common threads in the killings.
A New York Times report from last year painted a picture of the daily toll the violence takes on the city's residents and police officers, who had taken pride in the clearance rate of homicide investigations, but now find themselves overstretched.
"You find out there was a minor altercation and someone pulled out a gun," Lieutenant Daniel McGrath, head of the police department's homicide unit, told the paper. "They are so quick to resort to violence that it goes from profanity to shooting."
Most of the killings, as with the majority of homicides in America, are committed with run-of-the-mill handguns, not the semi-automatic — or in Paddock's cause, perhaps fully automatic — weapons that are often the weapon of choice in mass shootings.
Las Vegas's murder rate is likely to ebb and flow, but as long as guns are cheap and easily available, which they are in Nevada, it is likely to remain stubbornly high, and everyday acts of violence will continue to fade into the background.