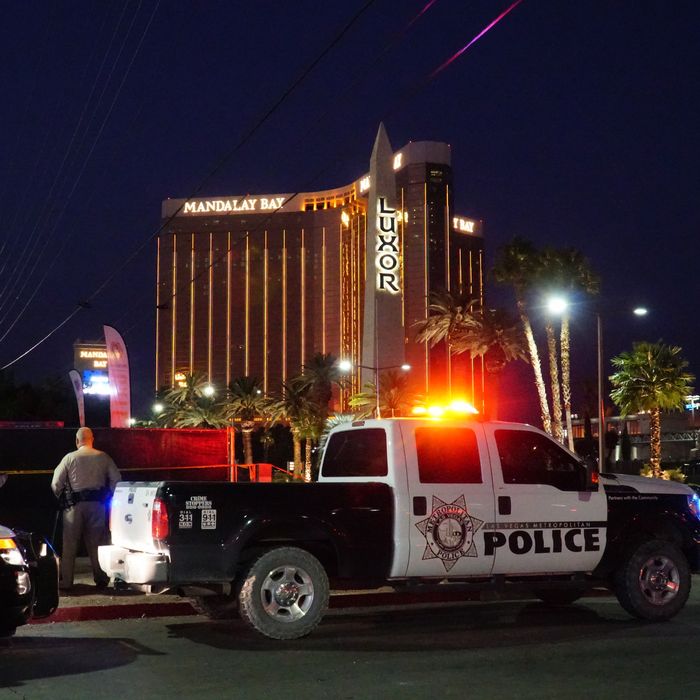 Las Vegas Metropolitan Police near the scene of the mass shooting on October 8, 2017.
Photo: Doug Kranz/Icon Sportswire via Getty Images
More than a week after the worst mass shooting in United States history, we still do not know gunman Stephen Paddock's motive, and now there's disagreement on the basic facts about what occurred on Sunday, October 1.
New questions about the response to the shooting were sparked on Monday when Sheriff Joseph Lombardo of the Las Vegas Metropolitan Police made a significant revision to the official timeline. Originally, police said Jesus Campos, a security guard at Mandalay Bay Resort and Casino, was shot outside Paddock's hotel room several minutes after he opened fire on concertgoers below. Lombardo had suggested Paddock stopped firing and turned his weapon on himself because he saw Campos and realized he wouldn't be able to escape.
However, Lombardo said on Monday, "Campos was encountered by the suspect prior to his shooting to the outside world." Now it's unclear what role Campos played in helping police locate Paddock's room, and why Paddock stopped shooting. The revelation sparked speculation about whether police and hotel security could have responded more quickly.
Brad Garrett, a former FBI agent, told ABC News that if police knew about the shooting six minutes earlier, "you may not have been able to get the police there, but you may have been able to create a disruption of some sort that would have kept him from doing what he ultimately did."
However, Todd Fasulo, an assistant sheriff with the Las Vegas Metropolitan Police, said, "Nothing gives me any indication that [officers] did anything other than what they are trained to do, which is to formulate and execute a plan as quickly as they can."
On Tuesday, MGM Resorts International, which owns the hotel, added to the confusion with a statement casting doubt on the new timeline.
"This remains an ongoing investigation with a lot of moving parts," MGM Resorts spokeswoman Debra DeShong said in the statement. "As evidenced by law enforcement briefings over the past week, many facts are still unverified and continue to change as events are under review. We cannot be certain about the most recent timeline that has been communicated publically, [sic] and we believe what is currently being expressed may not be accurate."
According to the Wrap, MGM Resorts is already bracing for lawsuits over its response to the shooting. "Where is the system?" said attorney Richard Patterson, who is representing several shooting victims. "It broke down. This is negligence — they could have stopped the whole thing. As a land owner you have an obligation to ensure the safety of people on that land. They owned the venue and they owned the hotel — good luck."
DeShong responded, "Security has been and continues to be a top priority at all of MGM Resorts." Patterson also argued that staffers of Live Nation, which operated the concert, showed poor judgement in turning on the flood light after the shooting started, giving Paddock a better view.
Lombardo still hasn't laid out the exact police timeline for how the shooting was reported, but in an interview with the Las Vegas Review-Journal on Tuesday he said he believes hotel staffers responded appropriately.
"You're never going to get me to say that somebody dropped the ball," he said. "I don't believe that happened. I think everybody did a fantastic job."