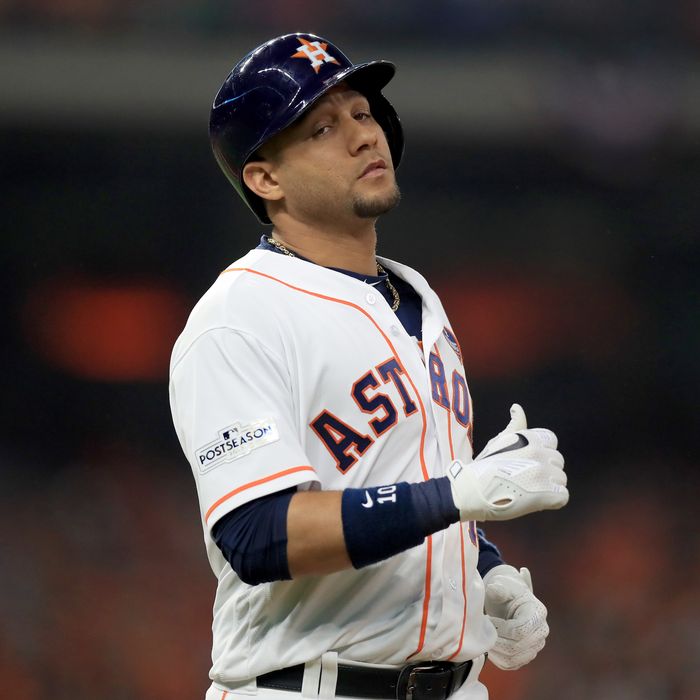 Yuli Gurriel
Photo: Ronald Martinez/Getty Images
Houston Astros player Yuli Gurriel will face a five-game suspension from Major League Baseball after making a racist gesture during the third game of the World Series on Friday night — but he will not have to serve the suspension until next season. After hitting a home run off of Los Angeles Dodgers pitcher Yu Darvish, who is part Japanese, Gurriel returned to the dugout and used his fingers to pull back the corners of his eyes and mouthed "chinito," a typically derogatory Spanish term for Asians which means "little Chinese boy." The gesture and remark were caught by television cameras and received a lot of attention and outrage on social media.
MLB commissioner Rob Manfred announced on Saturday that he was suspending Gurriel without pay for five games at the start of next season, and said he chose to delay the suspension because he didn't think it would be fair to penalize Gurriel's teammates by suspending the first baseman — who is hitting .340 this postseason — from any World Series games. As ESPN's Buster Olney has pointed out, even if Manfred had tried to suspend Gurriel during the World Series, the players' union appeal process would have delayed the suspension until next season anyway. Manfred undoubtedly understood that as well, so it's not clear why he chose to delay the suspension outright.
The Cuban-born Gurriel apologized for the gesture and remark after the game on Friday, insisting through a translator that he "didn't mean to offend" Darvish, and pointing out that he has "great respect" for Japanese players since he played in Japan earlier in his career. The 33-year-old player also claimed cultural ignorance — at least partially. "In Cuba and other places, instead of saying 'Japanese' they say 'chinito' for anyone who is Asian," Gurriel attempted to explain.
"But I was in Japan and I know that it's offensive, and honestly, I apologize to [Darvish]."
For his part, Darvish called the gesture "disrespectful" after the game, and pointed out that "Houston has Asian fans and Japanese fans," too. Later, in a statement released on Twitter, the Iranian-Japanese player seemed more forgiving, adding that "no one is perfect," and while what Gurriel did "isn't right," he believes "we should put our effort into learning rather than to accuse him."
"If we can take something from this, that is a giant step for mankind," he added.
Following Manfred's announcement, the Houston Astros released another apology from Gurriel, who they insist is "extremely remorseful" over the incident. He will not appeal the suspension. The Astros organization also said in a statement that it supports diversity in the sport, as well as Manfred's decision, promising to donate the salary Gurriel forfeits during his suspension to charity.
And speaking of racism in baseball, Manfred also said on Saturday that he intends to "deal with" the Cleveland Indians' "Chief Wahoo" logo over the offseason.