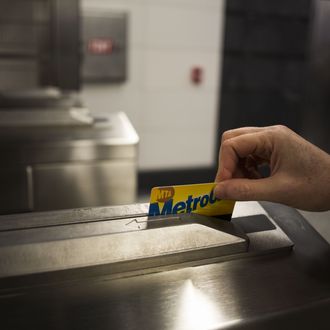 Photo: Bloomberg/Bloomberg via Getty Images
Accessing New York City's broken transit system will soon be a bit more convenient. On Monday, the MTA announced its intention to replace MetroCards with electronic payments within the next six years. The first phase of the plan is set to begin in late 2019, when 500 subway turnstiles and 600 buses will be equipped with technology that will allow riders to pay their fare by waving their phones or bank cards at a reader. All subway stations and buses are supposed to have the new equipment by 2020. MetroCard dispensers and readers will remain usable until they are retired in 2023.
MTA officials told the New York Times that people will be able to make payments "through apps like Apple Pay, Android Pay and Samsung Pay," as well as with credit and debit cards; the MTA plans to start issuing its own card in 2021. Cubic Transportation Systems, which created the MetroCard and London's Oyster card, will be responsible for installing the new system, which will eventually include the Long Island Railroad and the Metro-North.
"There's so many good reasons to do this, I don't know where to start," MTA board member Andrew Albert told the New York Daily News. "You won't have to pay employees to clean the turnstiles, you won't have to be stuck behind someone who doesn't know exactly the right way to swipe." According to MTA head Joe Lhota, "Another potential advantage was that fare readers could be installed near the back doors on buses to 'allow for all-door boarding.' That would let buses pull away from bus stops sooner than they do now, reducing travel times." And, of course, there will be no more waiting in line to refill your MetroCard every month.