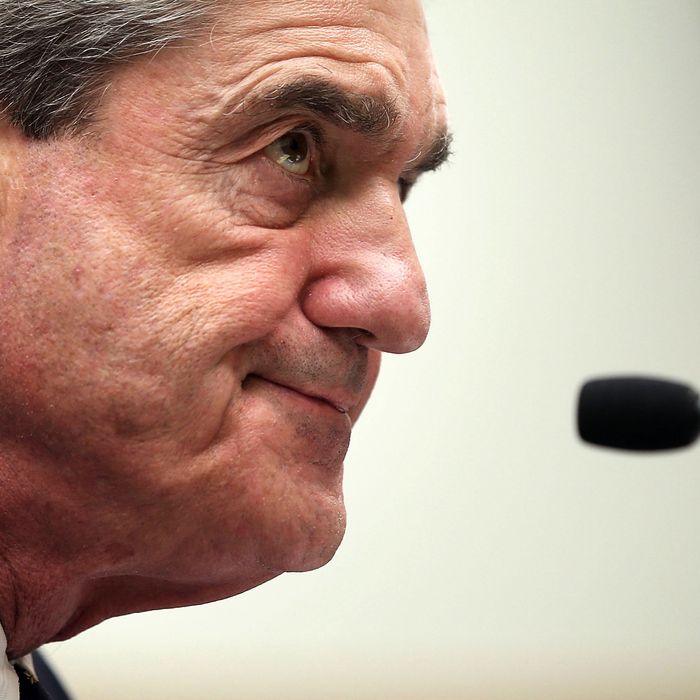 Special Counsel Robert Mueller.
Photo: Alex Wong/Getty Images
Investigators working with Special Counsel Robert Mueller met earlier this summer with Christopher Steele, the former MI6 agent who helped compile a bombshell dossier full of wild allegations against President Trump, CNN and NBC News report.
CNN also says that the dossier, which Trump has dismissed as entirely false, was taken far more seriously by the CIA and FBI than the intelligence agencies initially led on.
Details of the dossier first emerged in January of this year, but it was born in September 2015 when unknown Republicans hired Fusion GPS, a D.C. investigative firm, to dig into Trump's past. The head of Fusion GPS, former Wall Street Journal reporter Glenn Simpson, later hired Steele, an expert on Russia, to help research Trump's ties to Moscow. What he found eventually made its way into the dossier, which alleges collusion between the Trump campaign and Russia in its efforts to influence the 2016 presidential election. It also says that Russian officials have a video of Trump in an upscale Moscow hotel room watching prostitutes pee on a bed that Barack and Michelle Obama once slept in.
News of Steele's cooperation with the office of the special counsel comes just as leaders of the Senate Intelligence Committee have admitted frustration with their inability to interview the ex-spy. On Wednesday, Senator Richard Burr said the committee has been able to successfully "rebuild backwards" the dossier, but its work stalled when Steele rebuffed interview requests.
"The committee cannot really decide the credibility of the dossier without understanding things like, who paid for it? Who are your sources and sub-sources?" Burr said in a press conference.
Taken together, the interest in the dossier from both Mueller and the Senate Intelligence Committee does two things. It provides further evidence that the dossier is not just "made-up stuff," as Trump recently said, and it gets us a tiny bit closer to the highly anticipated release of the most coveted golden-shower recording of all time.