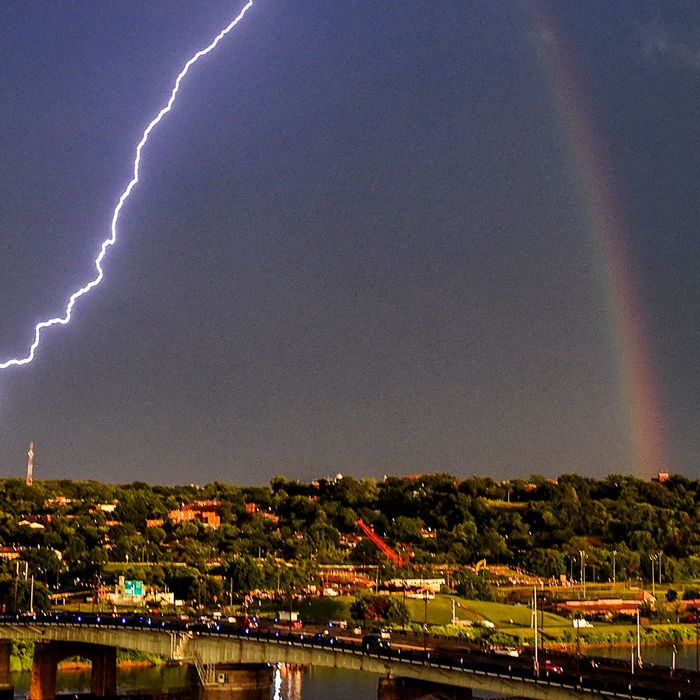 Let's get improbable.
Photo: Jonathan Newton
There are three more statewide elections left this year before the big landscape of the 2018 midterms begins to unfold. There are gubernatorial contests in New Jersey and Virginia on November 7, and a special U.S. Senate contest in Alabama on December 12. All three will inevitably be overhyped and overinterpreted as providing Delphic guidance for what happens next year or even in 2020. But as some new polls in Virginia and Alabama show, some crazy things could happen.
There are a variety of reasons Ralph Northam should be comfortably winning the Virginia's governor's race over Ed Gillespie: a cash-on-hand advantage, the recent Democratic lean of the state, a superior biography (he's a doctor and veteran while Gillespie's a lobbyist), the historical pattern of the White House party losing nine of the last ten gubernatorial tilts. Add in the fact that Gillespie seems to be modeling his campaign on the worst of the president (defending confederate memorials and demagoguing about Hispanic gangs) at a time when Trump is not very popular in the Old Dominion, and you'd figure the GOP was fighting an uphill battle. Yet a new survey from the respected Monmouth University polling outfit has Gillespie up by a point at 48/47.
Meanwhile, in Alabama, a state where no Democrat has won a statewide election in a decade, and where the Republican senator being replaced, Jeff Sessions, did not even have a general election opponent in 2014, a fresh Fox News poll has Democrat Doug Jones and Republican Roy Moore running even at 42 percent. Presumably there are some supporters of the candidate Moore vanquished, appointed GOP senator Luther Strange, who are being slow to get behind the Judge. But Strange's most avid supporters, Mitch McConnell and Donald Trump, have come around instantly. And support from Trump, at least, ought to be worth something in Alabama, a state he carried by 27 points last November.
If Gillespie were to win in Virginia and Jones in Alabama, the political commentariat's desire to use the results as a 2018 bellwether might be totally frustrated.
To be clear, the new polls don't necessarily reflect deep trends and could be outliers. The Monmouth survey is the first to show a Gillespie lead since March. Northam leads in the RealClearPolitics average of recent polls by 3.5 percent. As recently as two weeks ago, a Washington Post survey had Northam ahead by 13 points.
There's been less general election polling in Alabama, but every survey other than the new one from Fox has shown Moore leading. His margin in the RealClearPolitics polling average is 4.4 percent.
Still, there's no question now that Gillespie has a puncher's chance in Virginia, as does Jones in Alabama. It will be interesting to see how much national money the two parties pump into either or both races, and how media types choose to divine what is and is not working.
There is one state where a 2017 gubernatorial contest is showing little or no prospects of offering a surprise. In New Jersey, a new Fox News poll shows Democrat Phil Murphy leading Republican Kim Guadagno by 14 points. That's close to Murphy's 16.8-point advantage in the RealClearPolitics polling average. Guadagno hasn't gotten the lead down to single digits in any survey yet; that's about what you'd expect for a lieutenant governor and protégé of the profoundly unpopular term-limited incumbent Chris Christie. Even in this unstable political age, some things just don't change.