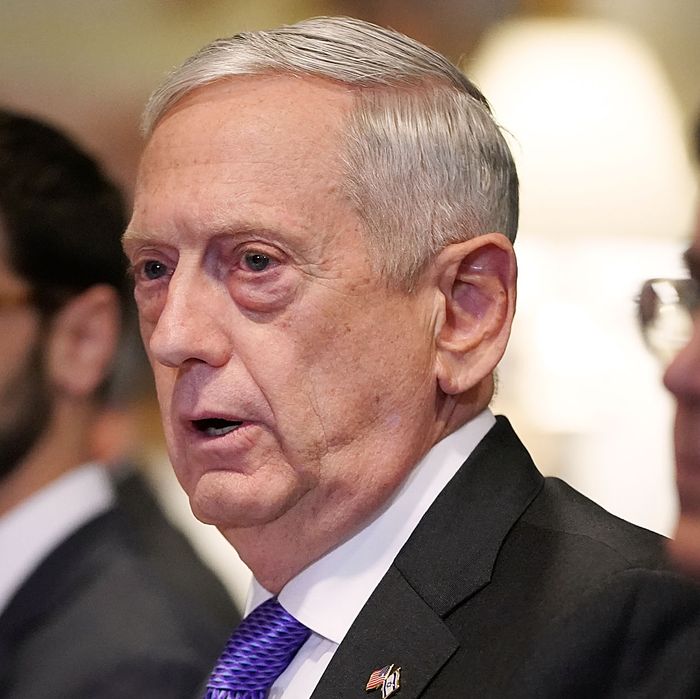 Secretary of Defense James Mattis.
Photo: Chip Somodevilla/Getty Images
The deaths of four American troops in Niger on October 4 led to an unsavory spectacle involving President Trump, John Kelly, and Gold Star families that dominated headlines this week. But the tragedy also prompted many to wonder what U.S. troops were doing in the African country in the first place, and how their presence fits in with America's ever-expanding, and ever-secretive, war on terrorism.
On Friday, White House Chief of Staff John Kelly said that, "At the end of the day, they're helping those partners be better at fighting ISIS in North Africa to protect our country so that we don't have to send large numbers of troops."
The U.S. presence in Niger — a poor, landlocked country whose geography consists mostly of the Sahara Desert — dates back, at least officially, to 2013, when President Obama ordered 100 American troops to "provide support for intelligence collection" and "facilitate intelligence sharing" with French forces and other allies.
The deployment was a response to the burgeoning threat of Islamist radicalism in the area. The year before, an Al Qaeda–linked faction had taken control of the desert expanse that makes up northern Mali, which borders Niger, and U.S. troops had set up a drone base to assist French forces that eventually drove the group from power.
There are now about 800 U.S. troops in Niger, ABC reports, mostly consisting of construction crews building a second drone base in the northern section of the country. A smaller group remains to run the drone program that still assists Malian forces fighting against Al Qaeda, Nigeria's Boko Haram, and ISIS, which has gained a toehold in northern Africa in recent years. About 100 Green Berets help Nigerian forces in a more direct counterterrorism capacity; it was this group that came under fire in the disastrous mission earlier this month.
But the U.S. military presence in Africa isn't limited to Niger. There are American troops in several other countries, for several different purposes, ranging from fighting ISIS in Libya to plotting Middle Eastern strategy from a military base in Djibouti.
The precise mission of American troops in these countries may be murky, but their presence isn't exactly a secret — more a reminder of the expansive scope of the war on terror, launched by President George W. Bush and maintained by President Obama, which now includes outposts all over the world that most of its citizens pay little attention to.
The circumstances of the four deaths in Niger remain mysterious, with key questions — like whether American soldiers diverted from their mission — still unanswered. NBC News reported on Friday that, according to a senior congressional aide who had been briefed by the Pentagon, the deaths on October 4 were the result of a "massive intelligence failure," a characterization the Pentagon disputed. Amid conflicting accounts from Nigerian and American forces, the agency is investigating. Senator John McCain has criticized the Trump administration for not being forthcoming about what happened, and has threatened to use subpoena power to seek clearer answers.
The incident has led some lawmakers to question anew the 16-year-old law that has allowed presidents since George W. Bush to send troops all over the world under the guise of fighting terrorism. Bush signed the Authorization for Use of Military Force Against Terrorists just one week after September 11. The bill has allowed the executive branch to order far-flung military engagements ever since, without much fear of congressional oversight.
Next week, Secretary of Defense Jim Mattis and Secretary of State Rex Tillerson will testify on the issue in front of the Senate Foreign Relations Committee. Senator Bob Corker said in a statement that it is "perhaps more important than ever that we have a sober national conversation about Congress' constitutional role in authorizing the use of military force."
Others echoed his sentiments. Senator Tim Kaine said that "the many questions surrounding the death of American service members in Niger show the urgent need to have a public discussion about the current extent of our military operations around the world."
But the Trump administration, under which military commanders possess greater decision-making powers than they did during the Obama years, has indicated that it may ramp up military operations in Africa in response to the deaths in Niger.
More hawkish lawmakers seem enthused at the prospect. "The war is morphing," Senator Lindsey Graham said. "You're going to see more actions in Africa, not less; you're going to see more aggression by the United States toward our enemies, not less; you're going to have decisions being made not in the White House but out in the field."
Given the history of the last 16 years, as Americans have become inured to extra-congressional military action, it seems likely that once the outrage over the Niger deaths dissipates, the modus operandi Graham describes is unlikely to face a serious challenge from lawmakers or citizens.