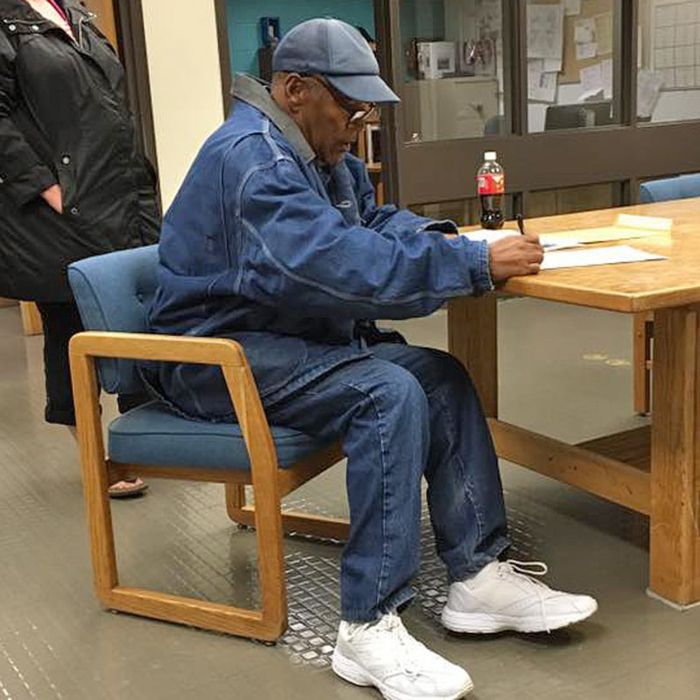 Simpson signing paperwork during his release early Sunday morning.
Photo: Handout/Nevada Department of Corrections
O.J. Simpson was released from prison in Nevada early Sunday morning after serving nine years for his part in a bungled armed robbery at a Las Vegas hotel in 2007. The 70-year-old ex–football and television star — who was infamously acquitted of the brutal 1994 murder of his ex-wife Nicole and her friend Ron Goldman, but later found liable for their deaths in a civil lawsuit — was granted parole in July. He was released from Lovelock Correctional Center in northern Nevada in the middle of the night to avoid media attention.
The Associated Press reports that it is not clear where Simpson will go or live following his release, but that he'd wanted to return to Florida, where his house was lost to foreclosure in 2012 and where two of his children still live. Florida's attorney general has said that she doesn't want Simpson living in the state, and apparently no documents related to Simpson have been filed with Florida prison officials who would legally need to be kept aware of his return. Wherever he goes, he will face up to five years of parole supervision.
In September of 2007, Simpson led a group of men, two of whom were armed with handguns, to a Las Vegas casino-hotel to retrieve what Simpson said were personal items from a pair of memorabilia dealers, leading to a confrontation. Simpson was subsequently arrested, tried, and convicted of multiple felonies and received a sentence of at least nine, but up to 33 years in prison for the crimes in 2008.
O.J. Simpson's life and crimes are fresh in the minds of many Americans following the release of both an Oscar-winning documentary and critically acclaimed miniseries about him and his trial last year.
According to a lawyer for Ron Goldman's family, Simpson still owes tens of millions of dollars from the civil judgment against him for the deaths of Goldman and Nicole Brown Simpson.