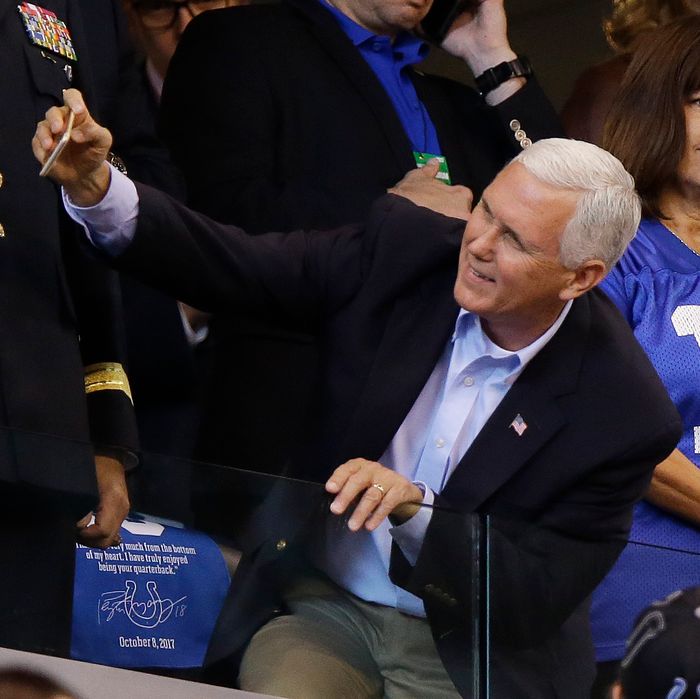 Pence took a big selfie on Sunday.
Photo: Michael Conroy/AP
In what appeared to be a cynical attempt to bolster his credibility with President Trump's base, Vice-President Mike Pence attended an NFL game on Sunday in order to stage a dramatic walkout over players' continued protests during the national anthem. The former governor of Indiana flew from Las Vegas to Indianapolis on Saturday night and went to the game between the Colts and San Francisco 49ers on Sunday afternoon, where he got up and walked out of the stadium after players on the 49ers — as they have since 2016 — elected to protest racial inequality by kneeling during the national anthem. Reporters traveling with the vice-president were told to stay in the press van beforehand because "there may be an early departure from the game."
Pence promoted the stunt heavily on social media. Before the game, he tweeted a three-year-old image of himself in the stands wearing Colts apparel saying he was excited for the game and to be able to honor former Colts quarterback Peyton Manning, whose number was retired on Sunday. Pence then left the game before it began — overshadowing the celebration of Manning — and quickly struck a patriotic pose on Twitter:
(The photo of Pence standing for the anthem was taken by White House photographer Myles Cullen and was officially distributed to the press afterward.)
An hour later, with Pence's Sunday theatrics gaining media attention, President Trump tweeted to explain that the whole thing was actually his idea:
It was never a matter of "if." Some 49ers players were definitely going to protest during the anthem on Sunday, and the White House definitely knew that. Colin Kaepernick, the player who pioneered the practice of kneeling during the anthem in 2016 as a way to protest racial injustice, was a member of the team at the time. And the recent wave of NFL player protests was set off when Trump attacked Kaepernick and other players over their anthem protests, calling anyone who didn't stand a "son of a bitch" and insisting they be fired.
Vice-President Pence was scheduled to fly to Los Angeles on Sunday after the game for an event in the early evening. This means that Pence traveled from Las Vegas to Indianapolis, walked out of a football game, then traveled back to the West Coast — all in the space of 24 hours, and all using taxpayer dollars, including for the extra security at the game because of his presence.
And for what cause?
During a locker-room interview after the game on Sunday, 49ers player Eric Reid, who began kneeling along with Kaepernick last year, and who wrote a recent New York Times op-ed defending his former teammate and the protests, said he was not impressed with Pence's actions:
He knew our team has had the most players protest. He knew that we were probably going to do it again. And so, this is what systemic oppression looks like. A man with power comes to the game, tweets a couple of things out and leaves the game with an attempt to thwart our efforts.