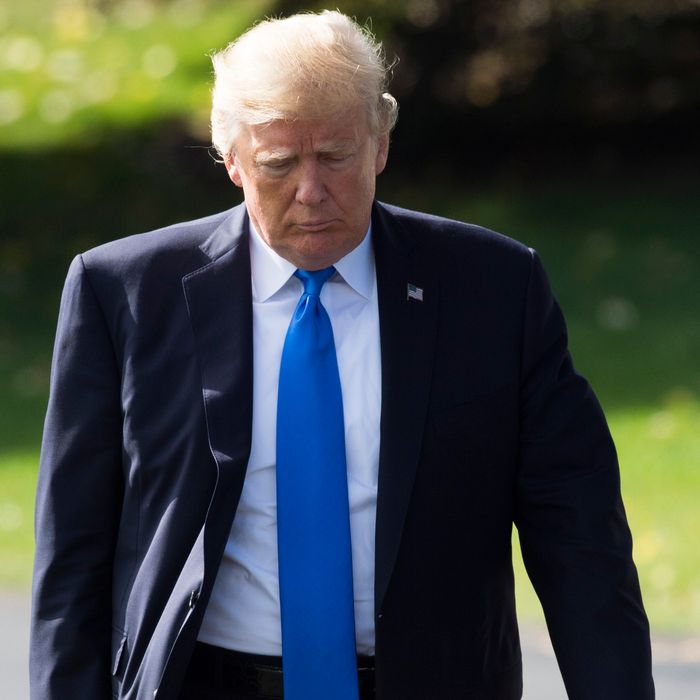 Why don't they like me?
Photo: Saul Loeb/Getty
A new poll shows that President Trump not only remains out of favor among most Americans but also is shedding support among some of his most reliable fans.
An NBC/Wall Street Journal poll found that 38 percent of voters approve of Trump, the worst percentage the organizations have measured so far. A September version of the poll showed Trump's approval at 43 percent; his previous nadir was 39 percent in May. As NBC helpfully notes, "Trump's job approval rating … is the lowest in modern times for a president at this stage of his presidency."
In the last five weeks, Trump's support has eroded by seven points, from 58 percent to 51 percent, among his core constituency: whites without a college degree. He also dropped seven points among independents, from 41 percent to 34 percent.
The president polled poorly on every individual issue except the economy and his handling of the hurricanes in Texas and Florida.
The poll was taken in the aftermath of Trump's mishandling of phone calls to military families and harsh criticism from Republican senators Flake and Corker, but before news broke that the first indictment in Robert Mueller's Russia probe is forthcoming.
Gallup's daily tracking poll, meanwhile, had Trump at an even paltrier 35 percent on Sunday, with 60 percent disapproval.
Recent numbers in that survey indicate that the president may be reverting back to the mid-30s approval trough, where he found himself during the late summer.
Trump's relentless unpopularity is having a serious effect on voters' choices for congressional control in 2018. Democrats are favored in the NBC/WSJ poll by seven points, up by a point since September but less than in many other polls.