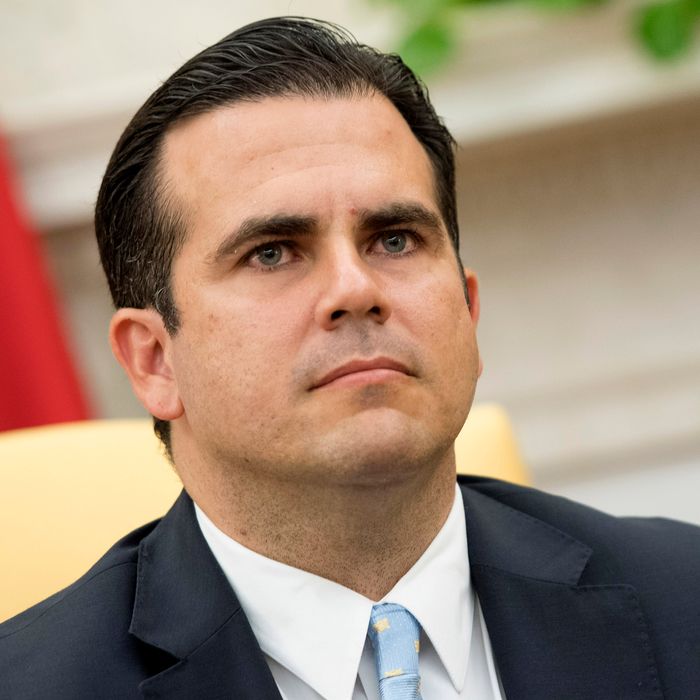 Rossello.
Photo: Pool/Getty Images
On Sunday afternoon, the CEO of the Puerto Rico Electric Power Authority said the company will cancel its much-criticized contract with Whitefish, the obscure Montana firm that was chosen to restore power to the island in the wake of Hurricane Maria.
Earlier in the day, Puerto Rico's governor, Ricardo Rossello, had called for the severing of the deal.
"I petitioned the board of PREPA to invoke the cancellation clause," the governor said at a press conference. "There is some ongoing work that needs to be finished but I am invoking that cancellation clause."
Whitefish Energy Holdings was awarded the no-bid contract by the beleaguered Puerto Rico Electric Power Authority on September 26, and the deal has drawn heavy scrutiny since its specifics have trickled out. The company only had two employees the day Hurricane Maria hit; it had never worked on a project close to the scale of the Puerto Rico power restoration; and the firm is based in Whitefish, Montana, the hometown of President Trump's Secretary of the Interior Ryan Zinke, who denied having anything to do with procuring the contract.
The Puerto Rican power authority's decision to forego "mutual aid" agreements with utilities from other areas — as is traditional after large-scale disasters — and assign the job to a for-profit company baffled many experts.
The specific terms of the contract also raised eyebrows, from the exorbitant hourly rates charged by Whitefish to its barring of a government audit. And Whitefish didn't do itself any favors by engaging in a Twitter feud with San Juan mayor Carmen Yulín Cruz.
FEMA has denied approving the contract.
Puerto Rico is still in shambles 39 days after Category 4 Hurricane Maria swept through on September 20. About 70 percent of people still lack power, and about 20 percent don't have drinking water. A BuzzFeed report on Friday revealed that crematoriums around the island had been burning hundreds of bodies since the storm hit, which were unaccounted for in the the official death toll. The Puerto Rican government admitted that 911 people had died of "natural causes" after the storm.
This post has been updated to reflect the cancellation of the contract.