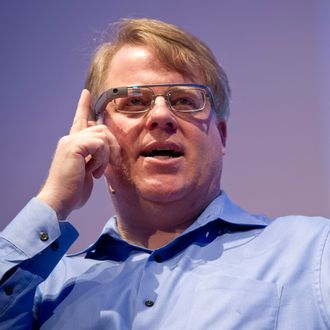 Robert Scoble.
Photo: Ole Spata/AFP/Getty Images
Silicon Valley has a culture problem. The list of allegations of sexual harassment, assault, and discrimination against women in the tech industry seems to grow daily. Today's addition: Blogger and former Microsoft tech evangelist turned major player in the world of AR/VR, Robert Scoble.
In a post on Medium published Thursday, journalist Quinn Norton alleged Scoble attacked her at Foo Camp — a tech retreat hosted by O'Reilly Media — in the early 2010s. She writes that Scoble turned on her after he was pried away from a "drunkenly disoriented" woman he was making out with at the campsite. One of Norton's friends separated the two and then someone else introduced Scoble to Norton, saying Scoble was "dangerous" as a joke. Norton in turn told Scoble she was dangerous, but he didn't seem to heed her warning.
And then, without any more warning, Scoble was on me. I felt one hand on my breast and his arm reaching around and grabbing my butt. Scoble is considerably bigger than I am, and I realized quickly I wasn't going to be able to push him away. Meanwhile, the people around just watched, in what I can only imagine was stunned shock. I got a hand free and used a palm strike to the base of his chin to knock him back. It worked, he flew back and struggled to get his feet under him. I watched his feet carefully for that moment. He was unbalanced from the alcohol and I realized if he reached for me again I could pull him forward, bounce his face off my knee, then drive it into the ground. (I knew this move because it had been done to me, then the martial arts expert who did it picked me up and apologetically showed me how to do it.) He laughed and rubbed his chin and said something like "I like this one, she has spirit." I said this: "If you touch me again I will break your nose." I could still feel his hands on me, his intentions, all of it. He laughed again, and I repeated, "If you touch me again I will break your nose." He didn't grab me again after that.
After attacking Norton, Scoble allegedly turned his attention back to the woman he had been making out with earlier in the evening. Two men at the event later helped the woman walk away from him.
Following the event, Norton talked to several people about the incident and discovered she wasn't alone in her experiences. Scoble's behavior was one of tech's "open secrets," Norton explains, writing that she never came forward for fear of retribution against Scoble's other victims. "I couldn't come forward and name her [another victim] for risk of destroying her career and possibly personal life. So, despite being in the best position a woman could hope for, despite having ironclad in [sic] reputation and pretty damn good at opsec, I've stayed silent. I couldn't risk the other women."
Following Norton's post, another woman, Michelle Greer, came forward alleging Scoble has harassed her. Greer worked with Scoble at Rackspace for two years and told BuzzFeed he groped her in 2010 at the Startup Riot tech conference in Atlanta. "I remember seeing him with two drinks in his hand," Greer told BuzzFeed. "My boss sat next to me, and Scoble sits across from me and starts touching my leg." Greer was able to leave the table and immediately told her boyfriend what had happened. After the conference, Greer says one of Scoble's producers, who had been present when he touched her, reached out to her, "I'm so sorry, my employees will never touch you again." She says Scoble himself never apologized. "What happened with Michelle happened with my boss," Scoble told BuzzFeed, noting there were "other women in the room." Greer was later fired from Rackspace by a manager who "didn't think she could be happy at the company." "I had basically shut down," Greer said of her work at Rackspace following the harassment.
On Twitter, other people are also starting to share their experiences with Scoble. Entrepreneur Sarah Kunst — earlier this year Kunst called out Dave McClure of 500 Startups for harassing her via Facebook Messenger – tweeted a series of emails from both 2014 and 2017 she sent to Dent — an organization for people in tech that hosts conferences — regarding Scoble's behavior. In 2014, she called it "odd" and said she'd likely not return for the event the following year because of it. And in 2017, Kunst says a drunk Scoble "verbally harassed" her. Other stories of alleged harassment have also surfaced.
Earlier this year, Scoble apologized after publicly defending the founders of Upload VR amid a sexual-harassment lawsuit levied by a former female employee, Elizabeth Scott. (That suit was later settled.) "I must admit my own role in sexism in this industry and world," Scoble wrote on Medium. "I am flawed too, and am working to fix those flaws. Have I caused others pain? Yes. Does that make me happy about myself? No. Looking in the mirror is a tough thing." He also noted he's gotten sober in recent years. Scoble publicly announced he was entering AA in 2015, as well as that he had been sexually abused as a child.
"I do hope Robert Scoble gets the help he needs, and I hope that the women he hurt get the help they (we) need," Norton writes at the end of her post. "And I hope that Scoble and the people who helped Scoble perpetrate this violence against the women around him spend their time lifting up the careers of these women, as some small recompense for what they endured in their workplace."