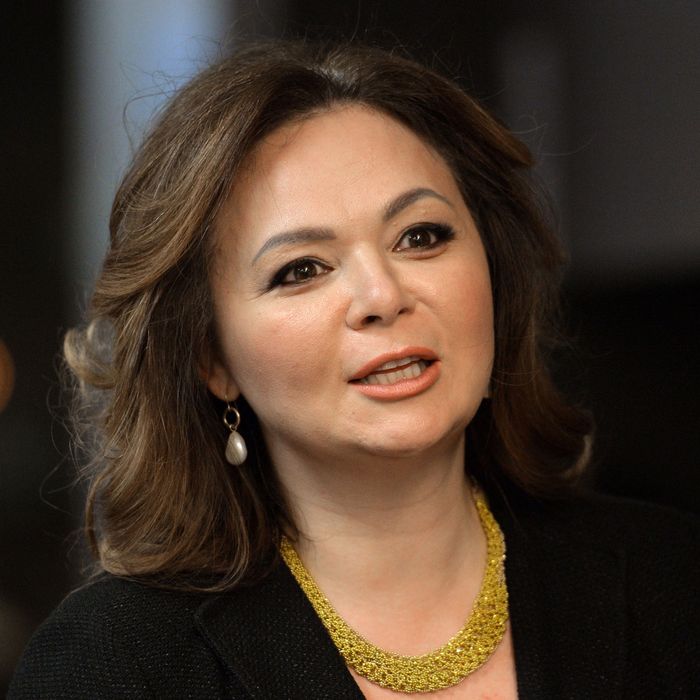 Natalia Veselnitskaya.
Photo: Yury Martyanov/Kommersant/AFP/Getty Images
Earlier this summer, in the days following the revelation that Donald Trump Jr. met with a Russian lawyer in 2016 to obtain compromising information on Hillary Clinton, one of the most vital questions was just how close the lawyer was to the Kremlin.
Days after the Times broke the story, lawyer Natalia Veselnitskaya told NBC News that she wasn't connected to the Kremlin at all. Kremlin spokesperson Dmitry Peskov confirmed that, telling reporters, "We don't know who that is."
That line was never quite believable given Veselnitskaya's history representing "state-owned businesses and a senior government official's son," as the Times originally reported.
Now the paper is casting even more doubt on the claim with a new report. Veselnitskaya, the Times says, discussed the anti-Clinton information she brought to Trump Jr. with Prosecutor General Yuri Chaika, a high-ranking Kremlin official, in the lead up to the Trump Tower meeting. Their collaboration began in October of 2015 when Veselnitskaya brought Chaika the memo that she'd later bring to Manhattan. It made the case that prominent donors to Hillary Clinton had illegally purchased shares in a Russian company, tainting their donations to the then-Democratic candidate for president.
Their first attempt to distribute the information to an American came in April of 2016 when Chaika helped pass the memo to California representative Dana Rohrabacher, dubbed by detractors as "Putin's favorite congressman." Arkansas representative French Hill was also given a copy. Two months later, with the help of a selfie-loving music publicist, Veselnitskaya took the allegations to Trump Tower.
The news in this report is that Veselnitskaya was not freelancing, as she has claimed. If it's accurate, she had the blessing of the Kremlin and was working at its behest.
This detail has raised the eyebrows of several congressional Democrats, including Trump's foe from Connecticut, Sen. Richard Blumenthal. On Friday, the senator tweeted that this story was "More chilling evidence of [the] Kremlin's direct involvement in seeking Trump campaign collusion in attacking our democracy."