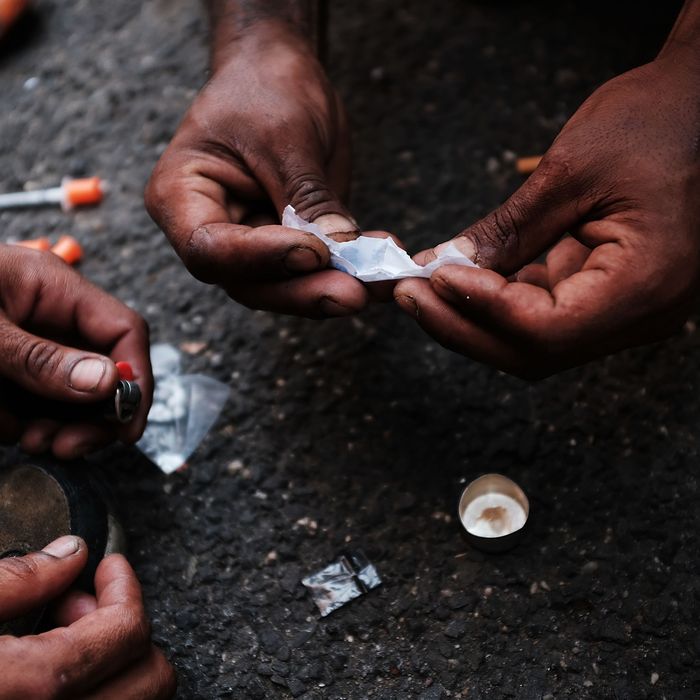 The opioid epidemic is killing tens of thousands per year.
Photo: Spencer Platt/Getty Images
On Monday, President Trump promised that next week, he would revive his dormant plan to declare the opioid epidemic a national emergency, which could trigger a broad set of federal-government actions to combat the crisis.
"That is a very, very big statement." Trump said. "It's a very important step. And to get to that step, a lot of work has to be done and it's time-consuming work."
But Politico reported on Friday that a lot of work hasn't been done. Instead, Trump officials were taken by surprise by the president's seemingly off-the-cuff declaration, given the desultory nature of the administration's efforts on the epidemic thus far. (This sequence of events may sound familiar, since it seems to be the White House's modus operandi on many fronts.)
"They are not ready for this," a public-health advocate told Politico after discussions with Health and Human Services officials.
Furthermore, Politico reported:
Multiple sources in and out of relevant federal agencies said that key leaders on the opioid issue had not been asked to draw up strategies and tactics.




A senior FDA official said she did not know who was in charge of the emergency declaration efforts and described the effort as "such a mess."



There are several different flavors of "emergency" Trump could declare, the effects of which range from waiving Medicare and Medicaid regulations to asking Congress for more money to simply directing various agencies to draw up battle plans. Admittedly, it's not clear that such actions could make a significant dent in the wave of drug deaths; some advocates say the publicity element of an emergency declaration may be more important than the actual policies involved.
But even the mere question of which path to pursue seems stuck in the planning stages. And the possibility of a coherent federal approach has been made even more unlikely by the steep staff turnover that has plagued the Trump administration. Tom Price, the Health and Human Services secretary who had argued against the emergency declaration for budgetary reasons, resigned two weeks ago amid reports of his extravagant private-jet travel. Tom Marino, Trump's pick for drug czar, stepped aside after a blockbuster Washington Post/60 Minutes exposé linking him to the widespread availibility of opioids in the first place. And both the DEA and Department of Homeland Security are without directors.
Even if the appropriate staff were in place, Price and Marino's résumés make clear what was already obvious: Trump has surrounded himself with officials who have little interest in a well-funded effort to improve public health. The Trumpian blend of ideological hardheadedness and institutional incompetence seems particularly ill-suited to address a public-health disaster.
Trump first vowed to designate the opioid crisis an emergency in August at the urging of New Jersey governor Chris Christie, who had led a presidential task force on the issue. Since then, then, according to USA Today, more than 6,000 Americans have died as a result of opioid abuse — about 91 people a day.
National emergencies are usually designated for political crises like terrorism, cyberwarfare, or a foreign country's breakdown into chaos. When public-health crises make the list, they're usually discrete events like hurricanes or floods.
That the opioid epidemic would join such disasters reflects its unprecedented toll on the country. Deaths attributable to heroin, painkillers, and — now leading the pack — fentanyl continued to surge last year, accounting for the bulk of a record 59,000–65,000 drug-overdose deaths. That figure is likely to worsen in 2017.
State and local officials have been trying to keep up with a scourge that has intensified quickly, transitioning from abuse of pain pills like Oxycontin to fentanyl, an extremely dangerous narcotic many times more powerful than heroin. Strategies to combat the epidemic, which has taxed police forces around the country, require a deep understanding of the changing conditions on the ground, and often involve some complex combination of addiction treatment, preventive education, and enforcement.
Some states have made their own emergency declarations in an effort to, at least, draw publicity to their plight. But they're finding that, despite President Trump's tough talk on opioids, the federal government is either too inept or too unwilling — or both — to reliably negotiate a large-scale public-health disaster. It's a reality the people of Puerto Rico already know all too well.