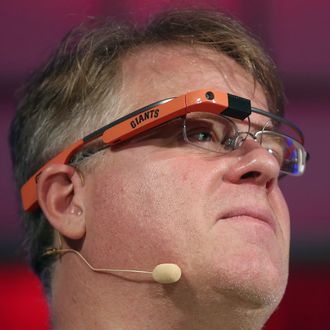 Robert Scoble.
Photo: Niall Carson/PA Images via Getty Images
Over the last week, several women in Silicon Valley have accused technologist and writer Robert Scoble of sexual assault and harassment: Journalist Quinn Norton says he groped her at a tech conference in the early 2010s before she physically beat him off of her. Michelle Greer, a then-colleague of Scoble's at Rackspace, also says he groped her, a move that she says impacted her ability to properly do her job at the company. (Greer was later fired.) Entrepreneur Sarah Kunst says he "verbally harassed" her. Scoble — aside from a quote about how he feels "ashamed" and that these incidents occurred before he got sober — has been relatively mum.
Until today. Earlier on Wednesday, Scoble posted a ten-minute read on his blog entitled "No, of that I'm innocent." In it, he calls out TechCrunch and Business Insider — "these two organizations are basically just Gossip Blogs at this point" — for reporting the allegations, and details his version of what did and did not happen with each woman who has come forward. It's the kind of piece that makes you scream a little louder inside your head with each new line you read. It's also an excellent guide for exactly how not to write a public statement.
Don't ignore your attorney's advice.
Here's the second paragraph of Scoble's statement: "I have rejected my lawyer's advice to not make a statement and in a spirit of healing I would like to address the issue head on with open and honest dialogue." My dude. You are paying legal counsel to tell you the best way to behave in this situation. Perhaps don't disregard said counsel. Anything that follows the phrase "I have rejected my lawyer's advice to not make a statement" is probably best left unwritten and unsaid.
Recognize that you can sexually harass somebody who doesn't work for you.
"If I were guilty of all the things said about me I would still not be in a position to have sexually harassed anyone. I don't have employees, I don't cut checks for investment," Scoble writes. "None of the women who came forward were ever in a position where I could make or break their careers. Sexual Harassment requires that I have such power." Aside from the obvious logical fallacies at work here, it should be noted that Scoble has had a lengthy career at the forefront of the tech scene, working at Microsoft, founding an influential blog, and now as a leader in the world of AR/VR. This is absolutely a man with the power to make or break a career.
Don't speculate on your accusers' motives.
"Then there is the actual truth of the allegations. Each of the women who have come forward used grains of truth to sell false narrative. Perhaps because they felt peer pressure to join the #MeToo bandwagon, perhaps because they felt slighted for other reasons. I won't speculate on their motives." Because the bandwagon of people who have been sexually harassed, assaulted, and traumatized is one that women would definitely rather be on than not be on.
Don't publicly share somebody else's trauma in an attempt to clear your name.
Scoble writes about an "online affair" he had with a woman. "And to some extent my online affair did take advantage of [this woman]; I hate to be the person who outs [this woman] for her own abuse, but that was what we connected over primarily," Scoble writes. "We talked a great deal about how each of us dealt with abuse and how it impacted our sex lives." Scoble has previously discussed being abused as a child.
If somebody gets physical with you after you grabbed them without permission, that's not being accosted.
"Quinn Norton, by her own account, physically accosted me. She didn't call for conference security, she didn't know the name of the woman I was making out with to know if we were engaged in a consensual activity. In her account of the night, she took it upon herself to decide in advance that she was going to warn me she was dangerous, and then physically attack me without knowing the story of my earlier makeout … Most telling however is that she makes it clear that her assault of me was premeditated. She planned to separate me from the woman I was making out with, she planned to scare me, and she planned to use her martial arts training to injure me." In Norton's version of the events, she only warned Scoble that she was "dangerous" after another male colleague introduced Scoble to her saying Scoble was "dangerous" as a bad joke. She describes Scoble's history of sexual harassment as one of the tech world's "open secrets" and something she was aware of before the groping incident.
Once more for the people in the back: You can harass somebody who doesn't report to you.
"Michelle Greer, who I worked with at Rackspace, was never in a reporting structure beneath me, and while we engaged in flirtations, the limits of the impropriety was that I was flirting with someone when I was married."